A student activist was removed from the lobby of Parliament today after he tried to hold a press conference there.
Sharan Raj, along with about nine others from Gabungan Pembebasan Akademik (GPA), had entered the Parliament building to voice their opposition to Education Minister Maszlee Malik's move to amend the Universities and University Colleges Act 1971 (UUCA).
They criticised the minister for not going far enough in guaranteeing academic freedom, arguing that Sections 15 and 16 of the act ought to be repealed entirely.
At about noon today, the activists gathered at the parliament lobby and attempted to speak to the press but were stopped by guards. Only elected representatives are allowed to hold press conferences at parliament.
Led by Sharan, they later spoke to the media from one of the sofas in the lobby but were swiftly interrupted by several Parliament guards again.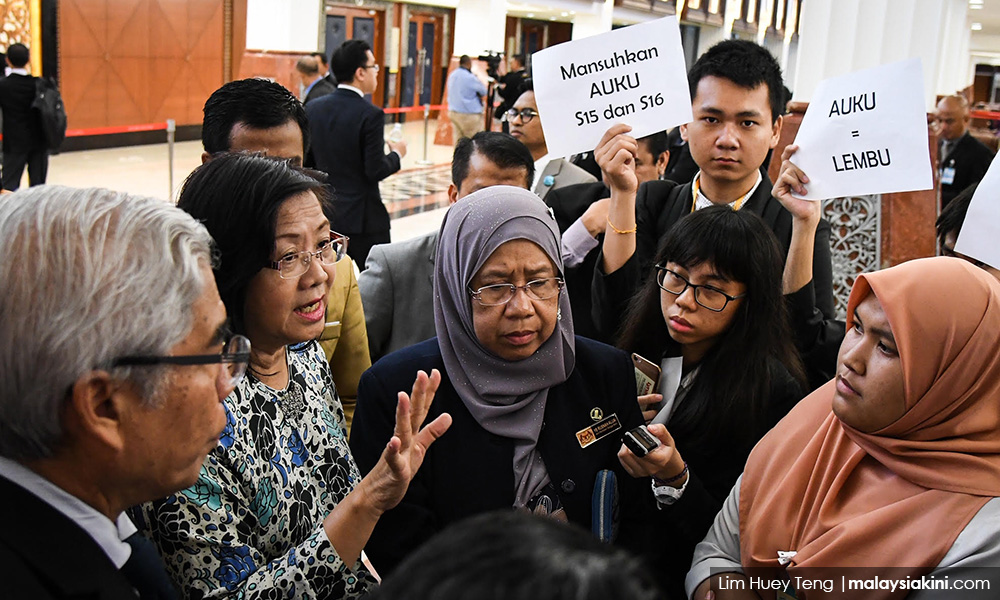 "We think this (amendment) contains a political agenda. This is not to give students freedom, but to allow political parties to enter the campus in the name of freedom.

"This is not the freedom we want, so we don't agree," he managed to say this before he was physically dragged out of the lobby by one of the guards.
This use of force elicited verbal protests from the other student activists present.
"If you want us to leave we can leave on our own, you don't have push us around," one of the activists was heard saying.
Tensions were high as Petaling Jaya MP Maria Chin, Tangga Baru MP Rusnah Aluai and Pasir Gudang MP Hassan Abdul Karim intervened and attempted to calm everyone down.
The three PKR lawmakers eventually spoke with the GPA student activists before they were led out of the Parliament building by Maszlee's press secretary Shahrul Aman Mohd Saari.
Yesterday, the amendments to the UUCA were passed in the Dewan Rakyat. Maszlee said government and opposition politicians would now be able to enter university grounds with prior approval from the institution's vice-chancellor.