CAMERON POLLS DAY 4 | The Cameron Highlands by-election enters its fourth day of campaigning.
DAP's M Manogaran is joining a Ponggal celebration in the morning in Tanah Rata before heading off to the state constituency of Jelai.
Meanwhile, BN's Ramli Mohd Nor is expected to campaign with Umno secretary-general Annuar Musa.
Ramli is also heading to some voting districts which are Pakatan Harapan strongholds today.
Meanwhile, independent candidate Wong Seng Yee has a full day of walkabouts planned in Tanah Rata, with some time off in the afternoon for him to work on his farm.
There have been no updates so far on today's programme for independent candidate Sallehudin Ab Talib.
Malaysiakini brings you live reports of the campaigning on the ground.
---
KEY HIGHLIGHTS
'Najib to hit campaign trail by popular demand'
'Doesn't matter who wins, don't neglect Orang Asli welfare'
Ramli: I didn't sign Bersih pledge and nothing happened
Wong Seng Yee carries hoe on campaign trail
Local man Ramli confident about chances
Harapan cancels kenduri after EC's warning
Manogaran joins in Ponggal prayers in Tanah Rata
---
11pm: This concludes our live coverage of the Cameron Highlands by-election campaigning for today. Follow our live blog for the fifth day of campaigning tomorrow.
---
'Najib to hit campaign trail by popular demand'
9.15pm: Tanah Rata - Umno secretary-general Annuar Musa says former prime minister Najib Abdul Razak will hit the Cameron Highlands campaign trail due to popular demand.
"There have been requests for Najib to come, and I believe Najib is ready to accept the invitation of the voters.
"There are many voters here who hold Najib close to their hearts, so I believe Najib will fulfil the wishes of the voters," Annuar tells reporters at a restaurant.
Najib, the Pekan MP, is expected to join BN's campaign on Thursday.
Annuar then heads to the upper floor of the restaurant for a closed-door meeting with youths in the area, along with BN candidate Ramli Mohd Nor.
---
Eight police reports lodged so far
9pm: Tanah Rata - A total of eight police reports have been lodged since campaigning began on Saturday.
As Cameron Highlands police chief Ashari Abu Samah tells Bernama, however, no investigation papers have been initiated thus far.
According to Ashari, three of the reports are in relation to PKR senator Bob Manolan Mohd's alleged threat against Orang Asli tok batin (village chiefs) on Jan 11.
It was also reported on Sunday that MIC Youth lodged a report against Pakatan Harapan candidate M Manogaran over photographs depicting a woman in a red Pakatan Harapan Cameron Highlands T-shirt handing out money.
Another report pertained to BN campaign material being put up on government buildings in Sungai Koyan.
"The reports have been forwarded to the Election Commission and the MACC," he told Bernama.
---
'Doesn't matter who wins, don't neglect Orang Asli welfare'
5.30 pm: Pos Betau - Pakatan Harapan candidate M Manogaran visits traders and constituents from the Orang Asli community at a local market.
Speaking to Malaysiakini, the Orang Asli constituents say that it does not matter which party wins the by-election, so long as their welfare is not neglected.
"Our welfare is more important. Before this, there were no changes in our village. It is still the same.
"We made our houses ourselves out of wood. I hope for a home made of bricks," says 37-year-old Roslan Batri from Kampung Sentoi.
Norizam Norji, 42, says he hopes that the winning candidate does not forget the community.
"Before the election, we see them (candidates), after that we don't. And when we see them, it is as if we are asking for gold," he says, adding that he thinks BN candidate Ramli Mohd Nor can better represent the community in Parliament.
Jali Net, a sundry shop owner, says he will play safe and vote for the government in charge, despite meeting three-time candidate Manogaran for the first time.
"I want to back the new government. Because if I don't, I fear the aid will no longer come. If we back the opposition, they have no budget," says the 50-year-old.
---
Ramli: I didn't sign Bersih pledge and nothing happened
4pm: Pos Terisu - On a visit to four Orang Asli settlements here, BN candidate Ramli Mohd Nor says nothing has happened to him despite not signing Bersih's clean election pledge.
"But you are the one who signed, yet social media has explained everything.
"Simple as that, I do not want to accuse anyone, you can see it," he says, believed to be in reference to photographs depicting a woman in a red Pakatan Harapan Cameron Highlands T-shirt handing out money.
During the visit, the BN campaign team gives out free ice-cream to constituents.
In Kampung Terisu 3, tok batin (village chief) Jaffar Timor (photo) vows to support BN, saying villagers will doubtless vote for Ramli.
"My village for sure will choose Ramli, because we can deal with him easier," he adds.
---
Candidate carries gardening hoe on campaign trail
12.30pm: Kampung Raja - Next to visit this area is independent candidate Wong Seng Yee, who greets Chinese voters at Restaurant Yat Yi.
The flower farmer carries a hoe with him as he shakes hand with the people and introduces himself. Wong's logo in the by-election is a gardening hoe.
Wong then has his lunch at the restaurant.
Kampung Raja is a DAP stronghold as 80 percent of the people had voted for the party during GE14.
---
Local factor: Ramli positive of support
11.50am: Kampung Raja - Barisan Nasional candidate Ramli Mohd Nor makes a surprise visit to a Chinese kopitiam in town, a DAP stronghold.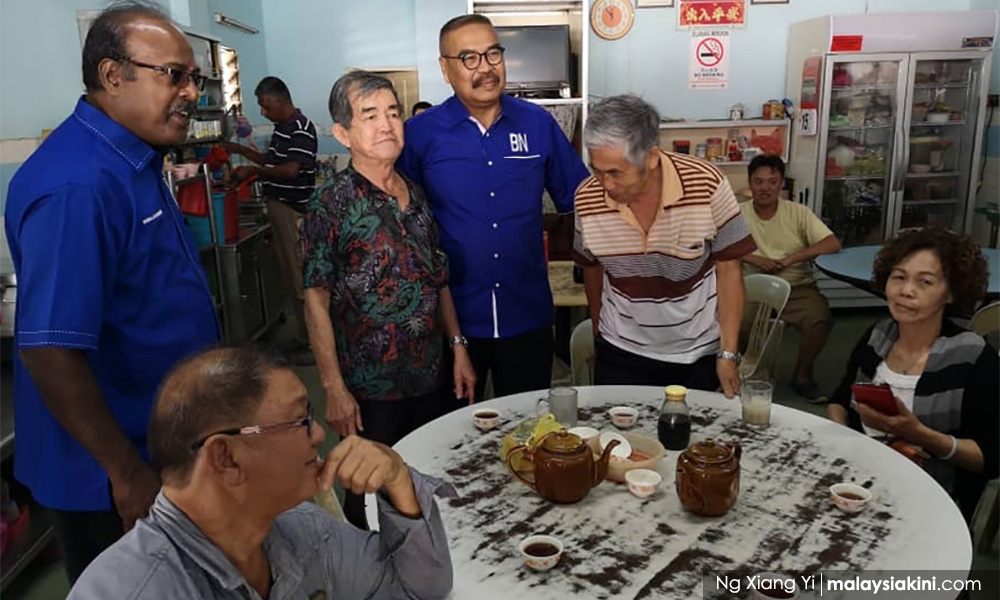 Accompanied by MIC leader N Gobalakrishnan, Ramli tells members of the media that he is positive of receiving local support.
"I believe that they will support (me) with the help of our friends in MCA. As I'm a local, I will actually know the problems (are in Cameron Highlands).
"God willing, we will help (solve the problems), but first, put me in parliament. That is number one," he says.
The former top cop is also confident he has a high chance of winning the by-election.
---
Manogaran: I'm even scared to pay for my own food
11.30am: Kuil Sri Subramaniyar, Tanah Rata - Manogaran says he is so worried about being seen as treating voters that he's even afraid to pay for his own food at restaurants.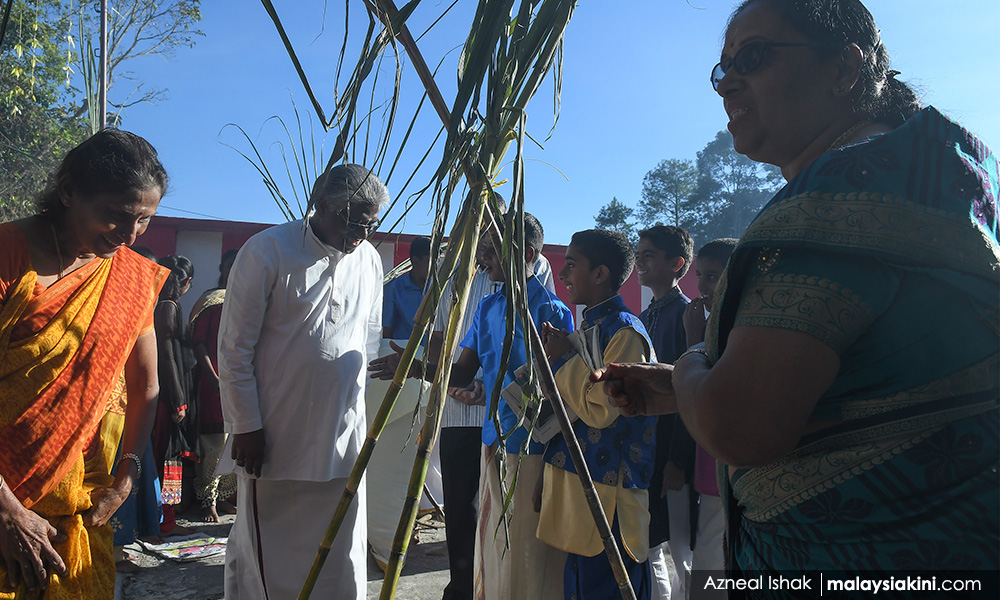 "I am very careful about this, so much so that I am even afraid to take out my wallet and pay for food I eat in restaurants.
"Suddenly, (people) might take something and then give it a twist," Manogaran says to reporters here in response to a question about the Election Commission's warning against holding of kenduri (feasting) or treating voters.
When pressed about a kenduri rakyat programme listed on his schedule for tonight, Manogaran says it's been cancelled.
He adds if they were to provide food and drinks to their volunteers should not be considered treating as it is not for the purposes of campaigning but rather a "necessity" for their election team.
It's Najib's right to campaign for BN
11.30am - Manogaran complains about high parking fees being imposed by the local council in Cameron Highlands and urges local councillors to look into the matter.
When asked about former prime minister Najib Abdul Razak campaigning for BN candidate Ramli, Manogaran merely says he is free to campaign and it is the right of the opponent.
---
Manogaran joins in Ponggal prayers in Tanah Rata
9am: Sri Subramaniyar Temple, Tanah Rata - DAP candidate M Manogaran is taking part in the Ponggal prayers here this morning.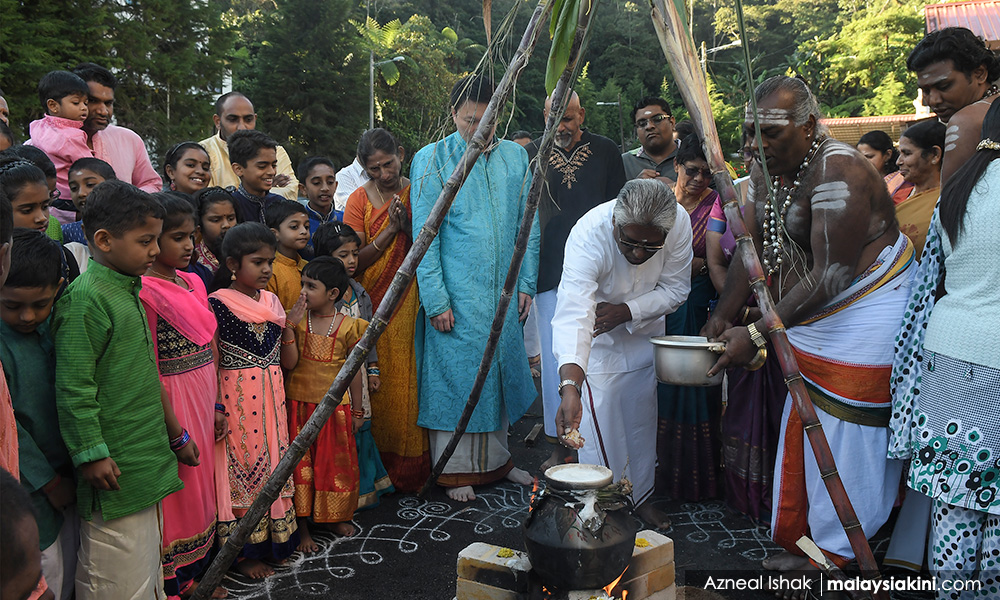 There are over 60 people at the temple, including many schoolchildren.
Manogaran performs his prayers at the temple here before meeting and greeting the devotees as ponggal rice is distributed to the crowd by the temple committee.
"This Ponggal celebration is actually a time of renewal, to do away with our negative traits.
"To farmers especially it's very significant, so it's very special for Cameron Highlands because there are so many farmers here.
"I will give it a slight twist and say it is a time of hope also so for people of Cameron Highlands, hoping for new things... so changes are coming, I hope," he says to reporters.