The Women, Family and Community Development Ministry has received flak over perceptions that it was not doing enough to deal with child marriages, but the issue is complex and not as straightforward as it seems.
Deputy Women, Family and Community Development Minister Hannah Yeoh (above), in an interview with radio station BFM, outlined the challenges the government was facing in dealing with the issue.
For Muslims, Yeoh said the ministry had engaged the Conference of Rulers but some states were not agreeable to raising the minimum age of marriage from 16 to 18.
"A lot of them feel that this (current regulation) is sufficient at the moment and they just want to tighten on the standard operating procedure," she said.
To date, Yeoh said only Selangor, which has received consent from its ruler, has amended its state laws to implement stricter conditions for those under the age of 18 who want to get married.
As for non-Muslims, she said the government was also not jumping into a total ban on child marriage immediately.
Yeoh said this is considering teenage pregnancy situations where both partners are underaged.
"We are looking at the impact, we're talking to women NGOs on when we move into the phase of having a total ban, what will happen to these girls who want to keep their babies - what is the legal status of the child in the child's womb?
"So if you don't allow them to get married, they (babies) will become an illegitimate child (anak tidak sah taraf)... There are complications, some of them cannot inherit the father's name or properties," she said.
Yeoh, who is also the Segambut MP, pointed out that there were around 137,000 teenage pregnancy cases from 2011 to 2017.
"There are two schools of thought - one (side) says that she is not ready to raise the child anyway and you want to force her to give the baby up for adoption, and another says just raise the child as a single mother, you don't have to get married.
"But these are some of the things that require further studies," she said.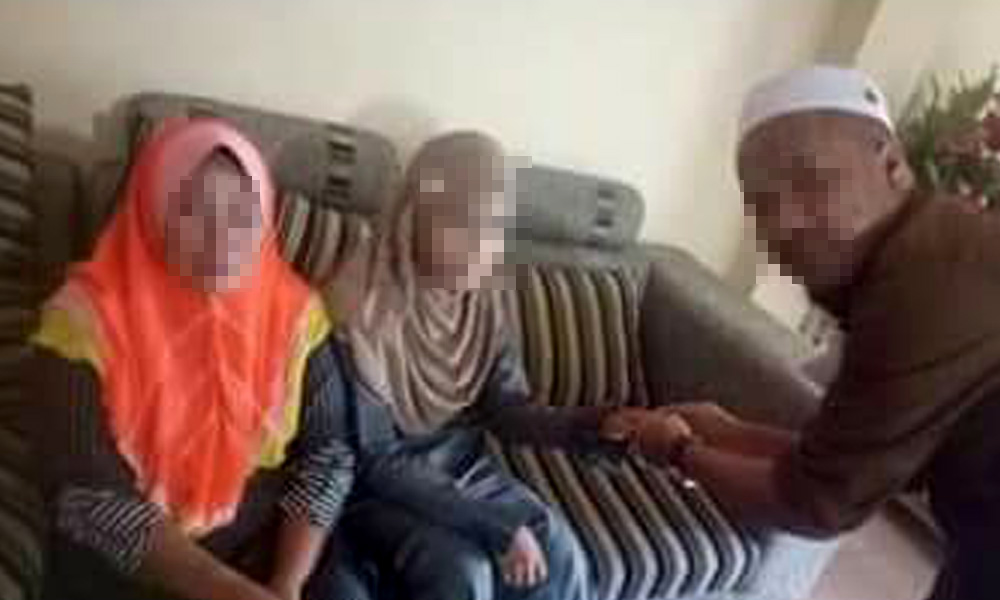 As for cases where the man is significantly older than the girl, such as the case of a 41-year-old man (photo) wanting to marry an 11-year-old girl in Kelantan, Yeoh said such cases were clear-cut child grooming which can be dealt with under existing laws.
Not along religious lines
Yeoh stressed that the issue of child marriages was not purely along religious lines.
"Child marriages, the statistics are very high not just for Muslims but even for non-Muslims. For non-Muslims, Perak has a very high number of cases.
"In Sabah and Sarawak, we have many customary child marriages. For every tribe, it's different. For some tribe, if you have spent a certain amount of days at night together, they are considered married," she said.
The DAP lawmaker said her East Malaysia counterparts have focussed on educating village chiefs on the dangers of marrying those who are underage.
Yeoh said the ministry was also looking at several other measures, including asking the Education Ministry to raise the compulsory education age from 12 to 17, offering educational help to impoverished families and encouraging family planning.
Poverty is real
"Poverty is very real. Many parents feel that by giving my daughter away in marriage, you will have a better life.
"We have to change that mindset. That is wrong and we are trying to raise the issue of parental responsibility - good family planning.
"If you don't have family planning, if you have eight to nine children and you can't provide for them then you will feel under pressure to give their daughters away," she said.
Yeoh said this is where the government can consider offering education opportunities to minimise such incidents.
"That means we give you an option, you don't have to give your daughter away. We can give vocational training, we can give them a scholarship with boarding school, we give them an alternative," she said.
Despite the contentious debate in the past year, Yeoh said the issue had raised awareness and discussions concerning compulsory education, sex education and teenage pregnancies.