Minister in the Prime Minister's Department Mujahid Yusof Rawa has met with controversial Muslim preacher Zakir Naik, who is wanted in India over allegations that he is linked to terror activities.
In a Facebook posting this evening, Mujahid, who oversees Islamic affairs, posted a photograph of the two of them.
"His experience in dakwah (preaching) in all corners of the world serves as an inspiration for us to continue with our preaching efforts.
"May Allah strengthen his preaching efforts to guide humans to know Islam," he said.
Malaysiakini understands that the more than an hour-long meeting took place at the Federal Territory Islamic Department (Jawi) office in Kuala Lumpur.
---
Read more: Latheefa pans meeting between minister and Zakir Naik
---
Last July, Prime Minister Dr Mahathir Mohamad said the Indian-born preacher, who is a Malaysian permanent resident, would not be deported despite an extradition request.
"As long as he is not creating any problems, we will not deport him because he has permanent resident status," he added.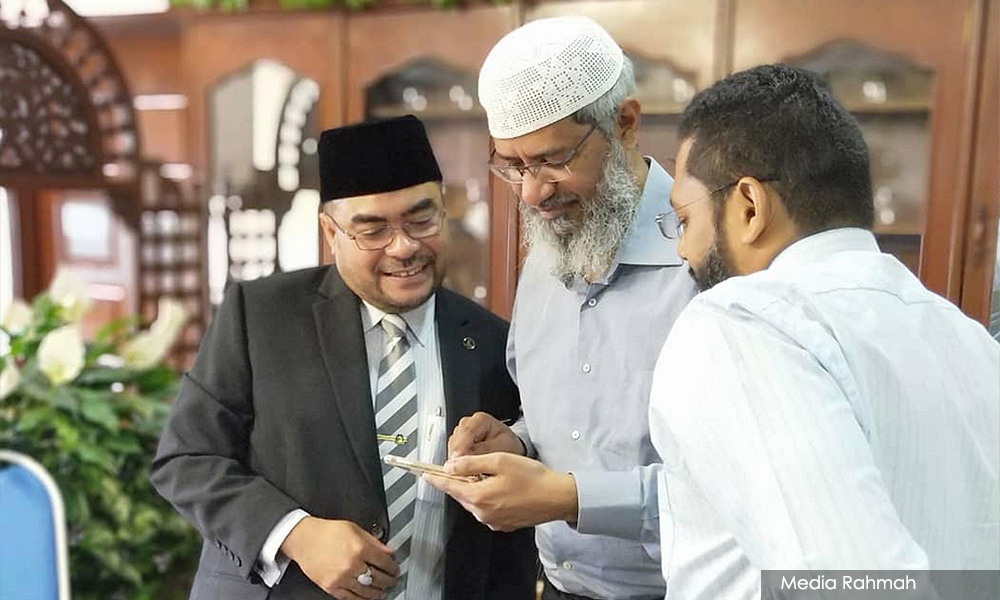 Mahathir also said Putrajaya would not bow to pressure amid calls from within the Pakatan Harapan coalition to deport Zakir.
"We are not always obliged to follow the will of others. We have to identify the reasons we respond to any pressure, whether or not he (Zakir) had adhered to the laws. Or else, someone will become a victim," he added.
Following this, Zakir thanked Mahathir and claimed that his image had been sullied by religious fanatics.
"An unbiased observer would realise that never in my 25 years of lecturing on Islam and peace have I ever promoted terror, in the name of Islam or otherwise.
"In fact, not a single lecture, out of the thousands that I have delivered, has ever received objections from non-Muslims in India until in September 2012, when a group of religious fanatics sought to tarnish my image.
"My aim has always been to foster communal peace and harmony – the exact opposite of the accusations hurled at me," he argued.