Penang Deputy Chief Minister II P Ramasamy has wasted no time in firing back at Pahang Menteri Besar Wan Rosdy Wan Ismail over the state's move to evict farmers in Cameron Highlands.
In a statement today, Ramasamy claimed that "illegal settlers" were the ones polluting Sungai Ichat and not local farmers as alleged by the menteri besar.
Yesterday, Wan Rosdy had said the state had no choice but to evict the farmers as they were using banned chemicals that contaminated Sungai Ichat and could lead to harmful effects on drinking water.
"I am amazed that Wan Rosdy not only failed to answer my numerous queries on the demolition of farms but unashamedly repeats certain untruths to justify the actions of the state.
"The use of banned or dangerous chemicals is not widespread, perhaps confined to some illegal settlers above Sungei Terla who are the main polluters of the drinking water for Cameron Highlands.
"How come no action has been taken against them? Is it because they are Umno supporters?" Ramasamy asked.
He also reiterated that the river where the farms are located is not the source of water supply to residents in the highlands.
"The source is Sungai Terla, not far off from Sungai Ichat," Ramasamy said.
'Poor excuse to wipe out farms'
Ramasamy added that more appropriate action could be taken if indeed it is the farmers who are found to be contaminating waters by using banned or illegal chemicals.
However, such an excuse cannot be used to wipe out farms that have been there for years, he said.
"It is strange and sad that Wan Rosdy, the leading administrator of the state, cannot get his facts straight.
"By not knowing the true source of water pollution, he made the grave mistake of punishing the innocent farmers," added Ramasamy.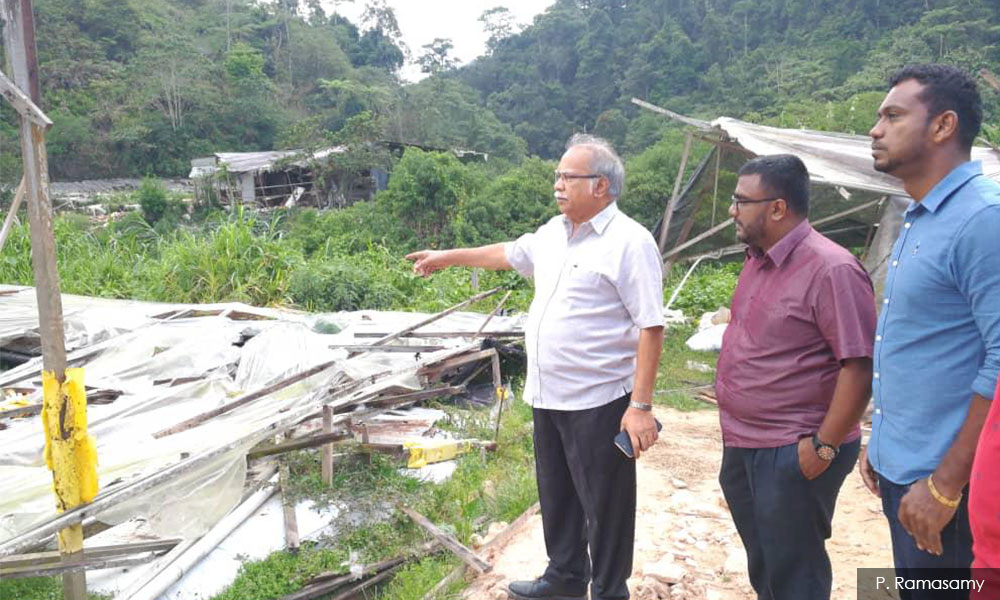 Ramasamy said another "preposterous lie" is Wan Rosdy's claim that farmers had built permanent structures on the land which is against the conditions of their temporary occupation licences (TOLs).
During his visit there a few days ago, Ramasamy said he saw no permanent buildings on the plots but merely plastic enclosures to grow certain crops.
"How can these temporary enclosures become permanent buildings? I suppose Wan Rosdy is stretching his imagination too far," said Ramasamy, who is also Prai assemblyperson.
He also said that it was a "blatant lie" to state that Pahang ceased issuing temporary occupational licences (TOL) as far back as the 1990s.
"In fact, it was revealed to me that the licenses were only stopped recently after the state made the decision to expel the farmers," Ramasamy said.
However, Wan Rosdy had stated the number of years the farmers had allegedly been there.
"The TOLs issued to the farmers championed by Ramasamy were done in 1993, only 26 years ago, and not for 60 years as the latter claimed," Wan Rosdy had said yesterday.