Universiti Utara Malaysia (UUM) has asserted that its students are not being forced to attend a programme next week involving controversial Islamic preacher Zakir Naik.
Deputy vice-chancellor Associate Professor Hendrik Lamsali said the programme, scheduled for April 18 at the university's Mu'adzam Shah Hall, was organised by the university's Kelab Perkim, which is under the Student Affairs Department.
He said the programme, titled 'Duty of a Muslim as a professional: Dr Zakir Naik' is meant to be an academic discussion and attendance is not compulsory.
"The programme is aimed at exposing students to the social realities and current issues, especially as UUM students are future managers and professionals.
"The university is not forcing students to attend the programme and it is open to anyone interested in attending," Hendrik said in a statement today.
Recently, Deputy Education Minister Teo Nie Cheng reportedly said that the onus was on UUM to explain its invitation to Zakir to speak in the campus, as the matter was part of the institute's "autonomy".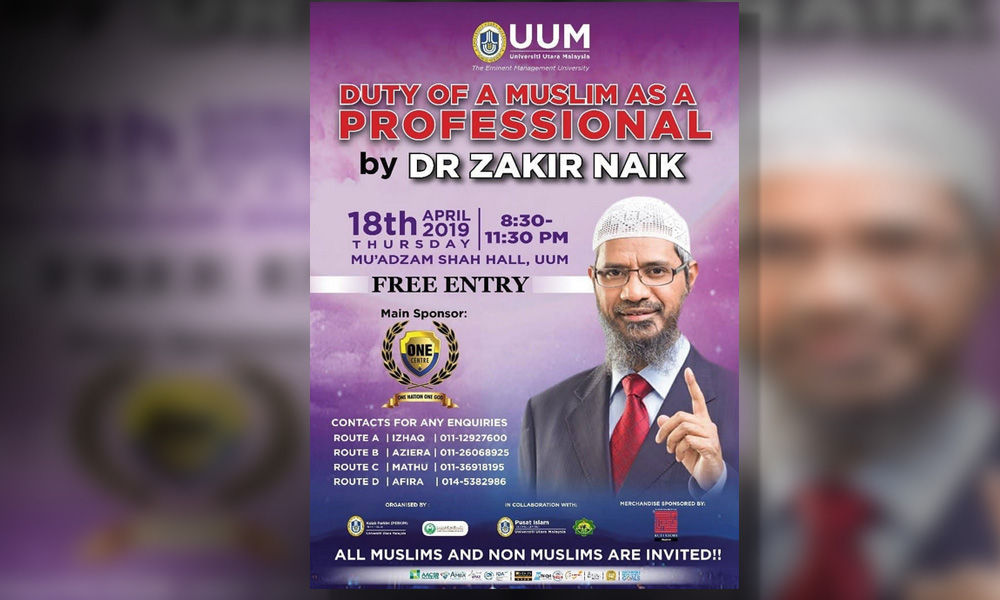 Hendrik further said that UUM was "experienced" in organising programmes involving high-profile figures and in ensuring no programme would incite the sensitivities of any party or religion, "for the sake of students and the university".
He added: "The students are advised to be open-minded and civilised when dealing with differences in opinion."
Zakir is currently wanted in his native country India to face charges related to terrorism and money laundering.
However, Malaysia has refused to honour India's request to extradite him unless he breaks any local laws, saying he is protected by his permanent residence status.
Zakir has denied the charges against him and accusations, in Malaysia and abroad, that he preaches hate speech.
De facto Religious Affairs Minister Mujahid Yusof Rawa has also said the new Pakatan Harapan government will not impose any ban on Zakir's lectures as long as they adhere to set guidelines.
The minister further courted controversy when he met with Zakir last month and described his preaching efforts as a source of inspiration.