In the latest twist to the ongoing saga, Johor state secretary Azmi Rohani announced that the new menteri besar would be sworn in tomorrow.
According to him, Johor ruler Sultan Ibrahim Sultan Iskandar has consented for the swearing-in ceremony to be held at Istana Bukit Serene at 9.30am.
"The sultan has also accepted the resignation of Osman Sapian as menteri besar this morning during an audience at Istana Pasir Pelangi," he added in a statement this afternoon.
However, the statement did not mention the name of the new menteri besar.
The statement was also posted on Sultan Ibrahim's official Facebook page.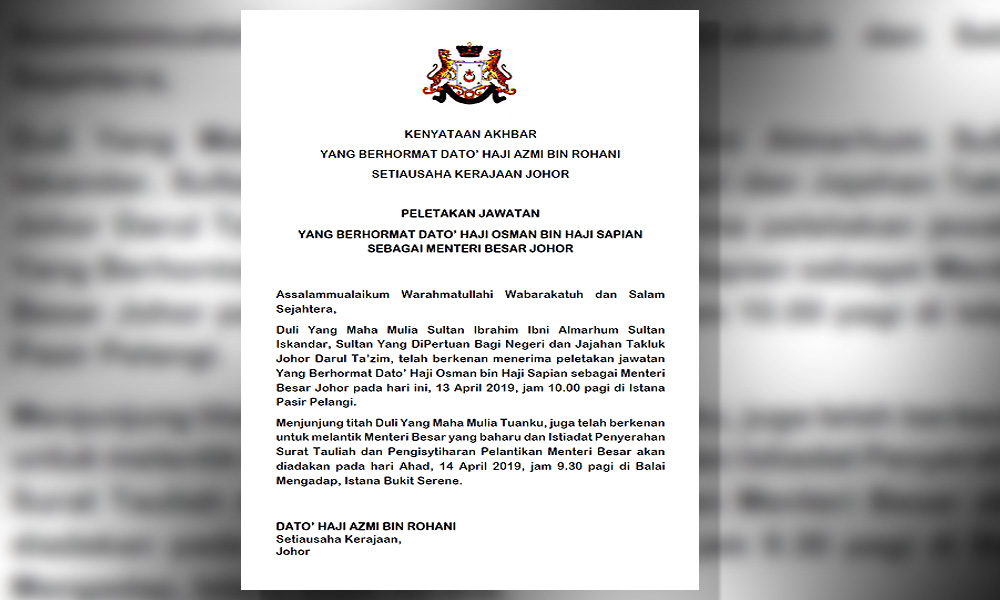 Earlier today, it was reported that Osman had presented his resignation to Sultan Ibrahim, following which Osman told media in Johor Bahru that the ruler had summoned him for a second audience this 6.30pm.
He added that the sultan also set a condition for his successor, which is to revamp the current state executive council line-up.
After news about Osman's resignation was announced by Prime Minister Dr Mahathir Mohamad last week, speculation was rife on who will be his successor.
Among those said to be a front runner for the Menteri Besar post is Bukit Kepong assemblyperson Sahruddin Jamal.
The speculation was further fueled when Sahruddin was present alongside Mahathir at the 9th Malaysia-Singapore Leaders' Retreat in Putrajaya on Tuesday, while Osman was absent.
According to a Johor Bersatu source, other names being considered include Solihan Badri (Tenang), Mohd Izhar Ahmad (Larkin) and Mazlan Bujang (state exco member, Puteriwangsa).
These three are also first-term assemblypersons.
A list provided by another source, meanwhile, had Sahruddin, Aminolhuda, and Khuzzan's names, with the addition of Senggarang assemblyperson and state backbencher chief Khairuddin A Rahim.