Investigations by the Negeri Sembilan Department of Environment (DoE) at the site of the oil sludge disposal, which caused river pollution at Kampung Baru Site C in Port Dickson, showed that the possible cause could be the result of pig and frog farm activities at a nearby premises.
State Health, Environment, Co-operatives and Consumerism Committee chairperson S Veerapan said it was based on the oily fats and oil sludge found in the river.
"The DoE received complaints from residents on March 31 regarding the discharge of oil sludge from one MYYK premises in the river in Kg Baru Site C, Port Dickson. Following that, a DoE enforcement team was dispatched to the location on the same day for further investigation.
"The findings at the MYKK premises found that the complaint was not related to river pollution and samples taken by officials from this department were not greasy and no smell of oil was detected. The samples were sent to the Department of Chemistry Malaysia to identify the actual content of the samples.
"However, further investigations by the DoE at the location of the complaint found that there were livestock activities and pig slaughter sites, as well as frog farms. These are likely the causes for the river pollution based on the effects of oily fat and sludge," Veerapan (below) said in a statement released in Seremban yesterday evening.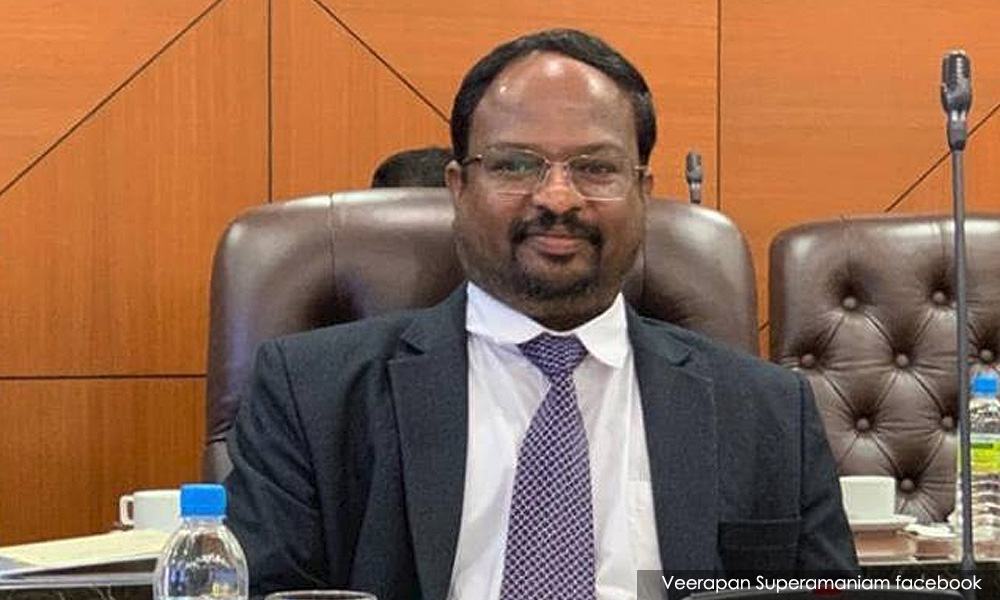 He added that livestock activities were not under the jurisdiction of the state DoE, but under the Department of Veterinary Services.
"Therefore the DoE recommendation is to constantly monitor the activities on the MYYK premises to prevent activities that could cause pollution to the residents of Kg Baru Site C, Port Dickson.
Veerapan said the premises were under a court order issued by the federal DoE and were in the process of implementing the management and disposal of 24,183 barrels from maintenance operations of oil refineries to premises licenced by the DoE.
Meanwhile, on the complaint of pollution in Sungai Lenggeng on April 7, it found that the contaminated river was Sungai Machang, a creek off Sungai Lenggeng.
"The state DoE investigating team found that the river water was murky and there was sand dredging activity in the upper parts of the Machang River.
"The sand dredging area covers 16.67 hectares. The premises have a permit from the Seremban District and Land Office, and also feedback from the state DOE. The state DoE found that the premises failed to control erosion and silting as recommended in its review letter.
"The actions taken by the state DoE have been submitted to the Water Regulatory Agency, Land and District Office and the Department of Irrigation and Drainage to take follow-up action under the jurisdictions of the relevant agencies as this activity is not subject to the jurisdiction of the DoE," Veerapan said.
- Bernama