MP SPEAKS | Daim Zainuddin is half-right – Pakatan Harapan should not dance to the tune of former prime minister Najib Abdul Razak, but should compel Najib to dance to the tune of the Harapan narrative.
I do not agree with Daim that Pakatan Harapan should forget about Najib, as the former prime minister is the de facto leader not only of the Umno-PAS axis, but also the unofficial leader of the combined opposition, which includes MCA, MIC, PBS and GPS in Sarawak.
The landslide 11,245 vote majority victory of DAP, Pakatan Harapan and Warisan in the Sandakan by-election on May 11 is not only a debacle for PBS, but also for the combined opposition and Najib's 'Malu Apa Bossku' narrative.
PBS was only a digit in Najib's great gameplan to ensure that the Harapan government will, at most, be a one-term government and that Najib's travails would end by the 15th general election and he could escape life in Sungai Buloh Prison.
A commentator had described the PBS candidate Linda Tsen as a reluctant candidate who had political baggage. I believe that PBS was an even more reluctant political party to field a candidate in the Sandakan by-election as PBS had even greater political baggage after singly ruling for 10 years and as part of BN for 16 years.
But despite such reluctance, PBS was prepared to 'play ball' with 'Malu Apa Bossku' campaign.
This goes for the other opposition parties as well.
I flew to Sandakan thrice during the by-election campaign, and in two of my three trips, a top MCA national leader was taking the same flight to Sandakan, although in the first-class section compared to my economy-class status.
But this top MCA national leader never surfaced publicly in the Sandakan campaign, keeping to the backroom.
This unholy support and subordination to the Umno-PAS axis and the 'Malu Apa Bossku' campaign is the reason for the MCA top leader's surreptitious and furtive support for the PBS candidate. Possibly, one reason for PBS' historic defeat in Sandakan is the result of following the 'surreptitious and furtive' advice of such a top MCA leader.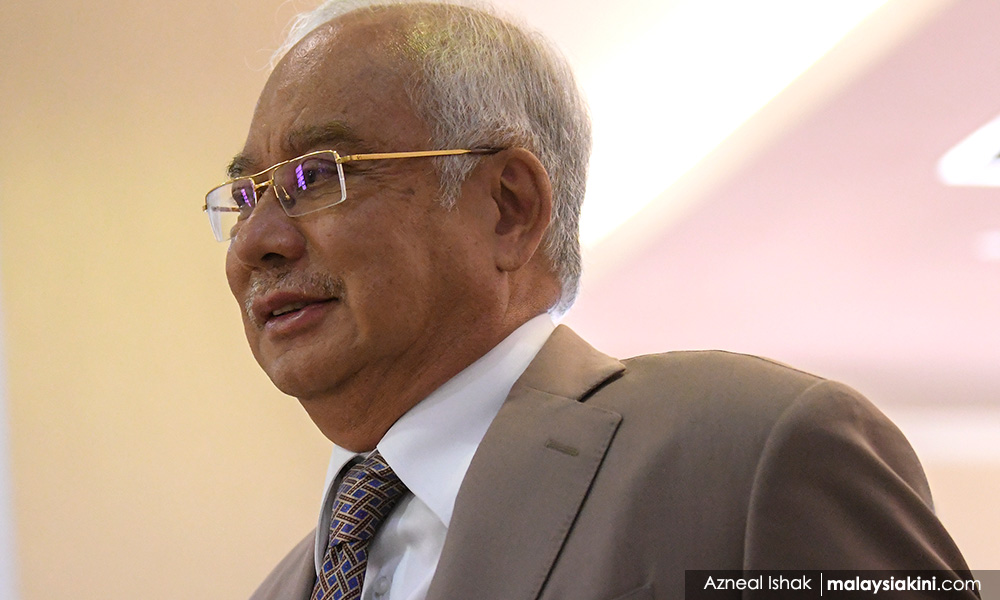 Najib has clearly a strategy for the next general election – to defeat Harapan and engineer his return to power, if not as prime minister, then as the kingmaker, which would also end his present court travails and save him from ending his life in prison.
MCA, MIC and all the former parties in the BN are playing safe so as to get back to power on Najib's coattails, which is why none of these former BN parties has spoken out loud and clear to denounce the 1MDB scandal and Najib's legacy of a global kleptocracy.
Najib is still their insurance policy to have a life after the 14th general election.
It is a fallacy to believe that one can forget about Najib as he is no more a force to be reckoned with.
In fact, Najib remains the most potent political force plotting the downfall of the Harapan government. He is the person who is behind the highly-funded army of cybertroopers and propagandists who are working day and night for the disintegration and collapse of the Harapan government with their politics and social media of lies and falsehoods to incite hatred, intolerance and extremism.
This is why Prime Minister Dr Mahathir Mohamad recently said it is "strange" that Najib could still act innocent during the ongoing investigation of the 1MDB scandal, and could even cobble together a Umno-PAS axis and win over PAS president Hadi Awang to endorse his kleptocratic legacy.
In the past week, we see Najib reiterating his innocence in the 1MDB scandal, adopting a thousand and one excuses and strategies - from denying that assets seized from the Pavilion Residences condominium units, which included more than 10,000 pieces of jewellery, were purchased by fugitive financier Jho Low's using stolen 1MDB funds to his latest stance that he is a victim of Jho Low's 1MDB conspiracy.
Would Najib now admit, what is now universal knowledge with the ongoing 1MDB investigations in 10 countries in the past few years, that there is such a thing as a 1MDB scandal? Or is all the talk about 1MDB scandal just one great fantasy and invention of the Harapan government?
---
LIM KIT SIANG is Iskandar Puteri MP.
The views expressed here are those of the author/contributor and do not necessarily represent the views of Malaysiakini.