Lim Guan Eng has urged DAP leaders to refrain from responding to Najib Abdul Razak's latest remarks regarding the Penang undersea tunnel.
According to the DAP secretary-general, the former premier's "act of subterfuge" would allow the latter to distract global attention from his ongoing trial.
"I have received many requests from DAP leaders to respond to his outrageous lies, the latest on the proposed Penang undersea tunnel that he claimed cost RM6.3 billion when the truth is that it was awarded by open tender for RM3.6 billion," he said in a statement this evening.
Najib was in Penang on Sunday to meet with state Umno officials, after which he visited the Ramadan Bazaar in Bayan Baru to meet with fans, who jostled to take selfies with him.
He also dropped by the beach in Bagan Ajam and mocked the yet-to-be constructed Penang undersea tunnel, which is supposed to link the island to Butterworth on the mainland.
In a Facebook post, Najib uploaded a photo of him by the sea (below) with the statement, "This is DAP and Lim Guan Eng's pet project."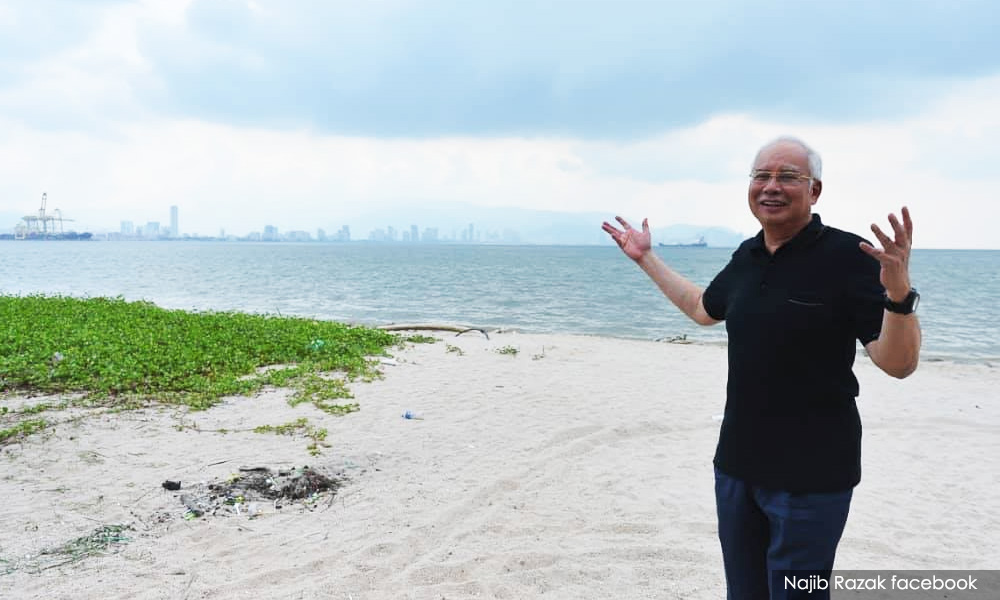 "I would like everyone to remember three figures: RM6.3 billion, RM305 million, and RM19 million," he added.
---
Read more: After mocking Penang tunnel, Najib asked about missing 1MDB funds
---
Najib claimed the tunnel cost RM6.3 billion and the project was awarded to the contractor Consortium Zenith Construction in 2013.
According to the former premier, the contractor was given until 2030 to build the tunnel, 17 years after the contract was awarded.
He also pointed to the feasibility study, saying it is not ready even after six years, while the cost remains at RM305 million.
He recalled that a RM19 million bribe was allegedly paid to a businessperson who claimed he could cover up the case with the MACC, but had eventually been slapped with 68 court charges.
'Shameless, immoral and unethical'
Describing these as lies, Lim, who is also finance minister, went on to criticise the "BN-controlled mainstream media" and their social media for being willing to publicise Najib's claims.
"What is the point of responding to the lies of a person who is so immoral and unethical that he has no sense of shame that tens of billions of ringgit of the nation's funds were stolen through 1MDB?
"And yet he can be proud of his moniker, 'Malu apa bossku'," he said.
Lim said Najib has never explained the 1MDB scandal in detail, including the billions of ringgit in his personal bank account.
The minister reminded Najib that he has yet to justify his administration approving the payment of RM8.3 billion or 88 percent of the two pipeline contracts amounting to RM9.4 billion.
"The payment was made even though only 13 percent of the work was done. Worse, the 13 percent of work done remains unverified or unaudited," he added.
'Najib like road accident, horror'
Lim also criticised Najib for launching "racist and extremist attacks" against Pakatan Harapan leaders, especially those from DAP.
Describing DAP as Najib's "favourite soft target", the minister accused the former premier of wanting to pit the Malays against non-Malays.
"To respond to these lies will be to fall into his trap to play the victim, that he is being attacked by all. When these lies are exposed, he will cheekily dismiss them or blithely ignore them and slickly go on to the next lie.
"We should accept that Najib has attracted attention because he has become an object of curiosity, just like any road accident, horror or tragedy," he added.
Lim noted there were fewer supporters attending the former prime minister's corruption trial, compared to when PKR leader Anwar Ibrahim faced charges.
He said that although Najib attracted huge public attention when he campaigned for the PBS candidate in the recent Sandakan by-election, DAP's Vivian Wong (below, centre) had won the parliamentary seat with a bigger majority compared to the 14th general election.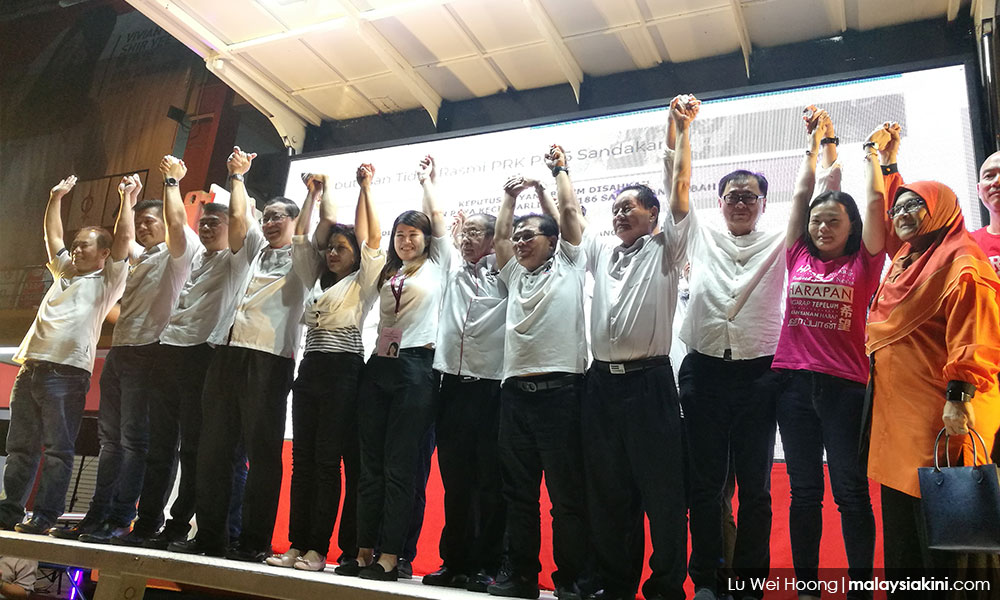 "Let us not waste time on Najib when history and the people in the 14th general election have already passed judgment on him.
"Instead we should redouble our efforts to bring positive change to the country, bring prosperity so that Malaysia can roar once again as an Asian economic tiger.
"As for Najib, let the courts decide, let facts and figures prove that what Malaysia lost under his rule was worse than the wealth stolen by former Philippine president (Ferdinand) Marcos.
"The shoes owned by Imelda Marcos were nothing compared to the hundreds of luxury designer handbags confiscated by Malaysian authorities," he added.