KINIGUIDE | Latheefa Koya made her first move as the new MACC chief yesterday by announcing that the commission was seeking to recoup RM270 million in 1MDB-linked assets.
Of the 41 respondents alleged to have received funds from former premier Najib Abdul Razak's personal Ambank account, 15 were political entities.
Along with its federal chapter, eight Umno divisions were implicated - Selangor, Kedah, Johor, Sabah, Perak, Kelantan, Pahang and Pekan. Collectively, Latheefa said the party made up a bulk of the entire suit - RM212 million (78.5 percent).
Also named were Johor Bahru BN, MCA Wanita, MCA Pahang, Parti Bersatu Rakyat Sabah (PBRS), Sarawak United People's Party (SUPP) and Sabah's Liberal Democratic Party (LDP).
Umno has vowed to challenge the suits, while MCA explained that it was unaware of the source of the funds it received in 2013.
In this Kiniguide, Malaysiakini takes a closer look at the other individuals, foundations and companies mentioned in MACC's civil forfeiture.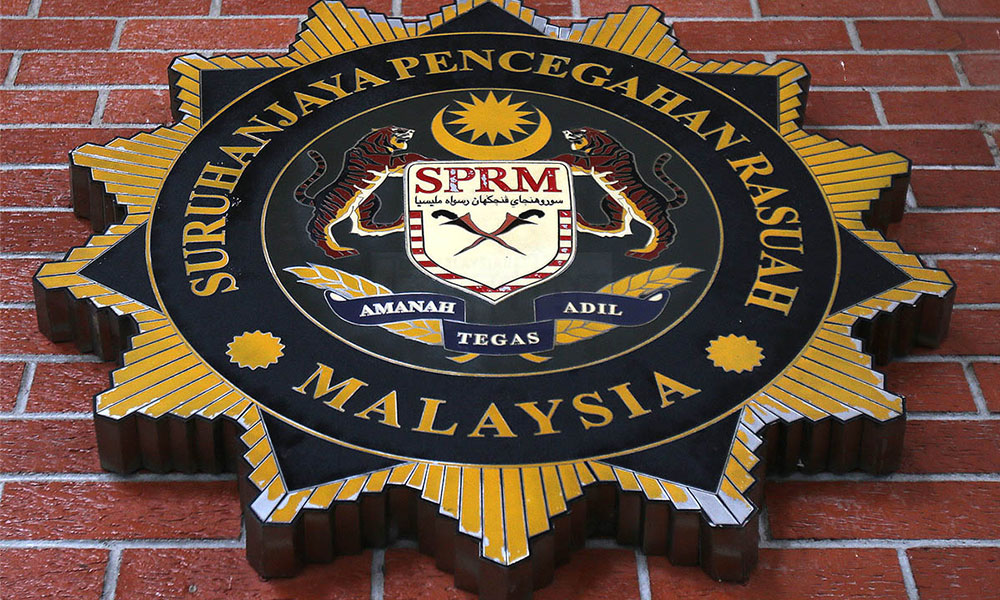 The order of the list below follows the one provided by MACC.
Ibrahim Awang Ismail
Previous news reports have named him as Pekan Umno's education bureau chairperson. From 2008 to 2013, he was the assemblyperson for Peramu Jaya, a constituency under the Pekan parliamentary seat.
Kasitah Gaddam
A Sabah Umno politician who was the minister for land and co-operative development from 1999 to 2004.
Ismail Abd Muttalib
Umno four-term Maran MP. He was human resources deputy minister from 2013 to last year when BN lost power in the 14th general election.
Hasan Malek
Former Umno Kuala Pilah MP and the domestic trade, cooperatives and consumerism minister from 2013 to 2015.
Sim Sai Hoon
Also known as Rita Sim, she is the director of the research firm Centre for Strategic Engagement Sdn Bhd. She was previously Sin Chew Media Corp Bhd's executive director.
A witness in Najib's ongoing SRC International trial, she previously testified that she had received RM300,000 from the former PM to carry out daily analysis of Chinese vernacular dailies from December 2014 to January 2015.
Abdul Manan Ismail
A two-term Umno Paya Besar MP, he passed away in February 2018. He was also the Umno Paya Besar division chief.
Pertubuhan Kebajikan Dakwah Islamiah Malaysia (Pekida)
The Malay-Muslim NGO based in Kedah with branches in other states. It has been described as a vigilante group.
It participated in the 2015 Red Shirts rally in Kuala Lumpur.
Akademi Pemuda
A think-tank to support Umno Youth.
According to a 2009 post on its website, it was led at the time by Khairul Azwan Harun (now a senator) and among its committee members were Shahril Hamdan, who is now the youth wing's deputy chief. The Umno Youth chief at the time was Rembau MP Khairy Jamaluddin.
Yayasan Permata Malaysia
Launched in 2011, the government foundation was parked under the Prime Minister's Office and had Najib's wife Rosmah Mansor as a patron.
It runs education and welfare programmes.
The foundation has since been rebranded as "Genius" by the Pakatan Harapan government and transferred to the Education Ministry.
Yayasan Tun Hussein Onn
Established by an act of parliament in 2017, the Yayasan Guru Tun Hussein Onn is a government foundation under the Education Ministry that replaces the Teachers' Provident Fund.
Its main aims are to ensure the welfare and the professional development of teachers.
Gerakan Belia Gagasan 1Malaysia
A youth organisation that was set up in 2011 to support Najib's 1Malaysia campaign.
Yayasan PBAKM
PBAKM stands for Persatuan Bekas Anggota Kemas Malaysia, an organisation for former employees of the Community Development Department (Kemas).
The foundation is meant to look after the welfare of former Kemas staff and their families.
Binsabi Sdn Bhd
An events organising company founded in 2010 by Sabiamad Abdul Ahad.
According to its website, its list of former clients include the Prime Minister's Office, KL City Hall (DBKL), the Communications and Multimedia Ministry, the Education Ministry, Tourism Malaysia, the Agriculture and Agro-based Industries Ministry and Umno.
Rayhar Travels Sdn Bhd
A travel agency focusing on organising umrah and hajj pilgrimages. It also offers halal travel packages to other parts of the world.
It has responded to the MACC suit, saying that it was previously probed for umrah packages for Pekan folk which were sponsored "by an individual" back in 2013.
K&Z Enterprise Sdn Bhd
A clothing manufacturer based in Johor. According to its website, it has a factory in Cambodia and exports to the UK, USA and Australia.
IPG Mediabrands Sdn Bhd
An international marketing agency with an office in Petaling Jaya, Selangor.
Media Edge CIA (M) Sdn Bhd
An international media agency under the GroupM group of companies with an office in Damansara, Kuala Lumpur.
Hattatex Trading
A textiles store located along Jalan Tuanku Abdul Rahman in Kuala Lumpur.
Jakel Trading & Jakel Trading Sdn Bhd
A well-known textile wholesaler and distributor. According to its website, it provides "apparel for employees of government sectors". It also has business interests in property development and shopping malls.
Perano Sdn Bhd
A subsidiary of Jakel Trading Sdn Bhd. It owns Galeri Hajra Tudung and Selendang stores.
AGA Touch (M) Sdn Bhd
Based in Kota Kemuning, Selangor, it describes itself as a "multiple business solution platform" specialising in big data.
According to its website, some of its past clients include the Domestic Trade and Consumer Affairs Ministry and the government agencies like the Multimedia Development Corporation (MDEC).
Habib Jewels Sdn Bhd
A well-known local jeweller headquartered in Ampang, Selangor.
It has responded to the suit saying all relevant transactions were done "in good faith" and have been properly documented.
Naza Quest Auto Sdn Bhd
A subsidiary of conglomerate Naza Group, the company was the sole Malaysian distributor of Chevrolet cars for US manufacturer General Motors until November last year.
It has responded to the suit saying that it had received a request from the MACC to forfeit RM269,662 in relation to the purchase of four Chevrolets.
Bustari Yusof
Once described as Najib's "right-hand man", the Sarawakian businessperson has stakes in various sectors including plantations, healthcare, construction as well as oil and gas. He is a major shareholder in oil and gas group Petra Energy Bhd.
He is the brother of former BN works minister Fadillah Yusof.
Yayasan Penyelidikan Transformasi (Fort)
A foundation aimed at researching "transformation", it is led by Najib's former adviser and special aide Khairil Annas Jusoh.
Back in 2016, Najib had launched a 467-page book by Fort which celebrated the former PM's 40 years in politics.
Yayasan Rahah
Named after Najib's mother Rahah Mohammad Noah, the foundation runs welfare and education programmes for children and the Orang Asli. It also offers scholarships to local universities.
---
This edition of Kiniguide was compiled by ANNABELLE LEE.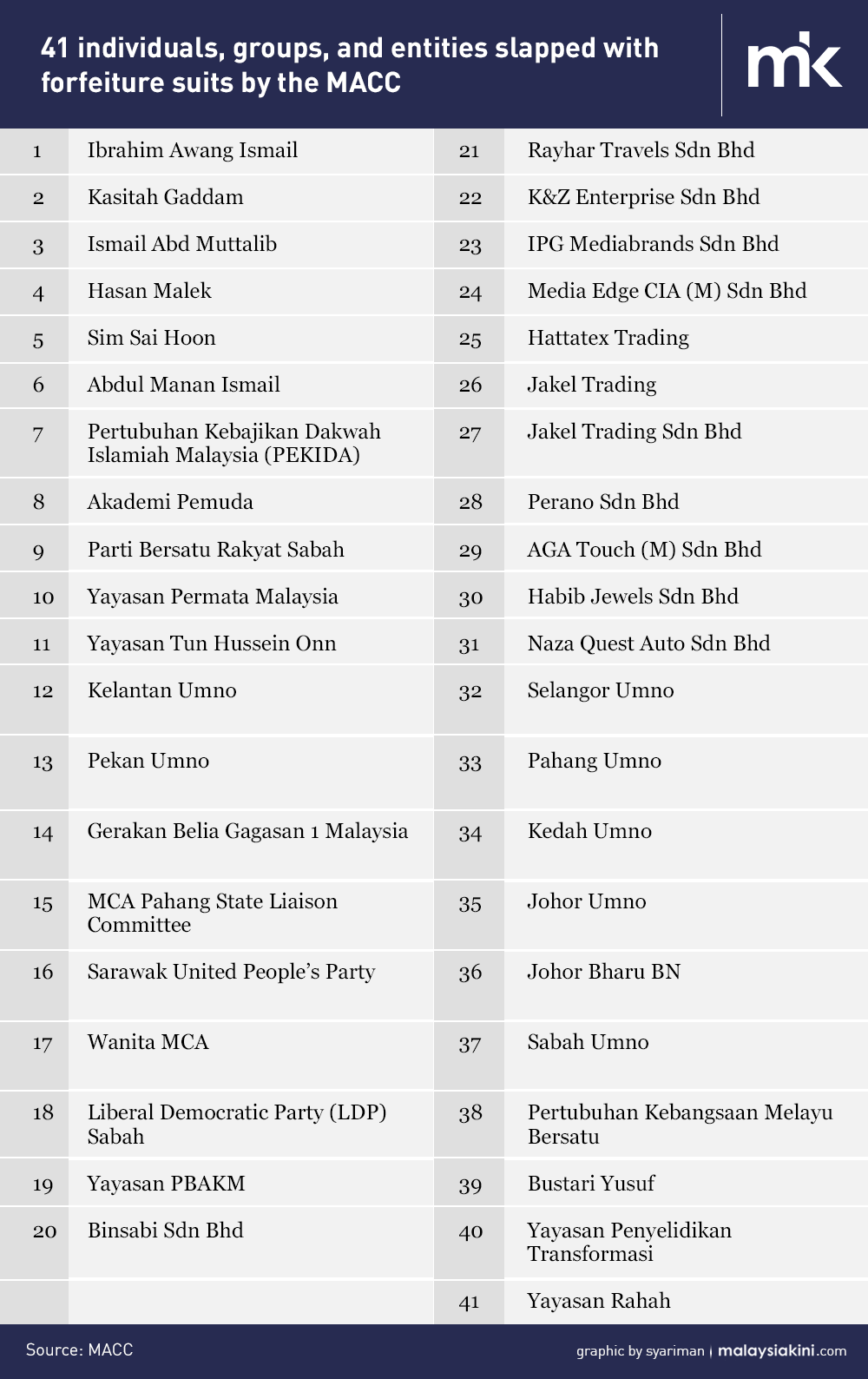 RELATED REPORTS
Apologise for 'slander' over 1MDB funds, PAS Youth tells critics
Travel agency on MACC cross hairs explains cheque from Najib
MACC action against Naza involves 4 cars worth RM269,662
1MDB forfeiture suit: Wanita MCA and Pahang MCA claim unaware source of fund
Umno will fight civil forfeiture suit in court, says Tok Mat
MACC files 1MDB civil forfeiture suits against 41 respondents