The Wanita MCA and Pahang MCA Liaison Committee said that the civil forfeiture suits by the graft-buster provide them with the chance to clear their names in court.
In a joint statement, they asserted that they had neither knowledge nor were informed about the source of the funding received from the then Prime Minister Najib Abdul Razak before the 13th general election in 2013.
They also claimed to have given co-operation to authorities throughout the investigation.
"Since last year, Wanita MCA and Pahang MCA have extended our fullest co-operation throughout investigations conducted by MACC and the police.

We have furnished the activities report on how the funds were utilised as intended," the statement read.
The statement came following the announcement by MACC chief Latheefa Koya today (photo, above) that it had filed civil forfeiture suits worth RM270 million against 41 local individuals and groups.
She said all the money sought had been distributed from Najib's personal AmBank account.
The 41 suits were filed at the Kuala Lumpur High Court recently and MACC has since obtained four court dates to have them heard separately - June 25, July 10, July 24 and July 31.
The statement also said the political party is seeking legal advice from its lawyers and will prove its innocence in the courts.

Its coalition partner Umno had also said that it will fight to have the money returned to the party.
"That is their (MACC) procedure. They have (earlier) frozen the money, and now they move towards forfeiture.
"So, what MACC is doing is according to the law, and Umno must argue (in court) why the money has to be returned to us. We are doing that.
"They are doing their job, so we will do ours. When it reaches one year (after freezing the accounts), the court will decide," acting Umno president Mohamad Hasan had said.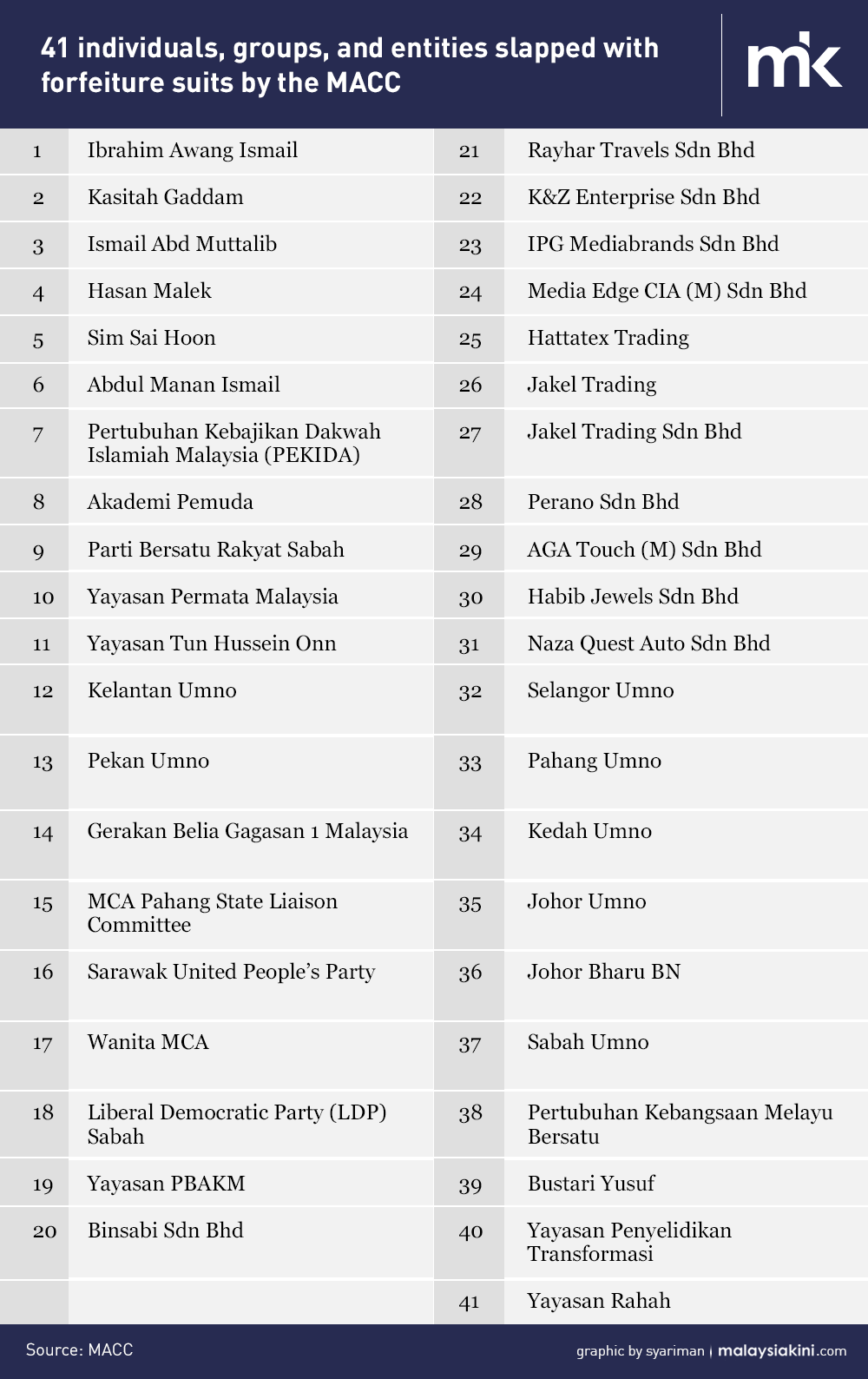 RELATED REPORTS
Absent from 1MDB forfeiture list, PAS Youth wants apology from critics
Who's who in MACC's 1MDB civil forfeiture suit
Travel agency on MACC cross hairs explains cheque from Najib
MACC action against Naza involves 4 cars worth RM269,662
1MDB forfeiture suit: Wanita MCA and Pahang MCA claim unaware source of fund
Umno will fight civil forfeiture suit in court, says Tok Mat
MACC files 1MDB civil forfeiture suits against 41 respondents