The firm allegedly used by former minister Tengku Adnan Tengku Mansor to allegedly receive bribes from developers is also linked to the controversial Taman Rimba Kiara development, a search of company shareholdings show.
In his ongoing court trial, Tengku Adnan is charged with receiving RM3 million in bribes from two developers through the firm Tadmansori Holdings of which he is the majority shareholder.
Interestingly, an investigation by anti-corruption watchdog NGO C4 shows that Tadmansori is also linked to the Taman Rimba Kiara development project, thus raising allegations of a conflict of interest as Adnan was federal territories minister when the project was approved.
C4 today said it will submit its sizeable bundle of documents detailing the alleged conflict of interest to the MACC for further investigations.
Its director, Cynthia Gabriel, pointed out that the timing of director appointments and movement of shareholdings between Tadmansori Holdings and other companies linked to the Taman Rimba Kiara project were coordinated.
She said the movement could be traced back to 2013, raising the question of why Kuala Lumpur City Hall (DBKL) didn't query these alleged conflicts of interest before the project was approved in 2017.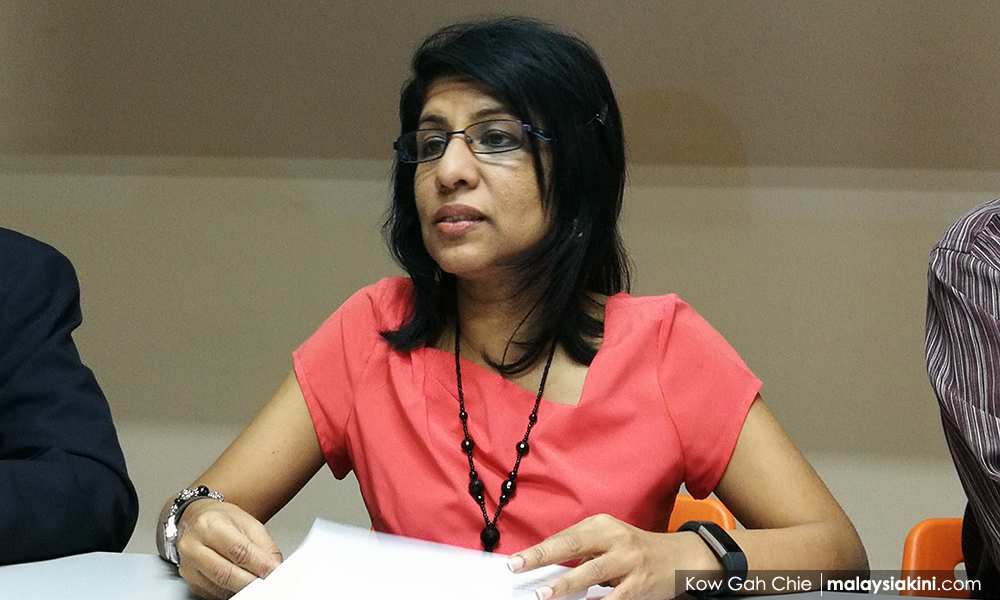 C4 said its research showed that the link lay with Tadmansori's ownership of another development, Pavilion Genting Highlands.
"Did these movements [...] amount to gratification taken and received by a public officer?" asked Gabriel (above).
C4 said public records show that Tengku Adnan's Tadmansori also owns a 20 percent stake of Sering Manis, the project company for Pavilion Genting Highlands.
Pavilion Genting Highlands is a development linked to Desmond Lim, who is behind luxury developments bearing the name Pavilion and the Pavilion Real Estate Investment Trust.
It will be built on a 280-acre tract of land in Bentong, purchased from Panji Selera, a firm owned by government advisor Daim Zainuddin's sons.
Pavilion's projects also include the controversial Pavilion Taman Tun, which is to be built on the Taman Rimba Kiara land.
Lim's Malton Bhd owns 51-percent of Memang Perkasa, the firm which is developing the Taman Rimba Kiara/Pavilion Taman Tun project together with Yayasan Wilayah Persekutuan (YWP) which owns the land. The chairperson of YWP is the federal territories minister.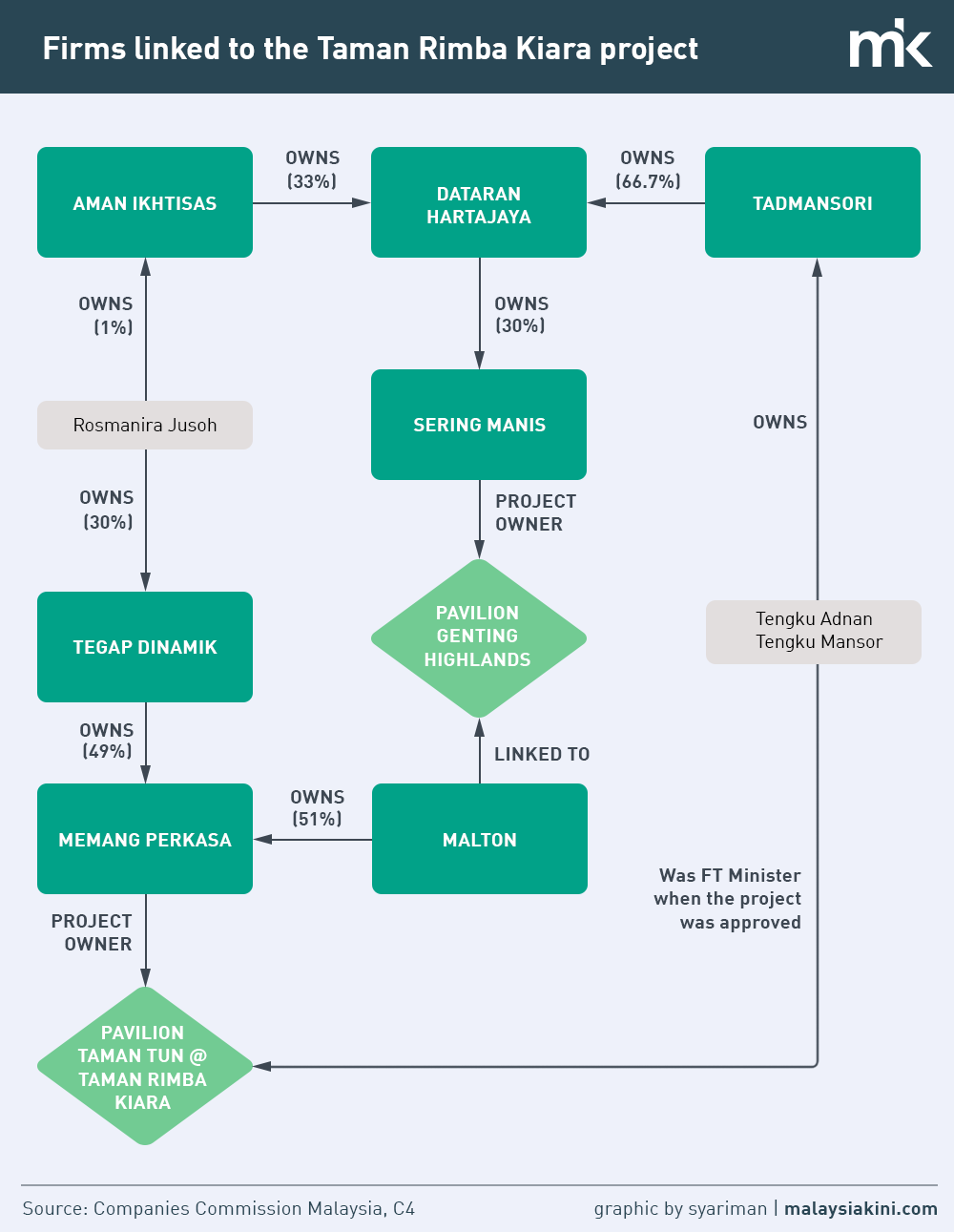 Memang Perkasa's ownership ties the Taman Rimba Kiara/Pavilion Taman Tun development to Tengku Adnan's Tadmansori.
Tadmansori owns a stake in the Pavilion Genting Highlands project via its ownership of Dataran Hartajaya.
The other company which owns Dataran Hartajaya is Aman Ikhtisas, a firm partly belonging to one Rosmanira Jusoh.
Rosmanira was a director of Memang Perkasa but she resigned as director in January 2016 after the Malton Group bought a 51 percent stake in Memang Perkasa.
The remainder 49 percent of Memang Perkasa is still owned by a firm called Tegap Dinamik, which is 30 percent-owned by Rosmanira.
Tengku Adnan's son, Tengku Daud Shah Tengku Adnan, and the former minister's brother Tengku Rethwan Tengku Mansor were appointed directors of Dataran Hartajaya in April 2017, two months after Memang Perkasa received planning permission to develop Pavilion Taman Tun at Taman Rimba Kiara.
Malaysiakini has contacted Tengku Adnan for comment.
Despite strong local protests over the Taman Rimba Kiara development, current Federal Territories Minister Khalid Samad said the government could only reduce the scale of the development as cancelling it outright would cost the state RM200 million in compensation.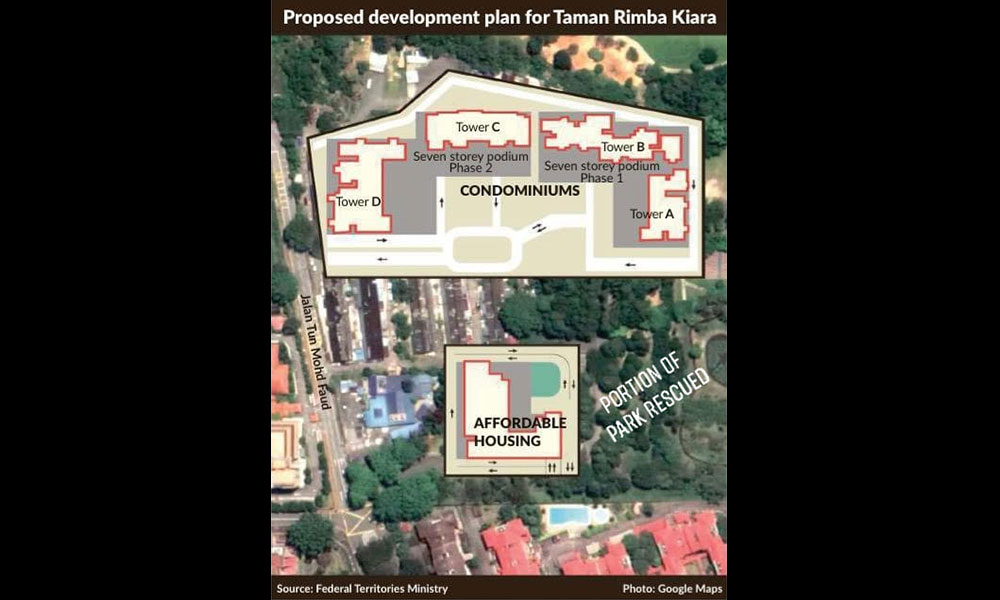 In its original form, it featured eight blocks of 42-storey to 54-storey high-end serviced apartments (2,277 units) and a 29-storey block comprising 350 affordable housing units as compensation for longhouse residents displaced by the project.
"The complex dealings of land transfers and ownership have been a frightening development, showing the dangerous nexus between business and politics," said Gabriel
"With Pakatan Harapan's pledge to tackle entrenched corruption, C4 urges immediate steps for greater scrutiny and oversight when the sales of government assets and properties are concerned.
"We further assert for Harapan to lay down important rules and standards on accountability mechanisms, to assist in detecting fraud and conflict of interest and assert our right to know and the right to greater information over dealings involving government procurement and sales of government properties," she said.