PARLIAMENT | Controversial preacher Zakir Naik is not on Interpol's red notice list of individuals for whom there is a request to locate and provisionally arrest pending extradition.
He is also not a suspected terrorist listed under the United Nation Security Council Resolutions list.
Home Affairs Minister Muhyiddin Yassin said this in a written reply to Tuan Syed Ibrahim Tuan Man (PAS-Kubang Kerian) who asked for an update on the extradition request for the preacher by the Indian government.
An Interpol red notice is issued at the request of a member country of Interpol or an international tribunal based on a valid national arrest warrant.
"The entry of Zakir Naik to Malaysia in the past was not prevented as it was in accordance with the usual procedures and adheres to the rules, regulations and laws of the state," states the reply.
"Zakir Naik was not given any special treatment or passage as was alleged on social media," said Muhyiddin who added that the Indian national had entered and exited Malaysia through lawful channels.
Muhyiddin acknowledged that Malaysia had received a provisional arrest application from the government of India, based on a diplomatic note on Dec 29, 2017.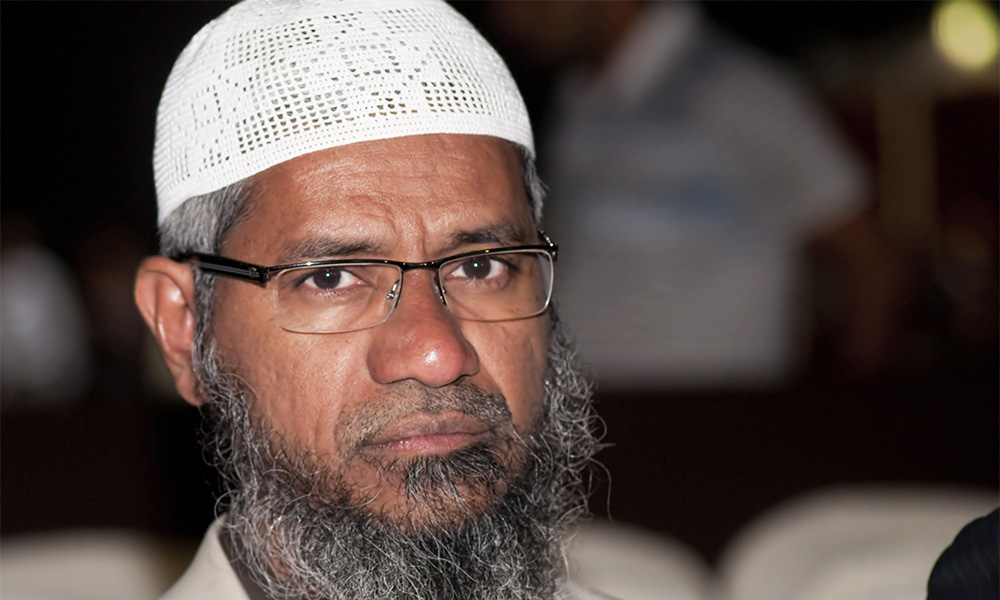 This was then followed up by an official application of extradition for Zakir (photo, above) from the government of India on Jan 19, 2018, he said.
"There is a provision in the Treaty of Extradition between the Government of Malaysia and the Government of the Republic of India and the Extradition Act 1992 (Act 479) which provides for exceptions to such extraditions if it is found that the alleged offender may be denied a fair trial and persecuted for his/her race, religion, citizenship and/or political beliefs."
"Based on that criteria, Malaysia is entitled not to grant the extradition request as defined in Article 6 Paragraph (1) (a) of the Treaty of Extradition, without having to specify the reason for the rejection of the extradition request," he said.
"In addition, there is a provision not to continue the extradition process in the interest of justice if the subject will not get justice if repatriated or faces oppression and a threat to his/her life."
Last month there was some confusion over the status of the extradition request as Deputy Prime Minister Dr Wan Azizah Wan Ismail said, on June 16, that Putrajaya had yet to receive a formal extradition request from India.
However, this was proven to be erroneous when Foreign Minister Saifuddin Abdullah confirmed on June 28 that the extradition request had been received.
Zakir is being charged with laundering more than 1.93 billion rupees (RM115.66 million) from "proceeds of crime in India and overseas".
Zakir said he was prepared to return to India on the condition that the Indian Supreme Court could assure him in writing that he would not be arrested and jailed until he was convicted.
Prime Minister Dr Mahathir Mohamad had likened Zakir's position to that of fugitive Sirul Azhar Umar.
Sirul, along with Azilah Hadri, were the two police commandos convicted of the murder of Mongolian national Altantuya Shaariibuu and sentenced to death.