Umno has made great strides after Najib Abdul Razak was no longer running the party, and hence there was no need to bring him back, said Umno supreme council member Nazri Abdul Aziz.
In his speech at the Padang Rengas Umno division AGM today, Nazri also urged the current Umno president Ahmad Zahid Hamidi not to be overly influenced by Najib.
Nazri said the appointment of Najib as the BN adviser was never discussed by the Umno supreme council, and Zahid should use his mandate to do good for the party.
"You (Zahid) have helped us work together with PAS... Execute decisions that we have agreed on. Don't be a political secretary to Najib.
"Our party president (Zahid) was Najib's political secretary 30 years ago. Now, you (Zahid) are the Umno president. You should take care of the party's interest. The party does not belong to any individual.
"You cannot simply do what you want. Tak boleh! (Cannot!) You must discuss (with us) first... The party vice-presidents were out of the loop. So were the supreme council members," said Nazri.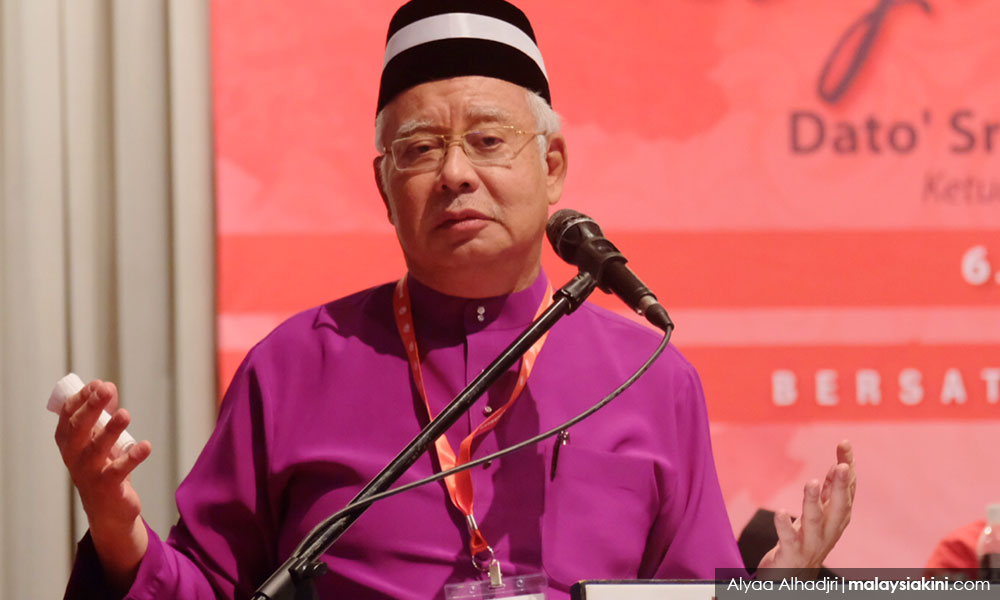 Nazri said Zahid was the BN chairperson and that BN never had a "board of advisers".
"The Umno president is the chair of BN. Therefore, the responsibility to advise us falls (on the BN chairperson)," said Nazri.
PAS might not agree
Nazri said having Najib back in the mix might complicate Umno's relationship with PAS, which has committed to supporting Dr Mahathir Mohamad in the event a no-confidence vote was moved against him in Parliament.
"I am very dissatisfied. We must ask PAS because they are our partners... and they will support Mahathir. I didn't say it. The PAS president and secretary-general did," he said.
He said Umno and PAS had built a working relationship that might help both parties win 140 Malay majority seats, which would allow them to form the next federal government.
Bringing back Najib in the mix, he said, was akin to "throwing the spanner in the works".
He said he and Khairy Jamaluddin, the guest of honour at the AGM, had been heavily criticised for speaking out against Najib, but he stressed that they are doing so for Umno.