Johor Menteri Besar Dr Sahruddin Jamal today apologised to residents affected by the recent pollution incidents in Pasir Gudang.
Speaking to an audience during a townhall session at the Pasir Gudang Stadium, Sahruddin admitted that the incident could have been handled better in certain aspects.
"As head of the state government, I humbly apologise to residents of Pasir Gudang and I promise to improve on existing weaknesses.
"We are disappointed that the development planned not long ago in this area did not take into consideration the long-term consequences on residents," he was quoted as saying by Bernama.
Sahruddin added, however, that finger-pointing will not solve the problem, and reiterated that the Johor government will prevent such incidents from reoccurring in the future.
The menteri besar was joined at the townhall by representatives from the Environment Department, Health Department, and Education Department.
According to Sahruddin, the state government has initiated various preventive measures to safeguard the health and security of residents, and ensure that they receive due assistance.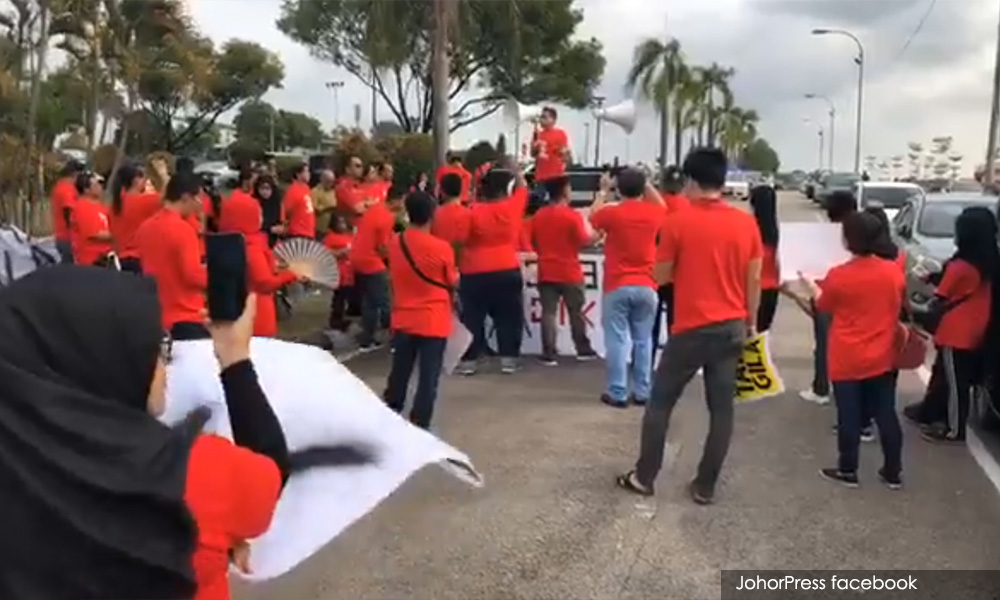 Earlier, some 100 people had gathered from 9am to protest Sharuddin's apparent failure to resolve the issue.
An individual had allegedly attempted to stop the menteri besar's official car but was prevented from doing so by a police officer, reported Harian Metro.
According to The Star, the protest was staged by members of Badan Bertindak Penduduk Isu Pencemaran Alam (BBPIPA).
"Besides the RM25 a day, which is insurance given to students that are warded in hospital, there was no aid or compensation from the government," claimed BBIPA deputy chairperson Mohd Rafee Abdullah.
Rafee also accused authorities of not taking Pasir Gudang residents' health concerns seriously, and that experts were not being actively involved in handling the problem.
He also railed against reports from the Environment Department and other agencies purportedly not being made public.
On July 14, over 100 victims lodged a police report to urge authorities to initiate a comprehensive probe into the twin Pasir Gudang pollution 'outbreaks' in March and June.
---
Read more: Troubled waters: Why Pasir Gudang rivers are dying
---
Energy, Science, Technology, Environment and Climatic Change Minister Yeo Bee Yin said earlier that month that the government would not approve new applications for the construction of chemical plants in Pasir Gudang.
Last week, the Johor exco for local government, urban wellbeing and environment Tan Chen Choon said that 67 factories were operating without licence in Pasir Gudang.
Tan added that of these, 46 were given warnings, eight will be subjected to court action, three were sealed, and two ordered to close.