Editor's note: An earlier version of this article had attributed Waythamoorthy's quote to a statement. The minister had made the comments in an interview with Bernama, which were included in a statement his aide sent to Malaysiakini. This article has been updated to reflect this.

De facto National Unity and Social Wellbeing Minister P Waythamoorthy disagrees with the teaching of khat in Tamil schools.
"The teaching of khat in Tamil schools is not realistic. At a time when there are a lot of complaints that the education system is burdening students, the government should instead find ways to reduce their burden," he said.
According to a statement sent to Malaysiakini by the minister's aide (image, below), Waythamoorthy said this in an interview with a Bernama Tamil news programme recently.
Waythamoorthy said the Education Ministry's move to introduce six pages of khat lessons in the Standard 4 Bahasa Malaysia textbook, which have since been cut to three and made optional after pushback, came out of the blue.
He stressed that there were many other skills, such as coding, that students need to acquire in schools.
"Therefore, for me, the introduction of khat in Tamil schools is not necessary," he said.
Waythamoorthy added that many of his cabinet colleagues also disagreed with the move, and that those who want to learn khat can do so on their own time.
He stressed that there are also many other issues to address in the education system, such as graduate unemployment.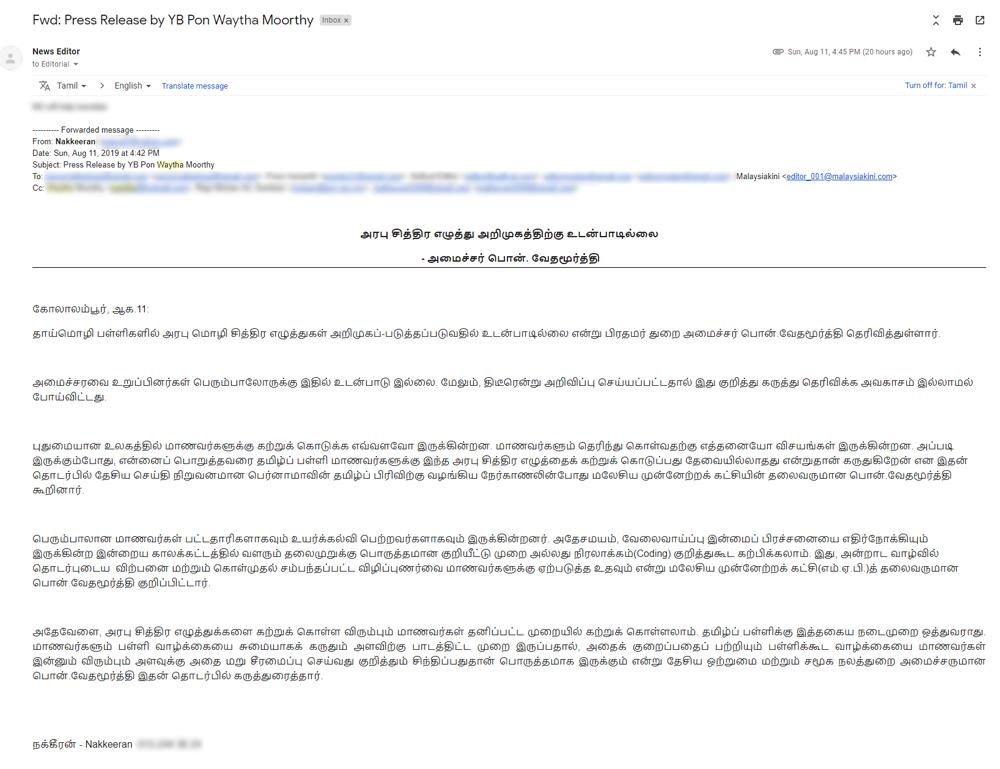 In a related development, a Tamil NGO today announced that it is planning a protest against the introduction of khat despite the Education Ministry's announced revisions.
Malaysian Tamilar Kural said the protest, called 'Puratchi (revolution)', will take place on Aug 23 at 7pm in Brickfields. It is expected to call on the ministry to scrap the plan altogether.
Non-Malay communities have given various reasons for their objection to khat lessons, ranging from its relevance to fear of Islamisation.
This is because Jawi, though previously used as the script for Bahasa Malaysia, is often associated with Islam.
The Education Ministry has maintained that there is no ulterior motive to the introduction of khat, and that the three-page lesson is only introductory and will not see students master Jawi.
It said the move would only be geared towards the appreciation of the art form, and that students would not be evaluated in examinations.