Story is updated with latest API readings as at 4pm as well as reports of fires in Sri Aman from Nadma and the army's comment.
Sri Aman in Sarawak is once again worse hit by the transboundary haze being swept into the region, with its Air Pollution Index (API) exceeding 400.
The API at Sri Aman breached 300 at 6am and has been steadily climbing, reading at 402 at 8am and now 409 as at 4pm this afternoon.
According to the Environment Department's API, any reading exceeding 300 is indicative of "hazardous" air quality.
If that is not bad enough, the dry spell has also seen Sri Aman saddled with water supply disruption.
Sarawak Deputy Chief Minister Douglas Uggah Embas has said on Wednesday disruption could possibly go on to the end of the month as forecast by the Meteorological Department.
Other API stations in Sarawak also show "very unhealthy" readings at 4pm today. They are at: Sarikei (208), Samarahan (208) and Kuching (234), while Sibu is at 171 which is considered "unhealthy".
Only Kapit indicated marginally better air quality with a reading of 93, or "moderate" at that time.
An API reading of 0-50 is deemed good, 51-100 (moderate), 101-200 (unhealthy), 201 - 300 (very unhealthy) and anything above 300 is deemed hazardous.
According to the National Disaster Management Agency (Nadma), an emergency would only be called should air index exceed 500.
Bernama reported yesterday that cloud seeding would be conducted in the state for two days, beginning today.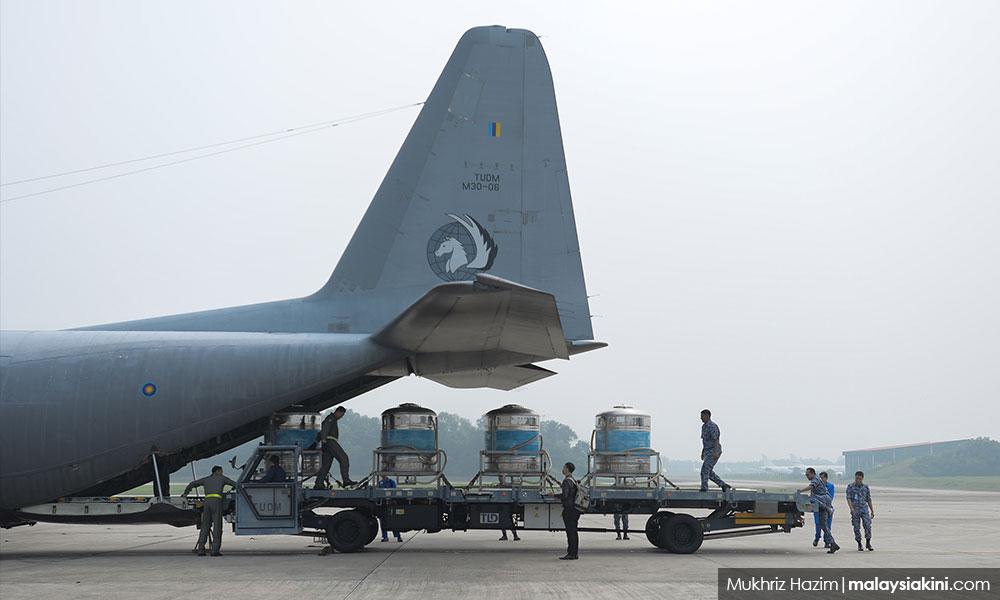 Cloud seeding will commence with the aid of the Royal Malaysian Air Force (RMAF) and use of its C-130 Hercules transport aircraft.
However, Nadma today said hotspots were reported in Sri Aman over a 200-ha area, as reported by Bernama.
According to the Fire and Rescue Department, 80ha of the razed areas in Sri Aman have yet to be extinguished.
"Works on building firebreaks using fire excavators and the assistance of Bombardier aircraft of the Malaysian Maritime Enforcement Agency will start tomorrow," the department said.
"The problem is the lack of water sources nearby," it said.
According to Nadma, fire department helicopters have not been given clearance by the control tower to assist as visibility is very limited.
It added that the API reading sensor at a stadium is 3km from the blazing area and wind brought smoke to the sensor location, which caused the API reading to spike.
The army also said it is ready to help extinguish the peat soil and undergrowth fires in Sri Aman, which are partly the reason for the spike in API reading there today.
Eastern Field Command commander Zamrose Mohd Zain said the army is just waiting for the go-ahead to mobilise its personnel.
"We are ready to assist any agency. It comes under the special duties of the Malaysian Armed Forces. When it comes to natural disasters, the coordination is carried out by Nadma," he said.
Meanwhile, in cloud-seeding operations conducted yesterday in Selangor, Perak and Penang,, Nadma said it succeeded in inducing rain, especially in the northern part of Peninsular Malaysia, though it was not in all areas.
"Among the difficulties faced is finding suitable clouds due to the thick haze and the access by aircraft to hilly areas," it said.
The Education Ministry announced that up to 1,037 schools in the state is to close today, along with 939 in Selangor, 25 in Putrajaya, 296 in Kuala Lumpur and 399 in Penang.
The ministry regularly updates lists of affected schools and districts on its Facebook page.