Updated to include fire-fighting efforts in Sarawak and Pahang.
The Meteorological Department is expecting air quality in the country to improve next week during the monsoon transition phase.
However, the department warned of thunderstorms and flash floods during this phase as the southwest monsoon winds down.
This transition period, it said, is expected to begin on Tuesday, Sept 24, and will go on to November 2019.
"The start of this phase marks the end of the southwest monsoon, which began on May 6.
"...During monsoon transitions, the usual weather conditions are thunderstorms, heavy rains and strong winds in a short period of time, especially during the evening and early in the night in many states along the peninsular west coast and interior, Sabah west coast, as well as the west and central Sarawak," the department said in a statement.
It further warned of potential flash floods and damage to weak structures.
"The hazy weather that has struck the country is expected to improve," the statement read.
Haze conditions slightly improved
Meanwhile, the haze situation seemed to have improved slightly this afternoon, with no areas recording 'very unhealthy' or 'hazardous' Air Pollution Index (API) readings.
This is a marked improvement from 3am this morning, when Sri Aman in Sarawak recorded hazardous air quality, with an Environment Department's API reading of 322.
Meanwhile, API reading at Sri Aman was at 113, or 'moderate' at 1pm.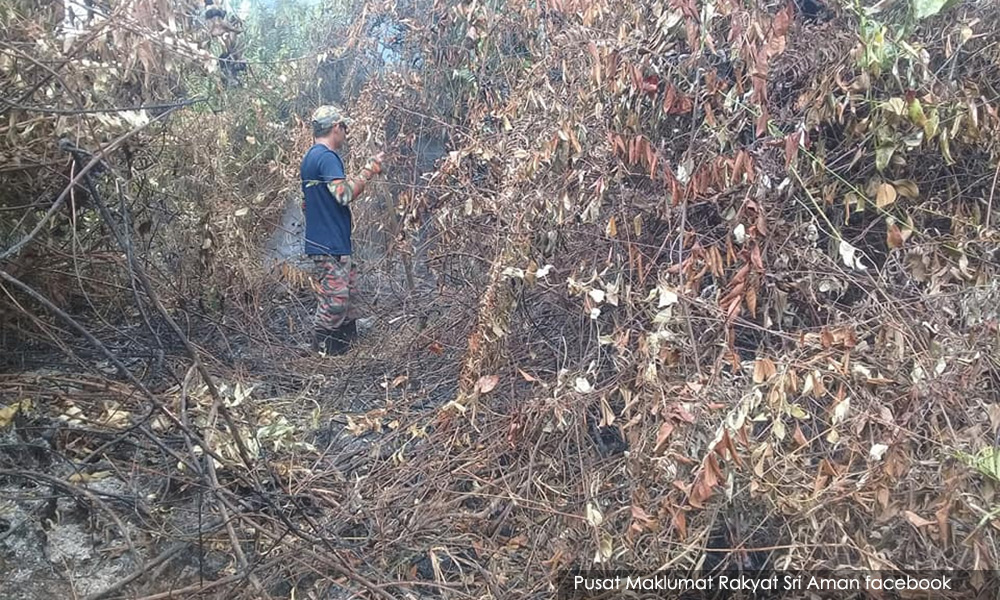 An API reading of 0-50 is deemed good, 51-100 (moderate), 101-200 (unhealthy), 201 - 300 (very unhealthy) and anything above 300 is deemed hazardous.
It was reported that cloud seeding activities were carried out in Sarawak, one of the regions hardest hit by the haze, yesterday and will continue today.
The bad weather conditions are largely blamed on transboundary haze being blown across the border from forest fires in Indonesia.
However, hotspots were reported in Sri Aman covering an area over 200ha yesterday.
Today, Deputy Prime Minister Dr Wan Azizah Wan Azizah reportedly said 60 percent of a fire affecting 81 hectares of plantation land and forest area in Sri Aman have been put out.
According to Bernama, she said the Fire and Rescue Department, the Civil Defence Force, the Maritime Enforcement Agency and other agencies were still working to douse flames in the remaining 32ha.
Operations there entered its sixth 24-hour day today.
Meanwhile, the National Disaster Management Agency (Nadma) said work on building firebreaks using fire excavators is to start today.
Meanwhile, Pahang's Semambu assemblyperson Lee Chean Chung yesterday published aerial photographs of alleged open burning at a plantation near Pekan.
He estimated the affected area to be about 8ha, but infrared satellite imagery (below) shows a scarred landscape about 180ha in size.
In a statement today, Lee said Pahang Environment Department director Mohd Sani Mat Daud had confirmed fire at the peat land in Penor.
He said Fire and Rescue Department had been informed.