Johan Setia Klang has the worst air quality in Malaysia this morning, although a majority of stations in the peninsula have unhealthy Air Pollutant Index (API) readings.
According to the Department of Environment's tracking of the API, Johan Setia Klang registered the highest API reading of 212 as at 8am. This put it in the "very unhealthy" category.
Many of the areas surrounding the Klang Valley such as Shah Alam, Putrajaya and Cheras registered between 154 and 175 API.
No less than 40 stations nationwide registered unhealthy readings, although most of Sabah and Sarawak now have moderate air quality. The exception is Sri Aman which has a reading of 134.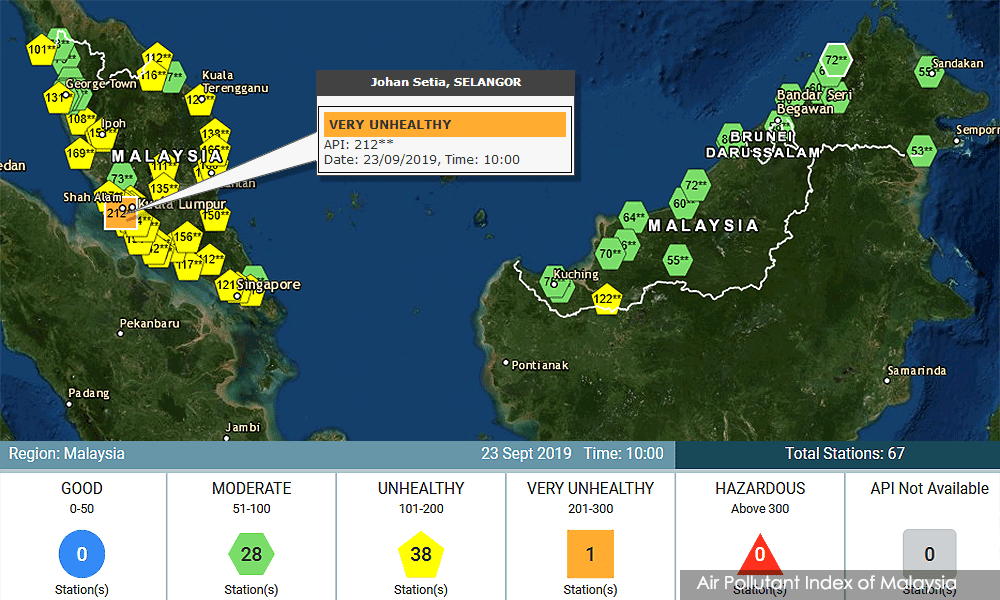 There are 68 tracking stations nationwide. Readings are updated hourly on the Department of Environment's website.
An API of 0-50 represents good air quality, 51-100 is moderate, 101-200 is unhealthy, 201-300 is very unhealthy, while 300 and above is hazardous.
Despite efforts to combat the haze, the Asean Specialised Meteorological Centre (ASMC) shows more than 450 hotspots in the Indonesian provinces of Kalimantan and Sumatra.
There are two hotspots in the Peninsular Malaysia and none in Sabah and Sarawak.