A report by a Malaysian diplomat had criticised China's treatment of Uyghurs at its "re-education camps", according to the New York Times (NYT).
The NYT report claimed to have viewed the private account of the diplomat - whom it did not name - after the latter visited the camps last December.
The account, said the newspaper, contradicted Beijing's claim that attendance at the camps was voluntary.
"China is carefully shaping its image of Xinjiang in the diplomatic world. Over the past nine months, Beijing has invited select visitors on circumscribed tours of the detention camps to garner positive publicity.
"China has generally handpicked visitors, including journalists from friendly countries... The trips do not always go as planned. Two reports - one by a Malaysian diplomat and another by European Union officials - were highly critical after their visits," it reported.
The NYT claimed that the diplomat wrote that "delegates could actually sense fear and frustration from the (Uyghur) students."
He was alleged to have been part of a trip with a dozen other diplomats from Muslim nations.
"China may have legitimate reasons to implement policies intended to eliminate the threat of terrorism, especially in Xinjiang.
"However, judging by its approach, it is addressing the issue wrongly and illegitimately, eg preventing Muslim minors from learning the Quran," the diplomat was further quoted as saying.
The diplomat also thought China was using the threat of terrorism as an excuse to "sanitise" Uyghur Muslims "until they become acceptable Chinese citizens."
However, the NYT stated that the account was never made public and speculated that this was as it came during the period when Malaysia was in the midst of renegotiating infrastructure deals.
"It (Malaysia) has also become increasingly dependent on China for purchases of palm oil, its biggest export," the publication added.
In December, the Chinese embassy in Kuala Lumpur said the "re-education camps" are part of measures to counter terrorism and extremism in the region.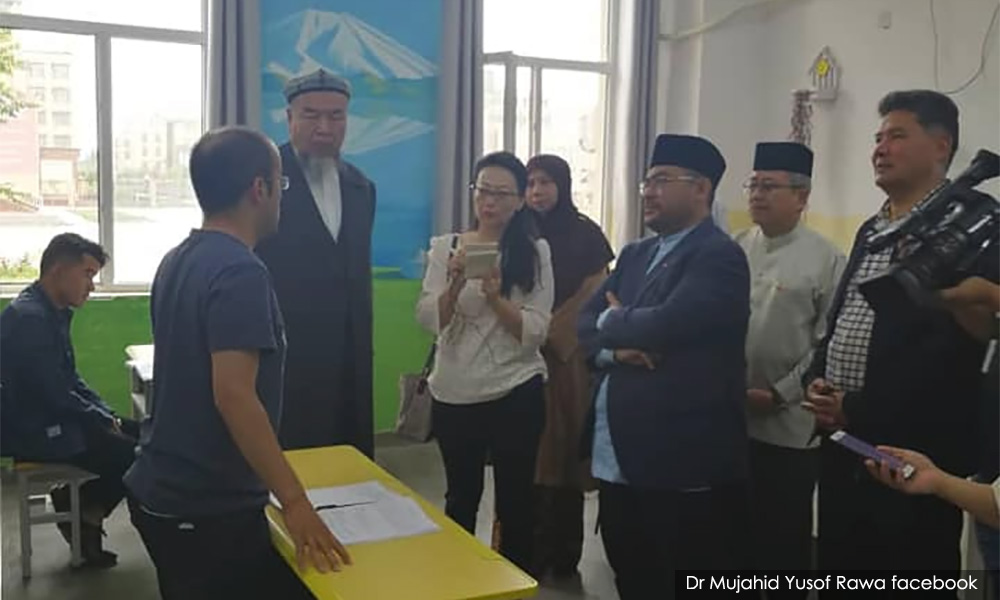 On July 1, Minister in the Prime Minister Department Mujahid Yusof Rawa's office defended the minister's conduct during his trip to China after being accused of pandering to Beijing's propaganda on its treatment of its Muslim population.
It had said that a news portal's report highlighting the minister's description as "false news" about Xinjiang was "confusing, inaccurate and did not reflect the entire picture."
"In the minister's speech text, there was no mention of Xinjiang or Uyghur. The words 'false news' was used to show that false news can impact the relations between a country and its people.
"For the record, the Muslim population in China is not limited to the ethnic Uyghur but also other ethnic groups including the Hui, Kazakh, Uzbeks and Tajiks," it added.
Mujahid, in a speech in Beijing on June 28, had said: "False news in China about Muslims being oppressed could trigger a wave of sympathy to the oppressed and affect relationships."