TV3 has apologised to Deputy Education Minister Teo Nie Ching for accidentally broadcasting a reply in Mandarin to a question in Bahasa Malaysia.
The mishap occurred when Teo answered a journalist's question in Bahasa Malaysia, but was asked to repeat her answer in Mandarin for broadcast in the Mandarin news segments on NTV7 and 8TV, sister stations of TV3.
However, a report on TV3's Bulletin Utama show yesterday used the footage of Teo replying in Mandarin to a reporter's question in Malay, prompting a round of criticism.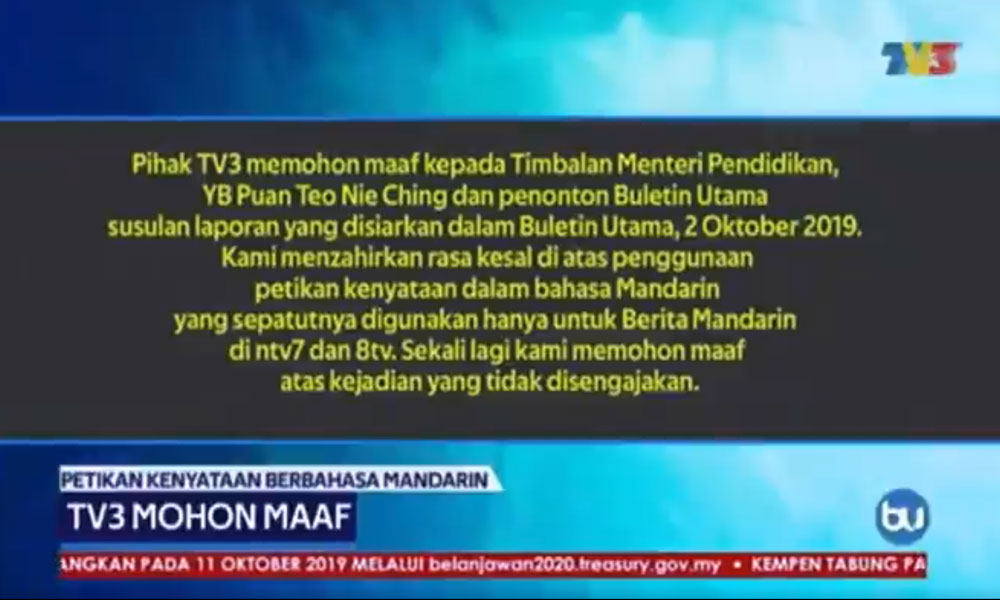 "TV3 apologises to Deputy Minister of Education Teo Nie Ching and viewers of Bulletin Utama following a report published on Oct 2," read the statement broadcast in tonight's news bulletin.
It said the error was unintentional.
The apology was highlighted in a tweet tonight by Syahredzan Johan, civil liberties lawyer and political secretary to Iskandar Puteri MP Lim Kit Siang.