KINIGUIDE | The federal government launched the Shared Prosperity Vision 2030 policy today and below is a simplified guide to the 188-page document.
What is the SPV2030 document?
The Shared Prosperity Vision 2030 is a document that outlines 10-year goals to restructure Malaysia's low-skill labour-intensive economy to a knowledge-based economy, where her citizens will enjoy a decent standard of living.
The official definition of SPV2030 reads: "Shared Prosperity Vision 2030 is a commitment to make Malaysia a nation that achieves sustainable growth along with fair and equitable distribution, across income groups, ethnicities, regions and supply chains. The commitment is aimed at strengthening political stability, enhancing the nation's prosperity and ensuring that the rakyat is united whilst celebrating ethnic and cultural diversity as the foundation of the nation-state".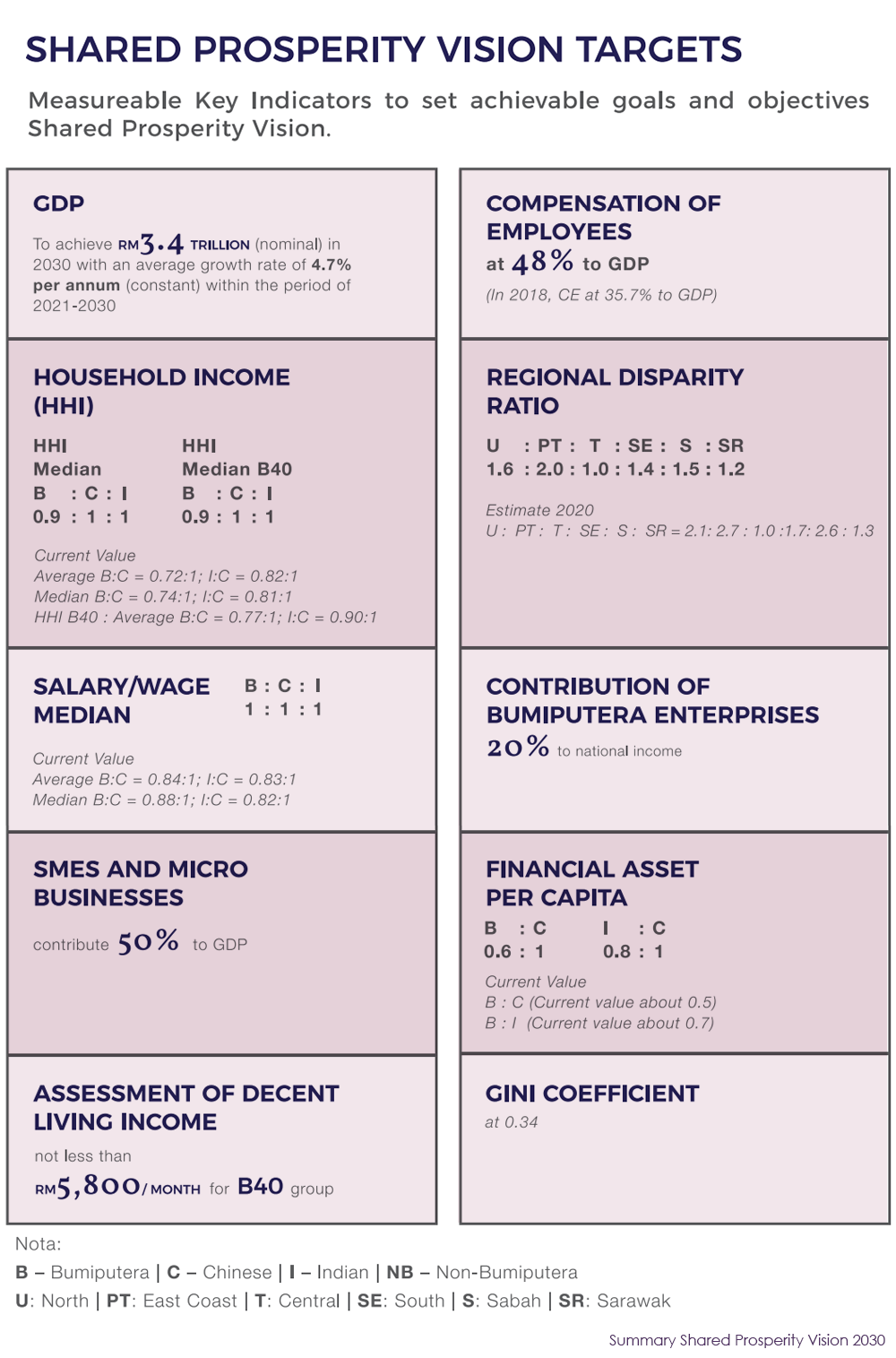 Is it a specific plan?
Like past economic policies such as the New Economic Policy (NEP), this is a government policy paper, not a how-to guide. It will serve as a direction for the government to formulate economic policies over the next 10 years.
Government ministries and agencies will have to formulate and execute plans to meet those targets. The implementation strategies should be outlined in the upcoming five-year Malaysia Plans.
What is the justification for SPV2030?
Malaysia's economic growth lags behind East Asia because of a dependency on export commodities which can fluctuate in price. Unlike East Asian economies, the adoption of high technology in Malaysia is still slow.
The country is also facing widening income gaps between employers and employees, classes, regions and ethnic groups.
There is insufficient bumiputera participation in professional sectors, SMEs and direct income contribution to GDP. Bumiputera income contribution to GDP, sans GLC contributions, reportedly amounted to 28 percent of GDP in 2014.
What's the underlying principle behind SPV2030?
While the NEP was aimed at bridging the wealth gap and equality of opportunity, SPV2030's underlying principle is economic growth through "equitability of outcome" (kesaksamaan keberhasilan).
The document said that the NEP was an affirmative action policy that made a section of the bumiputera community wealthier and did not fulfil the intended outcomes.
"Leakages in implementation (of the NEP), abuses and corruption was the biggest challenge in achieving equitability of outcome through the bumiputera agenda.
"In view of this, a more comprehensive approach to policies, interventions and programmes are needed to achieve equitability of outcome which is important to achieve SPV2030's goals for all income groups, ethnic groups, regions and supply chains," read the document.
However, "equitability of outcome" is just one of SPV2030's 15 guiding principles.
How big is the income gap between ethnicities?
In terms of median household income, the ratio for bumiputera and Chinese is 0.74:1. The ratio for Indian and Chinese is 0.81:1.
The SPV2030 goal for median household income is near parity between the three groups (0.9:1:1).
Does SPV2030 outline strategy?
There are seven broad strategies and some suggestions on how it can be implemented. The document also outlined eight ways in which the government can play an enabling role in achieving those strategies.
Does the document talk specifically about the bumiputera?
Chapter 9 of the document is dedicated to "bumiputera outcome" (keberhasilan bumiputera).
"Bumiputera outcome needs to be given priority (keutamaan) and systematically embedded in every strategic thrust and enabler to achieve SPV2030's goals.
"The bumiputera community will have to take the initiative to drastically change their mindset and attitudes while displaying a commitment towards bumiputera productivity," said the document.
In terms of direction, SPV2030's goals are for the government to formulate policies against discriminatory practices against bumiputera workers in the private sector and bumiputera businesses.
Other goals include breaking up monopolies, encouraging bumiputera property ownership in urban areas and bringing economic development to Perlis, Kedah, Kelantan, Terengganu, Sabah and Sarawak.
Does it prescribe more affirmative action?
No. The term "affirmative action" only appeared twice in the document and in a disparaging way.
However, one of SPV2030's guiding principles is "needs-based economic approach", which places an importance on formulating policies based on precise target demographics.
Specifically, this approach will require a redefinition of poverty.
Who drafted this document?
The Economic Affairs Ministry and Institut Masa Depan Negara. It was presented to cabinet on Sept 15, 2019.
Is this NEP 2.0?
You can tell us in the comment box below or write to the editor.
Email: [email protected]
But before deciding, do read the full report and the summary which can be found here.
RELATED STORIES