Johor Umno chief Hasni Mohammad has made a passing dig at the age of Bersatu's candidate for the Tanjung Piai by-election.
"Their candidate (Karmaine Sardini) is 66, going to be 67 next year, hopefully there won't be another by-election. Elections are tiring," Hasni said.
He was speaking at the launch of BN's machinery for the by-election today.
The Tanjung Piai parliamentary seat in Johor fell vacant following the death of its incumbent, former deputy minister in the Prime Minister's Department Dr Md Farid Md Rafik.
Karmaine's candidacy was announced by Bersatu president Muhyiddin Yassin at an event in Tanjung Piai earlier today.
BN was scheduled to announce their candidate today as well, but Hasni said this was a bluff.
"They (Pakatan Harapan) were fooled by us. They wanted to announce on the 30th, but when they heard that we were going to announce at 4pm (today), they announced first at 2pm.
"So they were defeated, we will not be announcing our candidate today," he said.
Meanwhile, Umno president Ahmad Zahid Hamidi showed deference to the late Farid.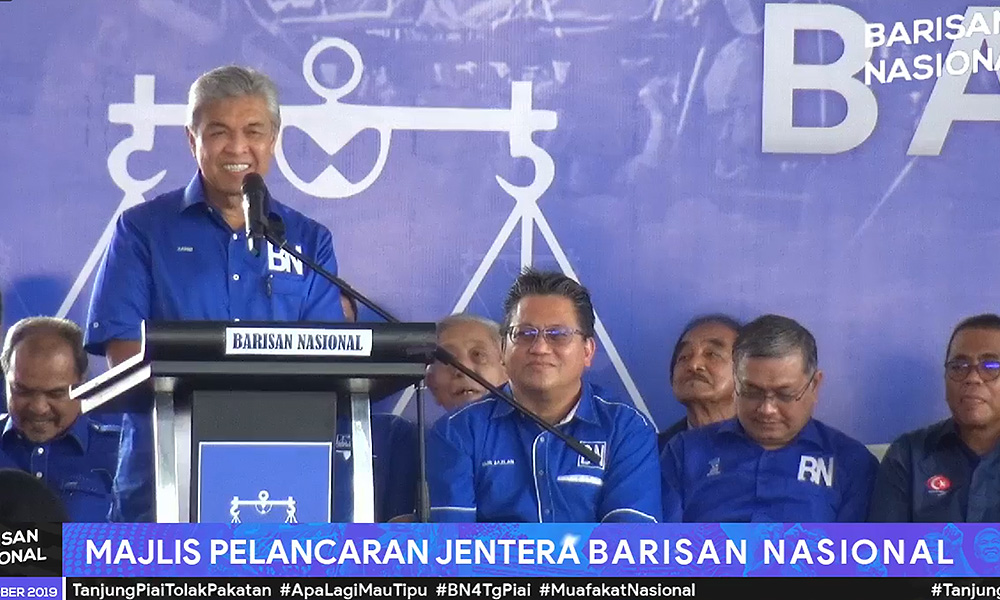 After giving salutations to all the BN leaders present at the launch, Zahid called for a short prayer for Farid and others who have passed away.
"Farid passed away too young, a doctor, medical expert is gone. He was a good man, that was his track record.
"But God willing, our candidate will be better than the dearly departed," the BN chairperson said.
Zahid said the BN candidate will also be a local, and promised an announcement on the matter would be made soon.
In the 14th general election, MCA's Wee Jeck Seng lost the seat by just 524 votes.
However, there have been calls for Umno to contest the seat instead.