The US government's report on terrorism in 2018 has noted Malaysia's continued role as a "source and transit point" for terrorist groups like the Islamic State (IS).
It also noted Malaysia's efforts in combating terrorism through legal prosecution, border patrol, and social media monitoring.
The report, published by the US State Department yesterday, listed four terrorism-related incidents but noted that there were no IS-affiliated attacks on Malaysian soil last year.
"Although there were no IS-affiliated attacks in Malaysia in 2018, the country remained a source, transit point, and, to a significantly lesser extent, destination country for terrorist groups including IS, Abu Sayyaf Group (ASG), al-Qa'ida (al-Qaeda), and Jemaah Islamiyah.
"Suspected IS supporters deported from Turkey and individuals planning to travel to the southern Philippines to support IS-affiliated groups used Malaysia as a transit point," the report read.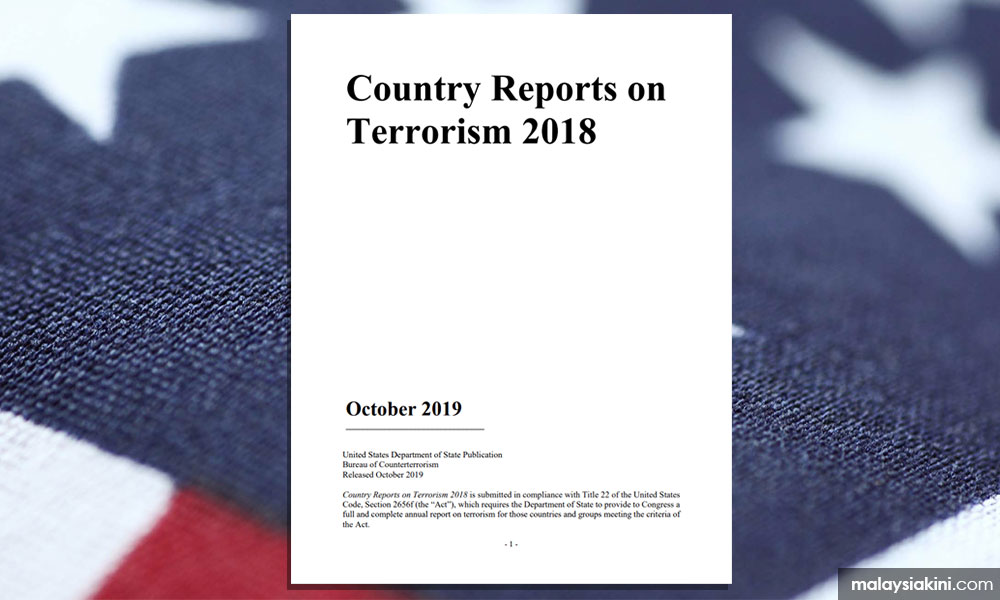 "Malaysia monitored, arrested, deported, and tried suspected supporters of terrorist groups.
"Malaysia also co-operated with the US and others to increase border security capacity at airports and in the Sulu Sea, to counter terrorist messaging on social media, and to improve terrorist prosecutions," it added.
The four terrorism-related incidents in 2018 mentioned in the report were:
An unsuccessful kidnapping attempt in an unspecified part of Malaysia's territorial waters (August);
Two Indonesian fisherfolk kidnapped for US$1 million ransom by ASG militants off the coast of Semporna, Sabah (Sept 11);
Two kidnapping-for-ransom group members killed by Malaysian security forces on an island near Kunak, Sabah (Sept 20); and
Three Malaysian crew members kidnapped from a tugboat near Pegasus Reef, Sabah and taken to the Philippines. Tugboat captain was shot in the leg during the kidnapping. (Dec 5)
The report further noted how police had, during the year, arrested about 20 suspects in Sabah for being involved in terrorism-related activities "including smuggling militants into the southern Philippines, enabling kidnapping-for-ransom operations, recruiting children as militants and human shields, and participation in ASG-led beheadings".
Among the Malaysian anti-terrorism measures mentioned was Bank Negara's "Anti-Money Laundering and Counter Financing of Terrorism Policy Digital Currencies" directive.
It also noted the country's ongoing efforts to work together with bodies like the UN and Asean to fight terrorism, including hosting a workshop on combating online extreme messaging.
The report recorded how the Pakatan Harapan government had pledged to review terrorism-related laws including the Prevention of Crime Act 2012 (Poca), Security Offences (Special Measures) Act 2012 (Sosma) and the Sedition Act 1948.
In its notes on the Philippines, the report wrote that Malaysian terrorist fighters continued to use the country as a destination.
"IS affiliates active in the Philippines in 2018 included parts of the ASG, the Maute Group, Ansar al-Khalifa Philippines (AKP), and elements of the Bangsamoro Islamic Freedom Fighters (BIFF).
"The Philippines remained a destination for foreign terrorist fighters from Indonesia and Malaysia, and a potential destination for those fleeing Syria and Iraq," it read.
The report looked at terrorism in many countries around the world.
It noted how the US and its partners had in 2018 managed to drive IS from nearly all its occupied territories, releasing about 7.7 million people from its rule.
"Even as IS lost almost all its physical territory, the group proved its ability to adapt, especially through its efforts to inspire or direct followers online [...]
"Additionally, battle-hardened terrorists headed home from the war zone in Syria and Iraq or travelled to third countries, posing new dangers," the report cautioned.