In the latest twist to the saga involving Jho Low, the 38-year-old fugitive businessperon is said to be taking a walk on the wild side. Literally!
According to inspector-general of police Abdul Hamid Bador, the authorities in the country where the alleged mastermind of the 1MDB scandal is hiding are refusing to cooperate with the Malaysian police.
"Among the excuses they gave was that he (Jho Low) supposedly underwent plastic surgery and now resembles a bear.
"His face is said to look like a bear. I don't know but purportedly he has changed how his face looks," Berita Harian quoted him as telling reporters in Sabah.
Apart from this, the police chief revealed that the foreign authorities had also churned out other bizarre claims.
"There were times (they said) when he walked, he resembled a wild ox.
"Is that a logical excuse to be given by the authorities?" he asked without mentioning the country.
Meanwhile, Bernama reported Abdul Hamid as stating that he is still open to discussion with the authorities and is willing to listen to their conditions.
He said countries must cooperate on such matters instead of shielding criminals.
"This is a crime, he (Jho Low) stole a country's money and he is accorded protection in another country," he added.
Yesterday, Cypriot-daily Politis claimed that Jho Low sought to obtain a passport from Cyprus, an island state in the Mediterranean, as authorities closed in on him and the 1MDB scandal in 2015.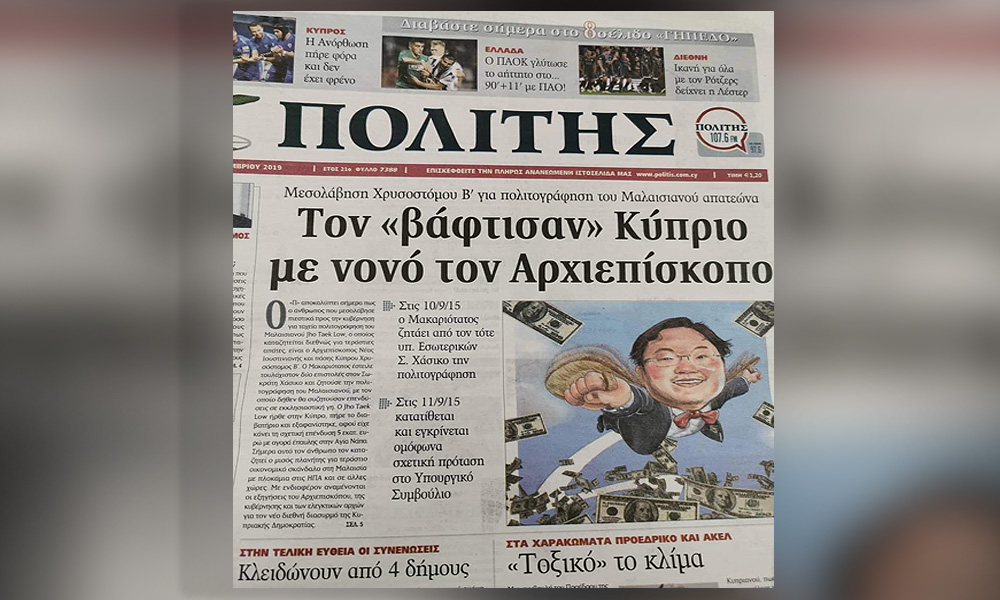 The report was also carried by Sarawak Report, which first broke the news about the 1MDB scandal.
According to the report, Jho Low had engaged global passport and citizenship broker Henley & Partners to obtain a passport through the Cyprus Investment Plan which requires an interested party to deposit five million euros in a Cypriot bank for three years and buy a permanent home worth at least 500,000 euros (RM2.3 million).
It said Low bought an unfinished villa worth five million euros (RM23 million) in Cyprus to fulfil the conditions on Sept 23, 2015.
Meanwhile, Abdul Hamid said the police are looking into this.
"We received a report on this that he (Jho Low) exploited them (the country) because they need money for their economy," he added.
In September, Abdul Hamid said police have identified the Penang-born fugitive's location and are in negotiations with the country's authorities to bring him back. He, however, did not name the country.