Launched on Nov 20, 1999, Malaysiakini today celebrated its 20th year of providing news and views that matter.
Malaysiakini has published more than 500,000 stories in the past two decades and currently reaches over eight million readers per month.
The recent Reuters Institute Digital News Report 2019 named Malaysiakini as the country's top news site, with British market research and data analytics firm YouGov's survey showing that 44 percent of the country's online readers had visited the news portal in the last seven days.
"Of the 38 countries surveyed, Malaysiakini is perhaps the only media organisation that has such a wide online reach.
"This is truly remarkable especially for a website that began as a guerrilla outfit of only three journalists 20 years ago," said co-founder and editor-in-chief Steven Gan.
Malaysiakini takes pride in not just its political independence but also its financial sustainability at a time when most other media organisations are struggling to survive.
"We have either broken even or made a small profit over the years. Malaysiakini must continue to be financially viable if it is to remain independent," said co-founder and CEO Premesh Chandran.
"It is one of the few media organisations that is majority-owned by those who work for it. Both Steven and I want to ensure that it remains that way and we will be making a special announcement this Saturday."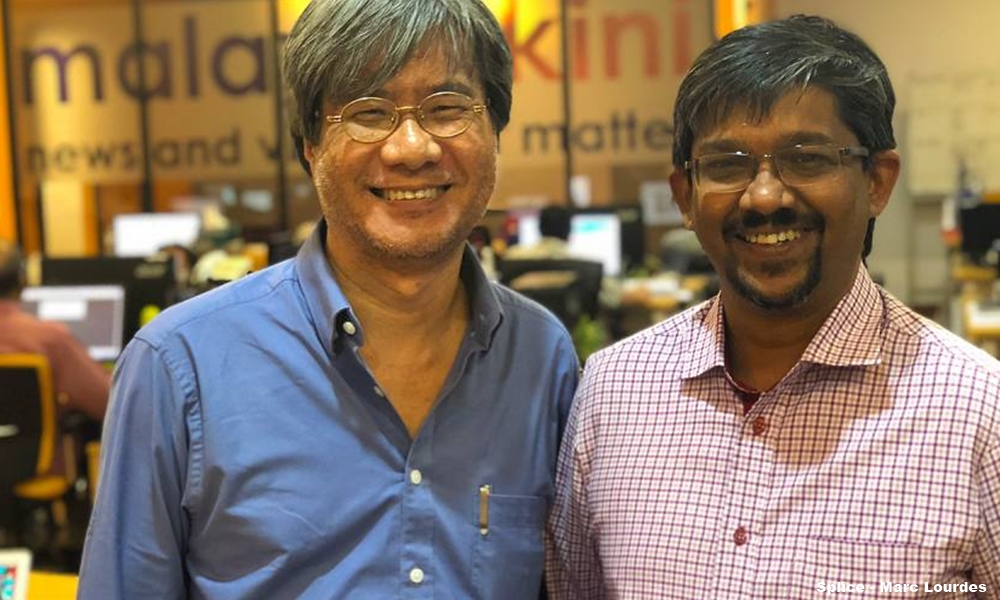 The co-founders thanked all those who contributed to making Malaysiakini a success. "Its been a long journey, full of ups and downs, but well worth the effort. I would like to extend a big thanks to all Malaysiakini staff, past and present, who have built this together, plus all our readers, subscribers, donors and shareholders. With all of you and a bit of luck, we did it!" said Premesh.
Minister of Communications and Multimedia Gobind Singh Deo congratulated Malaysiakini on its achievements. "I've been told eight million viewers, four different languages. (This is) something that it should be proud of.
"As far as the new government is concerned, we've given emphasis, we still stress upon the need for us to build media freedom. We have now achieved a lot, 123rd in terms of the World Press Freedom Index ranking and I'm told in Southeast Asia, Malaysia comes out on top.
Gobind said the Pakatan Harapan government which won the historic general election last year could not attempt nation-building alone.
"We definitely need more portals like Malaysiakini to cooperate with us, work with us because at the end of the day it's you who brings the news to the people.
"We also have to recognise the fact that if you want to build a society that is informed, a society that is able to make decisions based on news and what it is the kind of information that is brought to them, then, of course, we have to rely on portals like Malaysiakini [...]"
Gala dinner on Saturday
Malaysiakini will be celebrating its 20th anniversary with a gala dinner this Saturday, Nov 23, at Pullman Hotel in Bangsar, Kuala Lumpur.
 Over 1,000 readers, subscribers and supporters will join a number of dignitaries including top political and corporate leaders. Among them are PKR leader Anwar Ibrahim, Defence Minister Mohamad Sabu, Selangor Menteri Besar Amirudin Shari and AirAsia Group CEO Tony Fernandes.
The event will see comedians Allen Pereira and Kavin Jay tickling the audience while co-founders Gan and Chandran will address the gathering on Malaysiakini's plans for the future.
There will be 20 lucky draw prizes including home gadgets sponsored by Hetch, phones by Oppo and Realme and a grand prize brought to you by Gintell.
There are a few seats still available. You can join the event by booking a ticket here.