Chinese educationist group Dong Zong has released a 16page digital booklet in the Malay language providing a detailed explanation on its stand over the introduction of Jawi script in vernacular schools.
Coming on the eve of a controversial congress that the group is hosting to discuss the issue, the booklet is entitled "The Jawi Script Issue: Defending the rights of School Boards to Manage Vernacular Schools".
Among key points it discusses are why it is continuing its objections to the introduction of Jawi script in the Bahasa Melayu subject including in vernacular schools even after the cabinet made its decision on the matter to continue with lessons.
"The cabinet and the Education Ministry are ignoring the rights and powers of the school boards and are refusing to include them in the decision-making process over the introduction," says Dong Zong.
It goes on to say that it and Dong Jiao Zong have repeatedly attempted to engage the Education Ministry on the issue of the Chinese schools' boards involvement in the decision-making process but have failed to get a response.
The booklet also explains that the Education Act 1996 provides for the school boards' role in determining policy in vernacular schools, one which it said is currently being violated.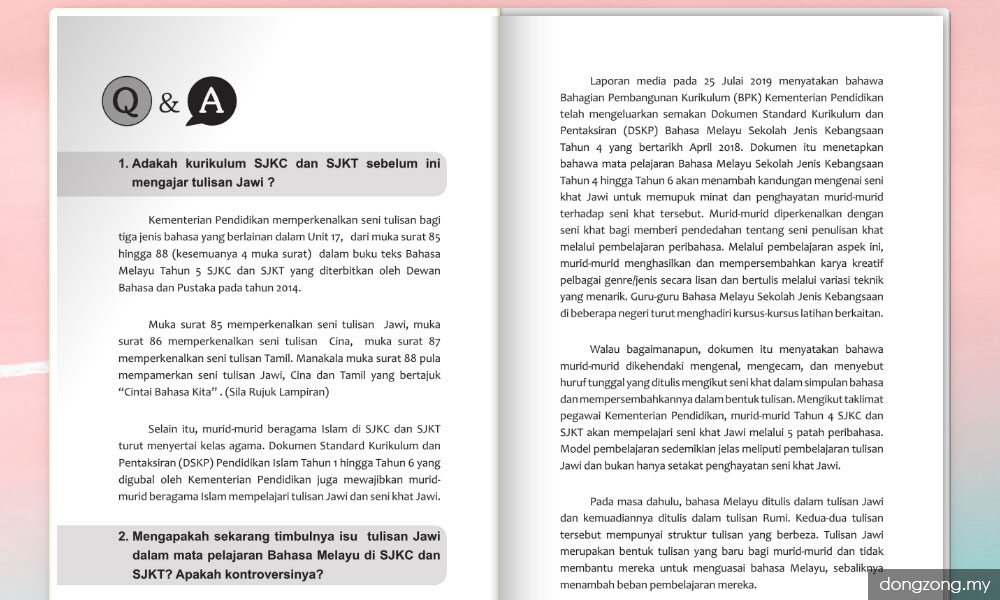 Among the other issues covered in the booklet are whether or not the Jawi script had previously been taught in vernacular schools and why the current proposal has become so controversial.
Also discussed are the differences between calligraphy and Jawi script writing, and whether objections were raised over the learning the Malay language or the Jawi script.
In August, the government drew flak for announcing the introduction of khat lessons (Jawi calligraphy) for Year 4 vernacular school pupils from next year.
Later, the government decided that the Jawi script lessons would only be implemented with the agreement of parent-teacher associations (PIBG) and other parents of pupils.
Dong Zong and Dong Jiao Zong have submitted a memorandum to the Education Ministry on the issue of the school boards' role and even started a petition insisting that the introduction of khat was a form of Islamisation.
The decision to persist with the congress tomorrow has led to fringe groups calling for the banning of Dong Zong while Youth and Sports Minister Syed Saddiq Syed Abdul Rahman urged the group to accept the cabinet's decision and call off their meet tomorrow.