KIMANIS POLLS | Warisan candidate Karim Bujang is expected to capture the Kimanis seat previously held by BN when voters take to the polls on Saturday.
A survey by the Ilham Centre, conducted from Jan 11-13, found that the backing of the federal government was a key factor in deciding the race which is a straight fight between BN's Mohamad Alamin and Karim.
A field study using randomised sampling was carried out, involving 401 respondents who were registered voters in Kimanis and who represented all ethnic, gender, age and local segmentations.
The data were collected by the researchers using a structured survey and partially-structured interview protocols involving nine locals familiar with the environment. The study data were then analysed quantitatively and qualitatively, with a margin of error of five percent.
Kimanis is a semi-urban seat of 29,644 registered voters, where 63.16 percent are Muslim bumiputera, 30.67 percent non-Muslim bumiputera, 3.59 percent Chinese and 2.58 percent others.
Ilham Centre panel of Mohd Yusri Ibrahim, Mohd Azlan Zainal, Mohd Jalaluddin Hashim and Prof Madya Hamidin Abd Hamid noted that Sabah's political landscape is very dynamic, diverse and far different than the political landscape of the peninsula, with the personal traits of politicians and local warlords still influencing Sabah's political campaigns and psychology.
"The leadership of Shafie Apdal in establishing a local party in solidarity and strategic cooperation with the parties with federal Pakatan Harapan is one of the main reasons why the Sabah BN led by Umno eventually lost the state government," they said.
The Sabah Temporary Pass (PSS) is one of the biggest issues of the election but Ilham Centre found it was not likely to impact as much as BN was hoping.
Survey respondents were split almost three ways on the implementation of PSS. About 38 percent of respondents supported it, 30 percent were uncertain and 32 percent said they did not support and strongly opposed the implementation of the PSS.
The survey found the PSS' most vocal opponents are from the Kadazandusun-Murut (KDM) ethnic group, but both Warisan and Sabah Umno are led by the Muslim bumiputera group. Karim and BN's Mohamad Alamin (photo) are also from this latter group, thus meaning that for all the focus given to the PSS issue, it may not be as much of a factor.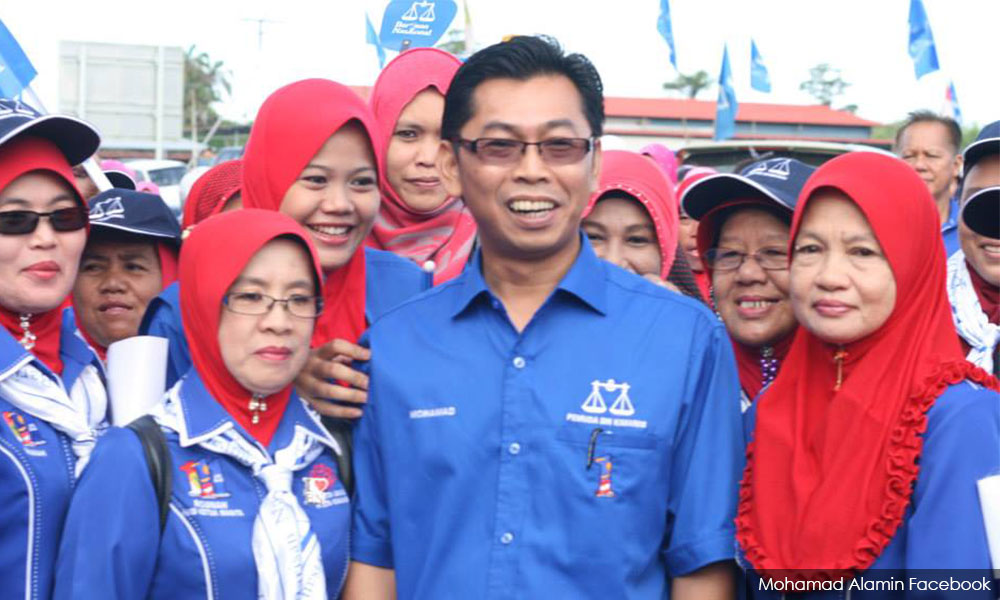 Ilham Centre said that especially among ethnic Malays, Muslim-bumiputera and voters residing in rural localities, it is seen important to vote for a ruling party so that welfare, progress and development can be brought to their area instead of choosing a non-governmental party.
Dominant local issues
Compared to the series of by-elections which have taken place after May 9, 2018, the Kimanis by-election saw national issues having almost no impact on the voters' outlook. 
As many as 87 percent of respondents said local and synchronous issues were their primary concern in voting for votes compared to only 13 percent who cared about national issues.
While Warisan's presentation of the MA63 amendment also failed to strike a chord, voters generally supported the federal government's move to amend the constitution to restore Sabah's original status in the federation with a 67 percent approval rate, while 28 percent were unsure about it and five percent rejected it.
Only a small percentage of voters bought into the narrative that the Harapan government failed to defend Malay-Muslim interests (26 percent), fulfil its manifesto (35 percent) and was dominated by DAP (24 percent).
Karim who served as Bongawan assemblyperson for five terms on the BN ticket had a clear popularity rating edge over his opponent with 57 percent of respondents considering him more people-friendly and credible than BN candidate who got 43 percent.
Warisan also attacked BN by linking Umno with PAS in the Muafakat Nasional which is perceived as threatening harmony between the races and religions in Sabah. 
Respondents, especially from ethnic KDM, acknowledged that Umno and PAS's cooperation would negatively impact on Sabah politics.
It's worth noting that the Ilham Centre correctly predicted a comfortable win for Barisan Nasional in the previous Tanjung Piai by-elections in November last year. 
Another survey by political group Gerakan Pengundi Sedar who launched a "Vote Muslim First" (VMF) campaign in the Tanjung Piai by-election proved inconclusive, finding that most voters were still on the fence. 
READ MORE
Warisan favourites in Kimanis but needs to maintain drive to ensure victory
Kimanis by-election: Do or die mission for Warisan, BN
What is PSS and why is it important to the Kimanis by-election?
The road to Kimanis - local issues, not national