CORONAVIRUS | Malaysia has confirmed three additional Covid-19 cases in the country, involving two China nationals and one American.
This brings the total number of recorded coronavirus cases to 22, including seven patients who have since recovered.
According to Health Minister Dzulkefley Ahmad (above), the 20th case involved a 27-year-old businessperson from Guangzhou.
He was detected displaying symptoms of coronavirus during a health screening at an immigration checkpoint at Bukit Kayu Hitam, Kedah yesterday. 
"A clinical sample (throat swab) was taken and tests confirmed it was Covid-19. He was immediately admitted to the isolation ward at Sultanah Bahiyah Hospital in Alor Star," the minister said. after opening the SK Desa Aman Desa Coalfield Parent-Teacher Association's annual general meeting in Kuala Selangor today.
According to Health Ministry director-general Dr Noor Hisham Abdullah, the man had initially arrived in Malaysia on Feb 1. He, at a later date, travelled to Thailand and returned on Feb 13 where he was detected at the entry point.
Meanwhile, the 21st case involved a 32-year-old Chinese woman residing in Malaysia.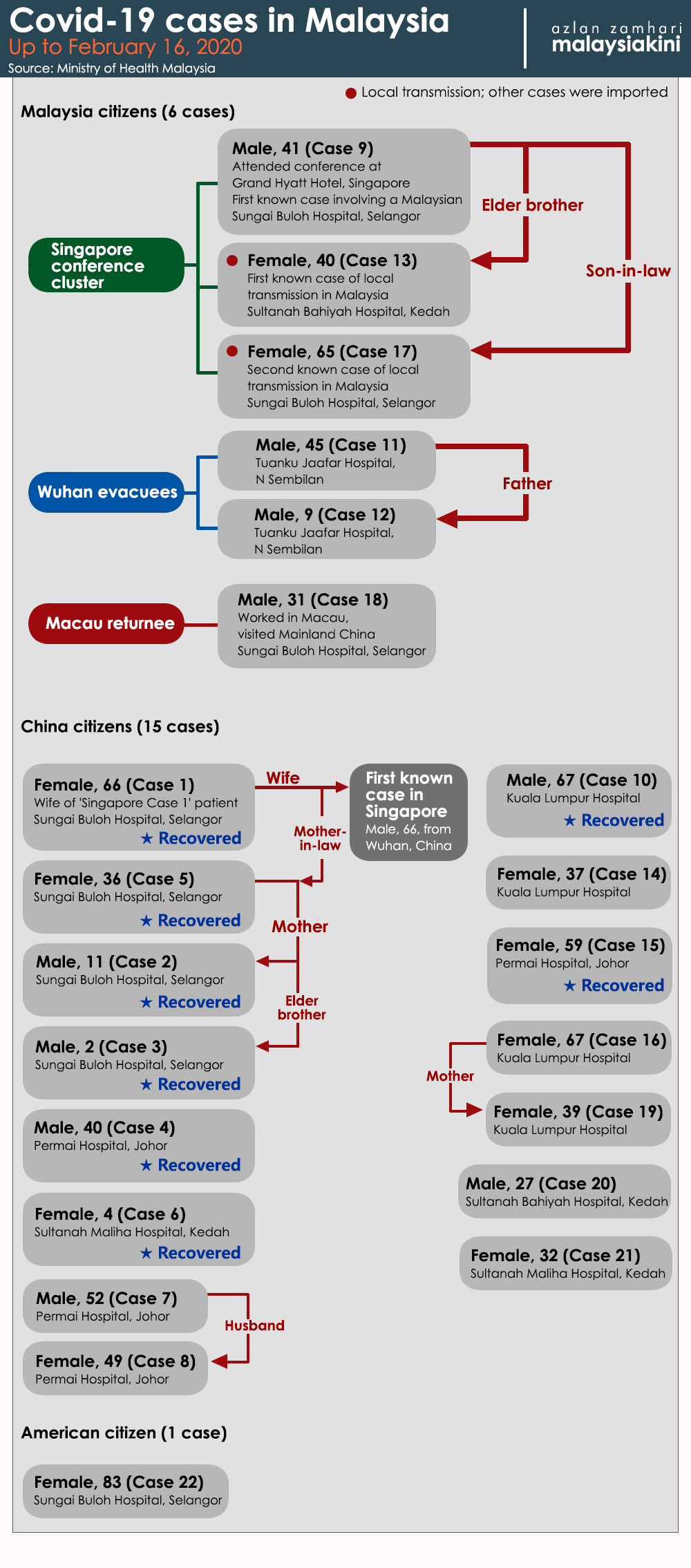 She visited family members in China between Jan 22 and Jan 30. She began experiencing a sore throat on Feb 13 and sought treatment.
Tests came back positive for Sars-Cov-2, the virus responsible for Covid-19, yesterday. She is currently warded at Sultanah Maliha Hospital in Langkawi.
The Health Ministry, in a separate statement, said the 22nd case involved an 83-year-old US woman who had travelled on a flight from Phom Penh to the Kuala Lumpur International Airport (KLIA).
She was among the passengers on the cruise ship MS Westerdam that docked in Cambodia on Feb 13 after being denied permission by several countries due to concerns that its passengers may have been infected with Covid-19.
According to the ministry, of the 22 cases, 12 are patient-under-investigation (PUI) cases, eight are close contact cases and two cases from Malaysians evacuated from China.
Of all the cases, 15 are of China nationals and six are Malaysians and one a US citizen.