UPDATED 6.50PM | FEB 20 |

This story was originally published on Jan 25. It has been updated to reflect the latest developments.
WHO declares global emergency, but won't raise global risk level

Malaysia records 22 cases, of which 17 patients recover

Two M'sians test positive in Japan.
Global death toll surpasses 2,000 counts, well pass 2002-03 Sars outbreak.
Fake news, racism spreading.
---
CORONAVIRUS | The announcement by the Health Ministry (MOH) on Jan 25 that several visitors from China in Johor have tested positive for the new coronavirus confirmed that the dreaded new strain (2019-nCoV) had reached Malaysia's shores.
Malaysia is joined by over 20 other countries affected by the infectious disease.
Here's what we know so far: (The number of cases detected, deaths, recoveries and countries affected are accurate as of the time of writing.)
Global death toll: 2,127. All patients in mainland China except 8 - 2 in Iran and Hong Kong, 1 each in Philippines, Japan, Taiwan and France.
Number of confirmed cases: Over 75,752 globally, of this 74,576* are in mainland China, 16,329 recoveries
Malaysia has recorded 22 cases, 0 deaths, 17 recoveries
*Source: National Health Commission website, SCMP
---
Globally affected: Australia, Belgium, Canada, Cambodia, China (mainland), Egypt, Finland, France, Germany, Hong Kong, India, Iran, Italy, Japan, Malaysia, Nepal, Philipines, Russia, Singapore, South Korea, Spain, Sri Lanka, Sweden, Taiwan, Thailand, Tibet, UAE, United Kingdom, USA and Vietnam.
---
What is the new coronavirus: The novel or new coronavirus 2019-nCoV is also sometimes informally referred to as the Wuhan virus.

The World Health Organisation (WHO) officially names the deadly disease Covid-19, short for "Coronavirus Disease 19", while the virus that causes it is SARS-CoV-2 or Sars Coronavirus 2.
It comes from a family of viruses that include the common cold, and viruses such as severe acute respiratory syndrome (Sars) and Middle East respiratory syndrome (Mers).
The new virus travels through animal-to-human and human-to-human transmissions and can spread via airborne droplets.
It has an incubation period of up to 14 days. This means symptoms may not immediately present itself upon infection and can spread during this time.
Authorities have warned on the virus' ability to spread.
---
Symptoms: Respiratory symptoms, fever, cough, shortness of breath and breathing difficulties.
In more severe cases, the virus can cause pneumonia, severe acute respiratory syndrome, kidney failure and death.
---
Where and when the outbreak began: Wuhan city, the capital of the Hubei province in China. The first few cases started emerging in December 2019.
It was only identified as a new strain of the deadly coronavirus in early January.
---
How it started: Uncertain, although largely suspected to have originated from wildlife, possibly bats, snakes or pangolins.
The prevalent theory is it originated at a seafood and meat market in Wuhan via bushmeats slaughtered for consumption.
Although some scientists now say based on the virus' incubation period of up to 14 days, animal-to-human transmission could have occurred before the market.
---
Is there a vaccine: As of now, no.
Researchers in many countries including China, France, US, Australia are working to develop one.
WHO claims one could be available in 18 months, while Hong Kong researchers have reportedly developed a vaccine, but it could also take over a year of testing before it can be deemed ready for use.
In the meantime, China is using HIV drugs to treat pneumonia caused by the coronavirus although it is unsure if this will be effective.
On Feb 2, Thai doctors at the Rajavithi Hospital in Bangkok reportedly successfully treats severe cases of coronavirus using a mixture of anti-HIV drugs and a flu drug.

Between Feb 4 to Feb 9, three patients treated in Malaysia are discharged after recovering.
MOH says only one of these patients was administered antiviral drug Kaletra, which is more commonly used for HIV cases. The other two received symptomatic treatment.
---
Current status: On Jan 30, the World Health Organisation (WHO) declared the outbreak a public health emergency of international concern.
Refer to the infographic below to know what exactly this means. Also, the WHO site gives daily situational updates.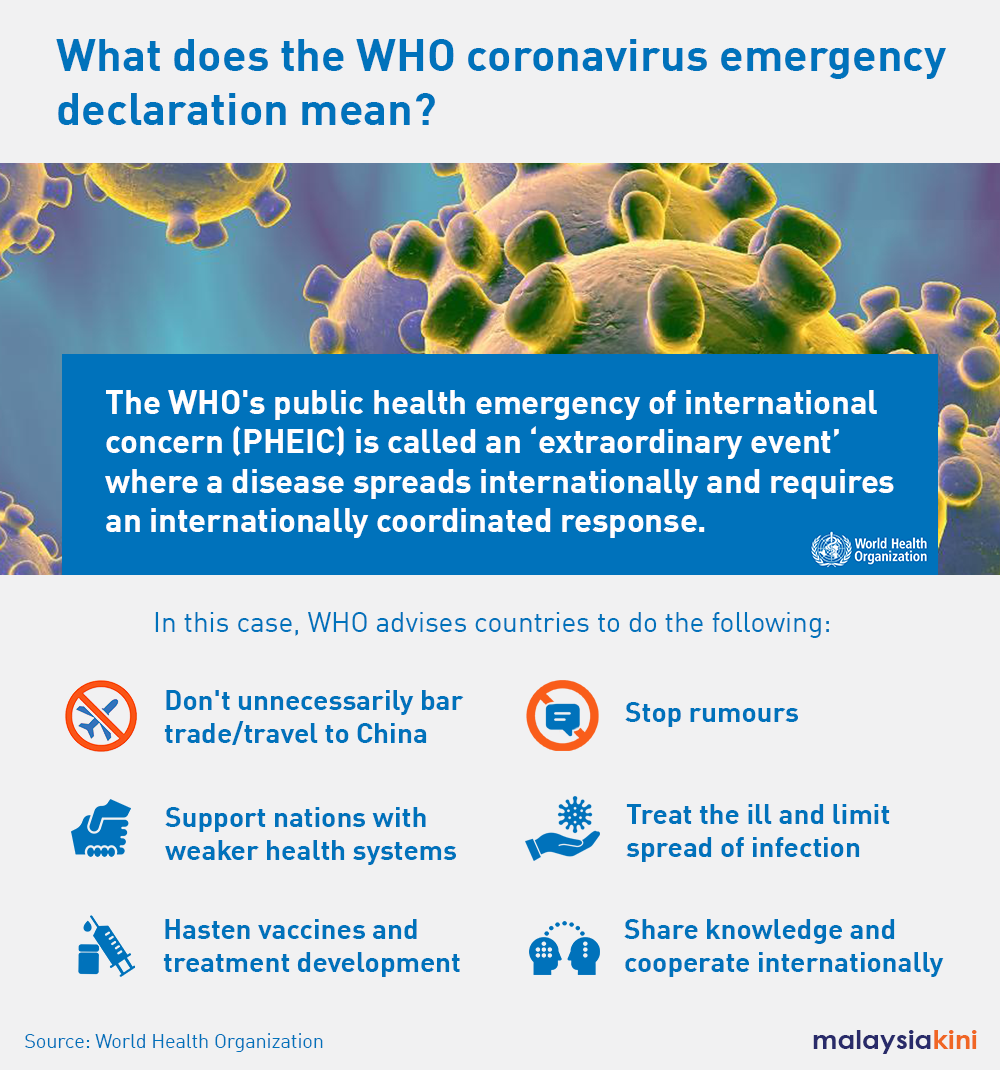 Close to 12,000 people worldwide are infected, majority of cases in China
According to the BBC, the virus had now spread to every region in China.
The number of infected and deaths have well surpassed those infected by Sars in the 2002 to 2003 outbreak, which was 8,096 and 774 people respectively.
---
Cases in Malaysia: Malaysia has to date recorded 22 positive coronavirus cases:
The first three cases - A grandmother aged 66 and her two grandchildren aged two and 11. All of them are related to two men who had been tested positive for the virus in Singapore on Jan 22. They later crossed into Malaysia the next day.
All three recover and is discharged.
Fourth case - A 40-year-old man arrived in Johor Baru on Jan 22 aboard a bus from Singapore with 17 other Chinese nationals including his wife and child.

As of Feb 8, the man recovers and is discharged.
Fifth to seventh case - A four-year-old child treated in Langkawi; a 52-year-old man being treated in Johor Baru, and a woman looking after her two children earlier detected with the virus. The mother initially tested negative for the virus.
All three recover and is discharged.
Eighth case - The wife of an earlier identified case.
She recovers and is discharged.
Ninth case - A 63-year-old man from Wuhan, China who arrived at KLIA on Jan 18. Tested positive for the virus on Feb 3 and is being treated in an isolation ward at Kuala Lumpur Hospital.
As of Feb 9, the man recovers and is discharged.
Tenth case - A 41-year-old Malaysian man from Selangor. Travelled to Singapore to attend meetings with international delegates including those from China, from Jan 16-23. Sought treatment on Jan 29 and tested positive on Feb 3.
He is the first Malaysian to recover and is discharged.
Eleventh and 12th case - Two Malaysians, a 45-year-old father and his 9-year-old son. The duo is among Malaysians brought back from Wuhan.
Both recover and is discharged.
Thirteenth and 14th case - A 40-year-old Malaysian woman in Kedah and a 37-year-old female tourist from Wuhan. The former is the sister of the 10th case, after coming into contact with him in Sungai Petani on Jan 23.
Fifteenth case - A 59-year-old Chinese national who entered Johor through Singapore.
She recovers and is discharged.
Sixteenth case - A 67-year-old Chinese tourist from Wuhan. She is also the mother of a friend of the 14th case.
Seventeenth case - A 65-year-old Malaysian woman in Selangor, mother-in-law of the 41-year-old man (10th case) who came back from Singapore. He had passed on the virus to her, making it the second human-to-human transmission. She tested positive for coronavirus on Feb 8.
She recovers and is discharged.
Eighteenth case - A 31-year-old Malaysian worked in Macau and returned to Malaysia on Feb 1.
He recovers and is discharged.
Nineteenth case - A 39-year-old China national who is a friend of the 14th reported case. She is also the daughter of the 16th reported case, a 67-year-old tourist from Wuhan.
Twentieth and 21st case - Both China nationals. The first case is a 27-year-old businessman who displayed symptoms at Bukit Kayu Hitam immigration checkpoint in Kedah and the second is a 32-year-old woman who lives in Malaysia but had visited family in China. Both cases are unrelated.

Both recover and is discharged.
Twenty-second case - An American woman initially aboard the MS Westerdam cruise ship which had docked in Cambodia. The woman later travelled to Malaysia.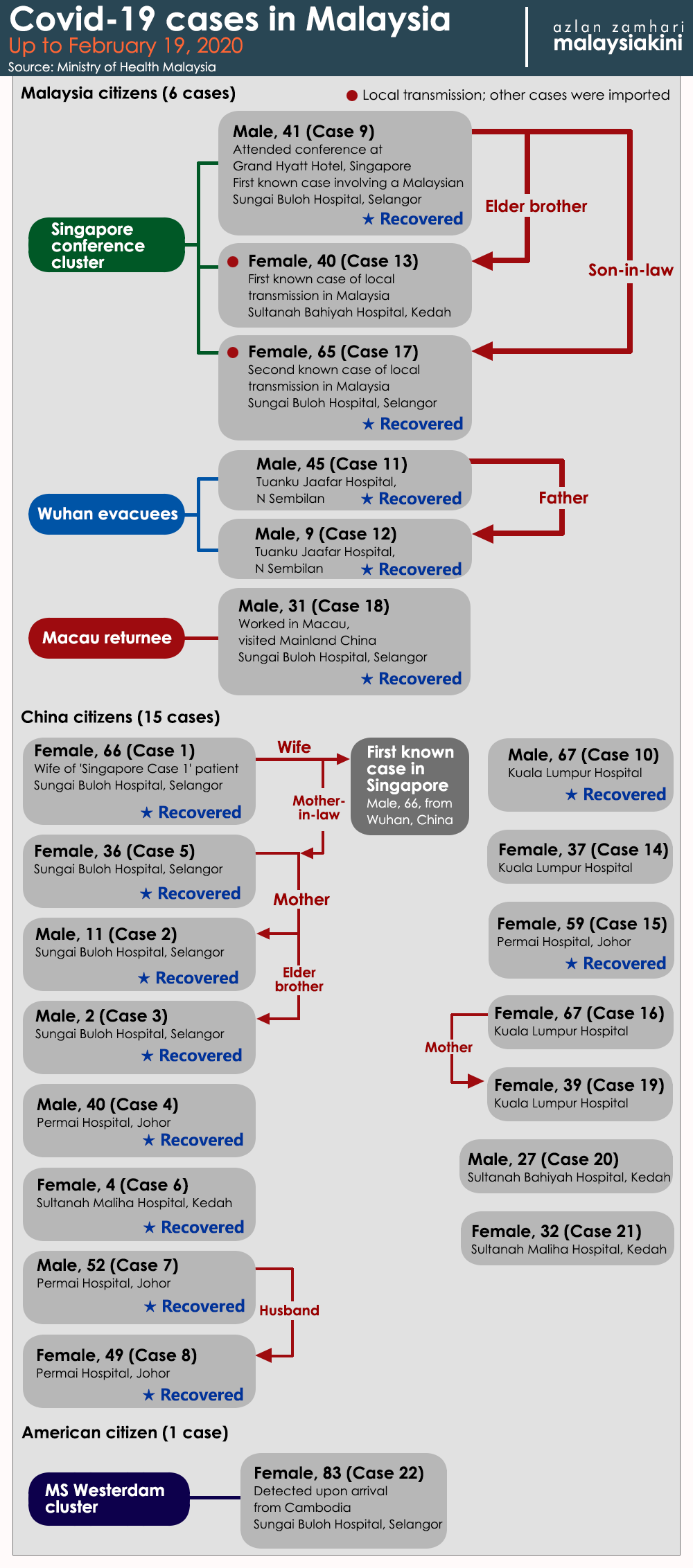 ---
Steps being taken by Malaysia: Malaysia and Singapore form a joint task force to strengthen cross-border measures to stop the spread of the coronavirus.
Malaysia also suspends all immigration facilities for China nationals who originate from the Wuhan district and Hubei province.
A number of Malaysians and their families is brought home. There were a total of 116 Malaysians and 25 immediate family members who are non-citizens there.
The Health Ministry is beefing up health screening at all entry points into the country including at dedicated immigration lanes set up for visitors from China. Up to 12 more thermal scanners are to be purchased to beef up efforts.
The Health Ministry activates its Rapid Response Team (RRT) and Rapid Assessment Team (RAT) on the ground to carry out contact tracing activities.
Budget airlines Malindo Air and AirAsia suspend all flights to and from Wuhan.
Malaysia Airports Berhad are screening all incoming international flight passengers and crews at gateway airports. This includes thermal screening for arriving passengers and flight crews from China.
Malaysian diplomatic missions in China, including the embassy in Beijing, set up emergency response teams to assist Malaysians in affected areas.
---
How to check facts from misinformation: Authorities are also coming down hard on cases of people spreading fake news about the virus with several arrests having already been made by police and MCMC.
The MCMC has urged the public to head to its Sebenarnya website to verify rumours about the virus.
Malaysians have also been urged to stop turning this into a racial issue.
---
How to minimise risks of infection: The Health Ministry is urging all Malaysians to avoid non-essential travel to China.
Take care of personal hygiene including washing hands using soap, frequently use hand sanitisers and wear face masks, lessening non-essential human contact and wiping down common surfaces can help reduce the risks.
Avoid livestock farms, markets with live animals, slaughtering facilities and refrain from touching animals.
Avoid eating raw meat.
Those who show symptoms of the new coronavirus must inform their physicians on their travel history.
WHO has also come up with recommendations for the public to reduce exposure to and avoid transmission of a range of illnesses. They are as follows:
Frequently clean hands by using alcohol-based hand rub or soap and water;
When coughing and sneezing, cover your mouth and nose with a flexed elbow or tissue – throw the tissue away immediately and wash your hands;
Avoid close contact with anyone who has a fever and cough;
If you have fever, cough and difficulty breathing, seek medical care early and share previous travel history with your healthcare provider;
When visiting live markets in areas currently experiencing cases of novel coronavirus, avoid direct unprotected contact with live animals and surfaces in contact with animals;
The consumption of raw or undercooked animal products should be avoided. Raw meat, milk or animal organs should be handled with care to avoid cross-contamination with uncooked foods.