The Prime Minister's Department has denied there will be any meeting today with political leaders, just hours after Umno president Ahmad Zahid Hamidi managed to secure leave from his corruption trial.
Zahid claimed that he needed to meet with Prime Minister Muhyiddin Yassin on the formation of the cabinet.
"Today, the prime minister is scheduled to meet with the chief secretary to the government and head of departments and agencies to coordinate the running of the government administration.
"The Prime Minister's Department would like to clarify that there is no meeting scheduled with any political leaders today," it said in a statement.
Earlier today, Zahid's trial was postponed after his lawyer said the Bagan Datuk MP needed to meet with Muhyiddin.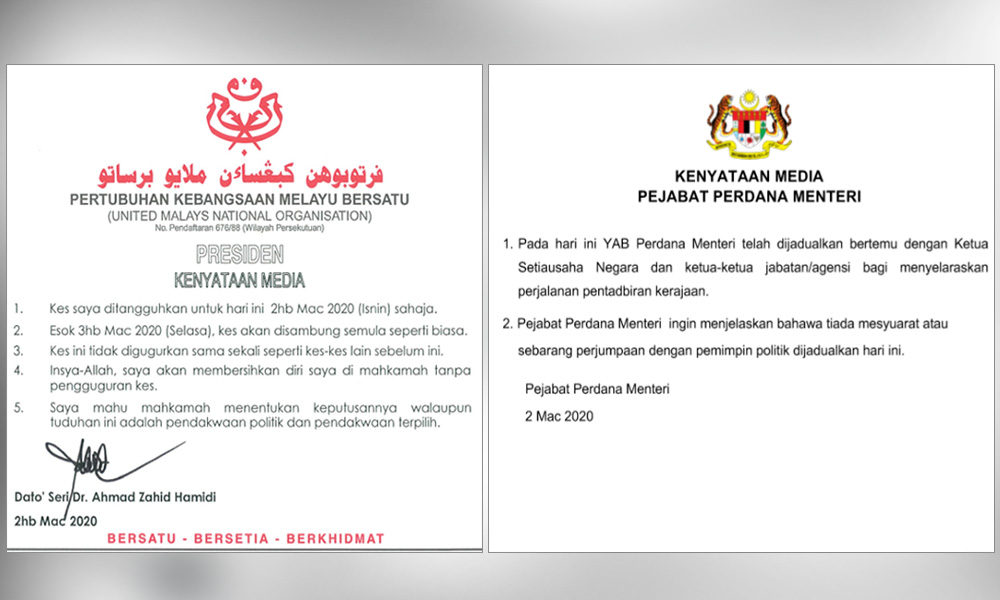 Zahid's lawyer Hisyam Teh Poh Teik said the presence of his client was "necessary" for a discussion with the prime minister.
"The accused will be (involved) in discussions with the prime minister on cabinet formation today. Therefore, we ask the court to grant a stay for today's proceedings.
"His presence is needed [...]," he had said in applying to postpone the trial today.
Judge Collin Lawrence Sequerah granted the stay, and the case will resume tomorrow.
Zahid, when contacted, told Malaysiakini that the matter was a misunderstanding.
"There was no lie. It was due to a junior lawyer making a mistake when informing the court. It has been rectified," he said.
Zahid had pleaded not guilty to a total of 47 charges, 12 of which are for CBT, eight for bribery and 27 for money laundering involving tens of millions of ringgit belonging to Yayasan Akalbudi.
He was indicted for breach of an RM31 million fund by Yayasan Akalbudi, receiving bribes of RM21.25 million and money laundering involving RM65 million, among other charges.
So far, prosecutors have called 38 witnesses to testify up to the 18th day of trial.