Prime Minister Muhyiddin Yassin will lose a vote of confidence in Parliament if he appoints Umno president Ahmad Zahid Hamidi into the cabinet, warned former chief justice Abdul Hamid Mohamad.
"Not only that, those who support the Perikatan Nasional (PN) government, including myself, will withdraw support and stay neutral," he said in a blog post today.
Hamid said Muhyiddin and his allies must not compromise on this issue even if Umno threatens to withdraw from the coalition.
"If Umno insists on Zahid being a minister or deputy prime minister by threatening to leave PN, let Umno withdraw (from government). Let PN fall.
"Umno will be criticised by the Malays and let them (Umno) die without funeral rites," he added in the article titled "My message to the PN government: Even if you last only a day, do what is right."
Hamid also cautioned that if the Umno president is appointed, it would give birth to a "mampus pi lah" (to hell with it) attitude among the people.
Zahid (below) is among six Umno MPs who are currently facing trial. Zahid is accused of misappropriating millions of ringgit meant for charitable foundation Yayasan Akalbudi.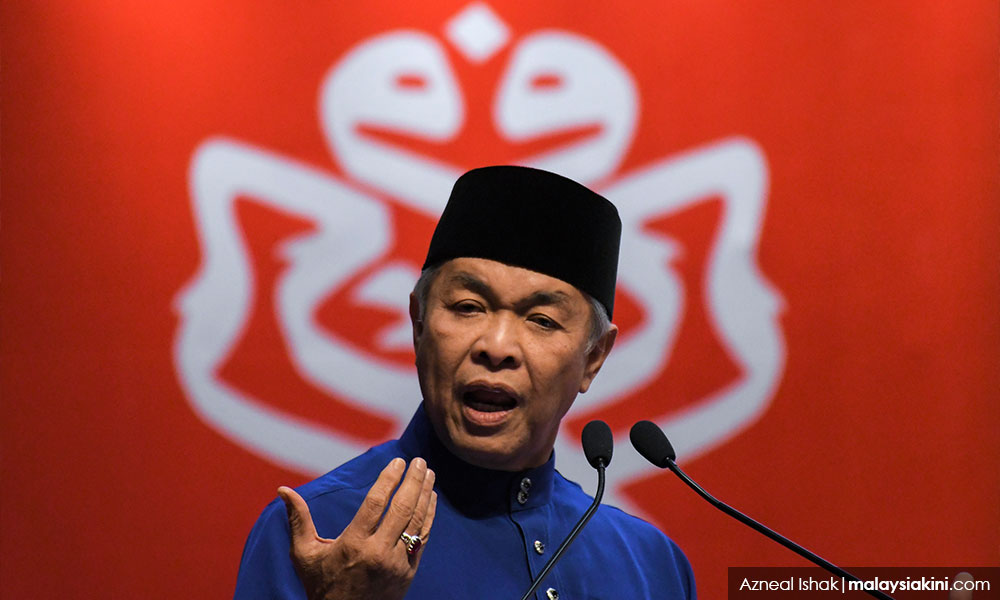 Previously, the Umno president said there is no deal with Muhyiddin to drop the court cases in exchange for the party's support for the latter.
Former premier Najib Abdul Razak is also determined to continue with his court cases related to the 1MDB scandal and SRC International Sdn Bhd.
In his maiden address as prime minister on Monday, Muhyiddin pledged to appoint cabinet members with caliber and integrity.
The Bersatu president said he is aware that the people want a clean and corrupt-free government.
"The government that I lead will prioritise efforts to enhance integrity and good governance," he added.
Meanwhile, Hamid urged PN component parties to promise it would not repeat the mistakes of Umno and Pakatan Harapan, while undertaking a pledge to eradicate corruption.
He also urged the new government to appoint an attorney-general and MACC head with integrity and ensure their independence.
Last Friday, Tommy Thomas, who was appointed as attorney-general by the then prime minister Dr Mahathir Mohamad, had tendered his resignation.
MACC, on the other hand, is headed by Latheefa Koya, who was also appointed by Mahathir.