PKR president Anwar Ibrahim has said that Pakatan Harapan now comprises three parties following the exit of Bersatu.
He said this when asked if Dr Mahathir Mohamad is still the chairperson of the former ruling coalition.
"For that, you have to ask him, he may change his mind tomorrow," he quipped. but immediately pointing out that Mahathir was not a member of Harapan.
"As far as I am concerned, what is the position of Pakatan Harapan? Harapan, as it stands today, as we discussed this morning, is Keadilan, DAP and Amanah.
"Bersatu had decided some weeks back to leave (the coalition)," he told the media after chairing the Harapan Presidential Council earlier today.
He, however, said Harapan can still discuss with Mahathir on the matter.
"I am not discounting any sort of relationship or contact with anyone including Mahathir [...] I have no problem having discussions with Mahathir and the others," he said.
Anwar also noted Mahathir had invited some of the leaders of Harapan to meet him today.
When asked about Mahathir's statement that Malays are unable to accept him (Anwar) as the next premier, Anwar said it was Mahathir who rejected him.
"Tun Mahathir rejected me, but I am not sure about the Malays," he said.
Anwar said more than 60 percent of Malays supported him during the Port Dickson by-election, and the majority of them supported him when he stood at Permatang Pauh.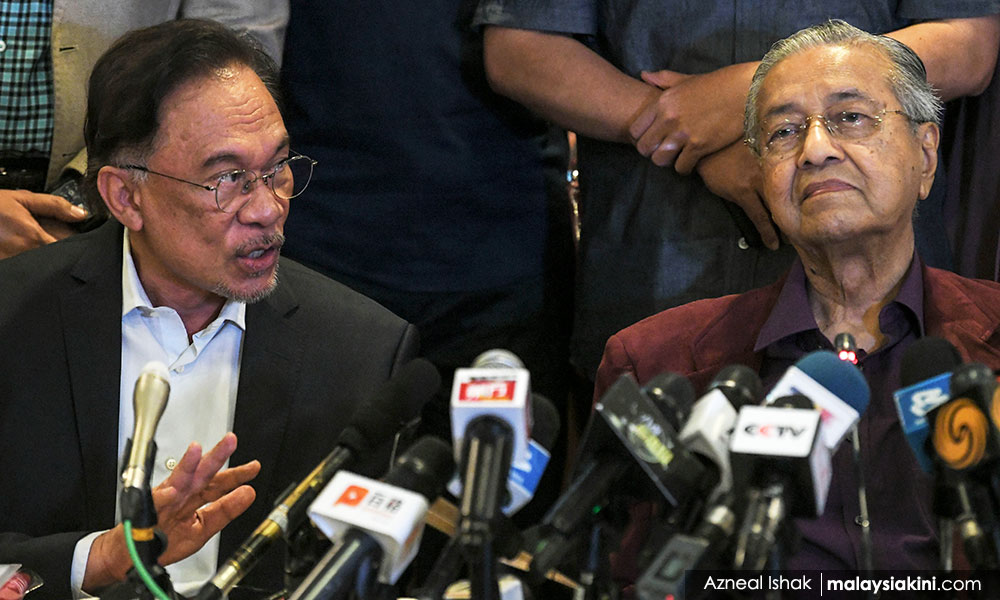 "My patience is legendary. So, I don't think I can be easily provoked.
"Mahathir has been saying nasty things for many decades, and I don't think that has affected the party's position in setting our priorities correctly," added Anwar.
"My patience is god-level and I have been slandered on many things. So I am not going to answer them one by one. Suffice to say that our priority is our struggle to uphold justice and the interests of the people," he said.
Mahathir reportedly said Anwar was "crazy" to become prime minister.
The nonagenarian said he could not make Anwar his deputy because the latter was allegedly perceived by the Malays as too liberal.
Mahathir did not show up at the "Pertahan Mandat Rakyat" event held by Harapan in Kuala Lumpur on March 9.
At the presser today, Anwar said Harapan and PKR stood firm in promoting multiracial politics even it meant he would miss the opportunity to be made prime minister in the future.