CORONAVIRUS | With Malaysia's movement control order (MCO) extended, authorities and a women's rights group have warned of a likely increase in the number and severity of domestic violence cases, with the victims being trapped at home with their abusers.
Incidents of domestic abuse reportedly increase during times of crisis. Already, the Security and Gender Group (SGG), chaired by United Nations Women, reported a heavy uptick in such cases during the Covid-19 pandemic in many countries, including China and the United States.
"While social distancing and self-quarantine are imposed to contain the virus, these may be manipulated to isolate victims from their families and social networks, as part of emotional and psychological violence and controlling behaviour by the perpetrators, and may likely result in higher risks of domestic violence, primarily affecting women," the SGG said in a recent statement.
This is especially as more and more countries come under lockdown, practising extensive social distancing measures and with the people being ordered to stay at home.
In Malaysia, the Women's Aid Organisation (WAO) and police told Malaysiakini that such a scenario is, unfortunately, likely as both noted a slight decrease in calls on domestic violence since the MCO was implemented on March 18.
However, the decrease in reports and calls, they stressed, is not unexpected due to the fact that survivors are confined with their abusers and are unable to seek help or escape.
The WAO explained that during the health crisis, isolation and concerns over health and finances would aggravate an abuser's desire to exert power and control.
"Domestic violence survivors are also at greater risk because they are trapped in the house all day with the abuser. It is also more dangerous for them to seek help, as the abuser may be monitoring their every move.
"Additionally, survivors who are unable to work during the MCO may also become more financially dependent on the abuser," WAO's Advocacy and Communications Officer Tan Heang-Lee told Malaysiakini.
"But this increase may not be reflected immediately in the number of reported cases, as it can be difficult for survivors to report their case or to seek help during this time... We (WAO) may, however, see an increase in reporting once the MCO is lifted, as survivors will then be able to seek help more easily," Tan said.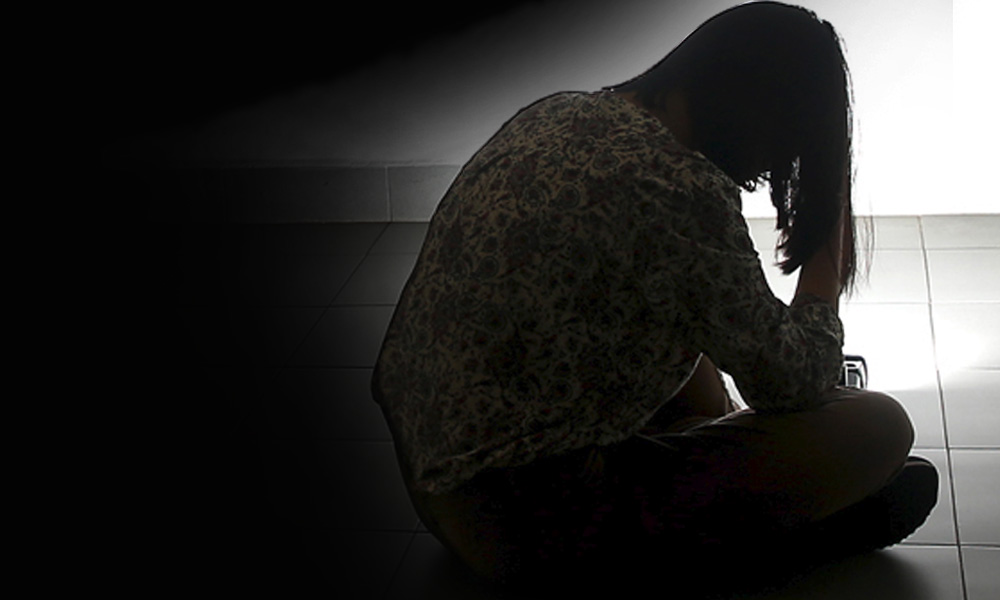 Police to survivors: Help still available
Police noted the same. Bukit Aman principal assistant director of the Sexual, Women and Child Investigations Division (D11), Choo Lily, said that the reduced number of calls "does not mean it (domestic abuse) is not happening", even against children.
"With the MCO, everyone has to stay home, so there is more stress. However, with fewer ways for abusers to release this stress, there will be a spike in (abuse) cases," Choo said.

Yet, despite the partial shutdown order announced by Prime Minister Muhyiddin Yassin, which called for the temporary closure of all non-essential businesses, police work is still ongoing, beyond enforcing the MCO.
Choo stressed that it was important for members of the public to know that not everything police are currently doing is focused on "Covid-19".
"Work goes on.
"We want to reach out to the victims to let them know that even during this period, we are still mobilising officers to help in rescue and to take action (against abusers).
"Where we have received calls, we have gone to rescue the victims," she said.
Indeed, the WAO had recently tweeted to inform the public that "frontline police officers are still performing crucial tasks, including rescues".
Tan later told Malaysiakini that this was after the D11 and WAO worked together to rescue a survivor last week who was looking to escape her "severe physical abuse" from her husband during the partial shutdown order.
"Concerned over her well-being and safety, we alerted the D11 and provided key information needed to perform the rescue. On the same day itself, the local police station was contacted and the rescue was done.
"The survivor and her children were removed from the abusive situation and the survivor was accompanied to the hospital to receive medical treatment. She was then brought to a safe place," Tan explained.
Shelter homes not listed as 'essential services'
Although police work is ongoing, shelter services, however, are not considered "essential services" during the MCO period, which is slated to end only on April 14.
Tan called for this to be addressed by the government in order to better protect survivors of domestic violence, many of whom, she claimed, have expressed uncertainty if they can escape abuses at home during this time.
"Firstly, the government should assure survivors that they can escape during the MCO. This is a concern among survivors, as we've received many calls from survivors, asking whether or not it's acceptable for them to escape during the MCO.
"When we receive such calls, we advise survivors on steps they can take to leave safely.
"Secondly, the government should include shelter services in the list of essential services," Tan said.
When questioned on this, Choo said police were working with the relevant NGOs and government agencies, such as the Social Welfare Department (JKM) to secure shelters for abuse survivors.
"We reach out to any NGO that can help (with shelters) and JKM has officers on duty who can be contacted when needed.
"We will work to find shelters."
Meanwhile, the SGG called on health workers globally, who are on the frontlines, to adopt a "gender-sensitive response to disclosures of gender-based violence that could be associated with or exacerbated by the pandemic".
"First responders should know to whom they can make referrals for further care or bring into treatment centres to provide care on the spot."
Getting help
Despite everyone being told to stay at home, Choo assures survivors that the police will not stop any victim of abuse from leaving home to seek assistance.
This is also true in cases of others wishing to help survivors get help.
Both the police and WAO have called on family members, even neighbours, to be vigilant and to do their part in notifying authorities should domestic violence be suspected.
"Do your part, make the call. There is no need to leave the house but if there is a necessity to go to the balai (police station), the police won't stop you. But it just takes one call," Choo said.
The Women, Family, and Community Development Ministry has announced that the Talian Kasih hotlines under the ministry would remain open.
This after an initial hiccup during which it was stated the hotlines - which allow people to get help on various matters including domestic abuse, for counselling and welfare - would be temporarily closed.
Talian Kasih can be contacted on phoneline 15999 or on WhatsApp at 0192615999.
According to Tan, WAO has also stepped up on efforts to support survivors during this time.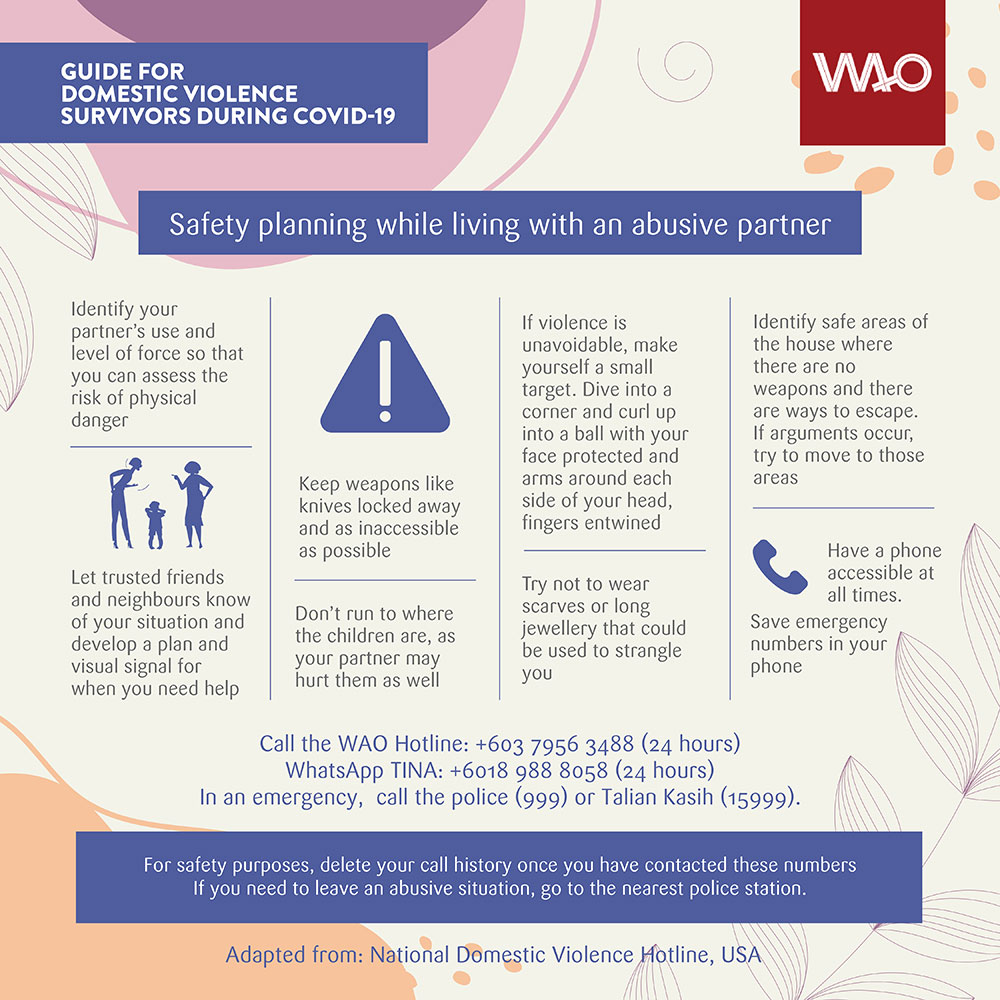 WAO Hotline operation hours have been extended to 24 hours, and the organisation is providing advice and support virtually through the phone and WhatsApp.
WAO can be contacted via its Hotline at 03-7956 3488 or SMS/WhatsApp TINA helpline at 018-988 8058.
"We also urge the community to be vigilant. If you know someone who is experiencing domestic violence, share the WAO Hotline with them.
"If you hear your neighbours fighting and suspect that someone is being abused, ring the bell. This sends the signal that people are watching. You should always make sure you're safe before approaching the situation. You can also get someone to go with you," Tan said.
Meanwhile, the Women's Centre for Change (WCC) is extending critical counselling for women and children in crisis, especially domestic and sexual violence cases, during the order period.
On data provided by the D11, up to 4,277 domestic abuse cases were reported in the first nine months of 2019. The largest number of cases involved young working women, followed by housewives.
Most cases involved women between the ages of 26 to 35 years. According to the D11 further, such mental and physical abuse also causes many women to develop depression.
In the words of the multi-stakeholder global SGG: "Now, more than ever, we need to look out for the most vulnerable in our society.
"We need to be extra aware and vigilant of possible cases of domestic violence. We need to work together to report such cases and to ensure timely access to assistance for persons suffering violence."
---
Keep up with the latest information on the outbreak in the country with Malaysiakini's free Covid-19 tracker.
Malaysiakini is also providing free access to the most important updates on the coronavirus pandemic. You can find them here.