CORONAVIRUS | Prime Minister Muhyiddin Yassin today announced an economic stimulus package totalling RM250 billion to help Malaysians face the Covid-19 pandemic and the after-effects of the movement control order.
The announcement of the Pakej Rangsangan Ekonomi Prihatin Rakyat was made live on national television.
Of the total, almost RM128 billion would be channelled to protect the people's wellbeing, RM100 billion to support the business community, including small and medium enterprises (SME) and RM2 billion to further strengthen the country's economy.
Previously, a sum of RM20 billion has already been allocated for stimulus package announced on Feb 27.
"Like I said before, no one will be left behind," said the Prime Minister.
To better illustrate the benefits in simple terms Muhyiddin used an example of a hypothetical family.
"Take, for example, Makcik Kiah a pisang goreng hawker, who stays in Desa Tun Razak PPR flats, her husband is a retired government official who works as a Grab driver while their child is studying on a PTPTN loan. They have a household income of under RM4,000 a month.
"Makcik's Kiah's family will receive a Bayaran Prihatin Nasional payment of RM1,600, a Bantuan Sara Hidup (cost of living aid) of RM600, pensioner assistance of RM500 and e-hailing cash assistance of RM500.
"If her husband serves in RELA, he will earn an additional RM 200 a month until the outbreak ends. Thus the entire cash supply that Makcik Kiah's family will be boosted by RM3,400," Muhyiddin said.
In addition, Makcik Kiah's family will also be able to save on PPR rent for up to six months for a maximum month of RM744, enjoy a suspension of car payments for six months for up to RM1800, and save on electricity bills for 6 months for up to RM120.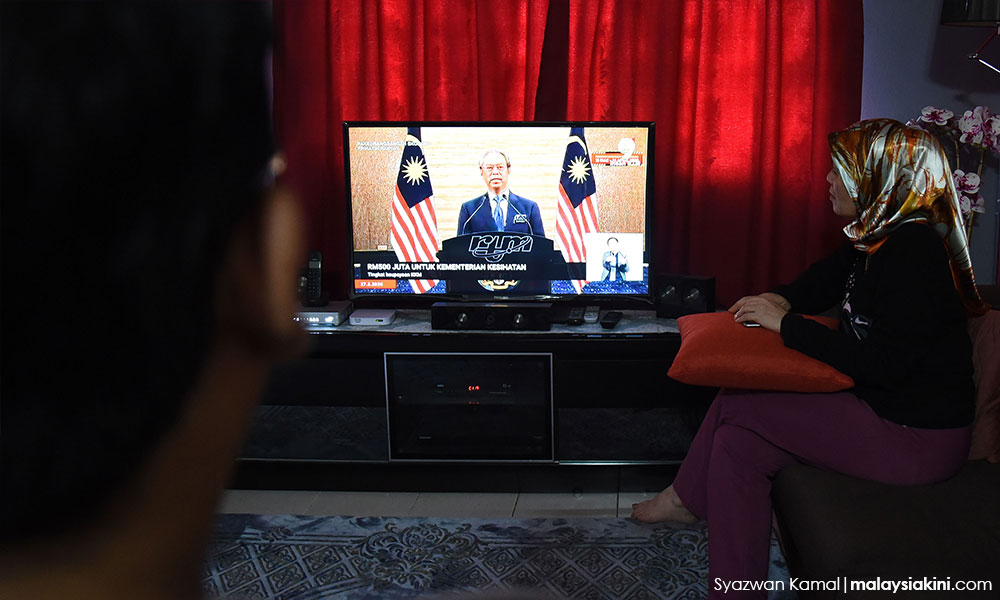 Her child will also be able to save due to delayed repayment of the PTPTN loan for 6 months for a figure up to RM1,200.
If Makcik Kiah has a micro-credit loan for her business with a loan repayment rate of RM100 a month, Auntie Kiah will be able to save an additional RM600.
The total savings therefore are RM4,464.
Thus the overall value of the benefits enjoyed under the stimulus package that Makcik Kiah's family will receive includes cash and savings of RM7,864. Thus she can smile a little at these calculations, said the Prime Minister.
In presenting the package, Muhyiddin also reminded the people that he had many challenges to face.
"I came in as your Prime Minister not at the best moment, as I face political, economic and health crises all at the same time," he said.
Highlights of the package include:
A increased special allowance for healthcare workers from RM400 to RM600 a month commencing on April 1 until the end of the pandemic.
The allocation of RM600 million for a free internet package to all users, starting from April 1 until the end of the MCO. It will be provided with the cooperation of telco companies. RM400 million has also been allocated for to improve network coverage and capabilities.
Vulnerable groups such as elderly and children in shelter homes, handicapped, homeless and Orang Asal will receive aid
RM500 one-off cash aid for single individuals aged 21 and above with monthly income of over RM2,000 up to RM4,000.
RM800 one-off cash aid to single individuals aged 21 and above with monthly income of RM2,000 and below.
Federal government premises such as school canteens, nurseries, cafeteria and convenience stores will be exempted from rent for six months.
The government also agreed to extend mySalam benefit to people from B40 Group quarantined as Covid-19 patient under investigation.
A RM5.9 billion salary subsidy programme to prevent loss of jobs and earnings, under which the government will set aside an RM600 monthly pay, for three months, for all workers earning below RM4,000.
Households earning less than RM4,000 per month would receive RM1,600 in total. RM1,000 would be paid in April and the balance in May.
Whereas households earning between RM4,000 and RM8,000 would receive RM1,000. RM500 would be paid in April and the remainder in May.
The continued implementation of projects where allocations were given in Budget 2020 including the East Coast Rail Link (ECRL), the MRT2 and the National Fiberisation and Connectivity Plan (NFCP).
A pre-retirement withdrawal of up to RM1,500 from Account B of Private Retirement Scheme for every member without any tax penalty from April to December.
Extension of rental payment exemption for PPR Housing from one month to six months, with RM3 million cost to the government.
RM200 monthly special allowance to military, police, customs, immigration, civil defence and Rela personnel engaged in Movement Control Order.
RM500 one-off cash aid for civil servants on Grade 56 and below and on contract.
Highlights for SMEs
Highlights of the package that will have an impact on SMEs are as follows:
All SMEs will be given a three-month tax instalment payments deferment beginning April 1. During the first stimulus announced in February, this was limited to the tourism sector.
Bank Simpanan Nasional's micro-credit scheme will be topped up by RM500 million for a total of RM700 million. The interest rate has been reduced from 4 percent to 2 percent. Firms with a business record of six months and above are eligible. The previous criteria was one year. The maximum borrowing amount has been increased to RM75,000, up from RM50,000 previously. This scheme was announced in February.
The Finance Ministry's Syarikat Jaminan Pembiayaan Perniagaan will prepare RM5 billion for loans and a government guarantee up to 80 percent, up from 70 percent previously, for SMEs which have problems finding financing. This scheme was launched in 2019.
The Employees Provident Fund (EPF) will introduce a new scheme on April 15 to defer, restructure or reschedule employer contributions to improve cash flow.
Employers will be exempted from contributing to the Human Resources Development Fund for six months beginning April.
Electricity discounts.
Free internet until the movement control period is over.
Lower interest from the Bank Negara's Special Relief Facility (SRF). The interest has been reduced from 3.75 percent to 3.5 percent. The fund will be topped up by RM3 billion for a total of RM5 billion. The SRF was announced in February.
Wage subsidies of RM600 a month for three months for those earning less than RM4,000 a month in companies which have experienced a 50 percent drop in revenue since Jan 1 and have not retrenched anyone or cut salaries.
---
Keep up with the latest information on the outbreak in the country with Malaysiakini's free Covid-19 tracker.
Malaysiakini is providing free access to the most important updates on the coronavirus pandemic. You can find them here.