COVID-19 | Malaysia has recorded five imported and six locally transmitted Covid-19 cases today, bringing the total to 9,094 cases since the beginning of the outbreak.
Health Ministry director-general Dr Noor Hisham Abdullah said that of the locally transmitted cases, three were from the Kurau cluster that was detected in Perak through contact tracing and active case detection.
"They are family members of the first case in this cluster (Case 9,050), namely a younger brother, an in-law, and his two-year-old nephew.
"The first case had close contact with all of the new cases during visitations in conjunction with Hari Raya Aidiladha celebrations on July 30.
"The nephew of Case 9,050 (namely Case 9,093) was found to have symptoms of cold and fever since July 30, whereas the brother and sister-in-law of Case 9,050 did not have any symptoms," he told a press conference in Putrajaya today.
All three have been warded at the Raja Permaisuri Bainun Hospital in Ipoh.
As of the other locally-transmitted cases, one was detected in Johor through pre-operation screening at a private hospital, and another was detected while being admitted at a private hospital in Malacca.
Another case - the only one involving a non-citizen today - was detected in Selangor through workplace screening.
"He was not showing symptoms and was admitted to Sungai Buloh Hospital in Selangor," Noor Hisham said.
Keep distance from family members too
Noor Hisham had announced the discovery of the Kurau cluster yesterday. Its index case was Case 9,050 who had influenza-like symptom and tested positive for Covid-19 in Kurau, Perak on Aug 7. 
The second case was the index case's brother-in-law, Case 9,082 in Penang. Five people have tested positive in the Kurau cluster so far.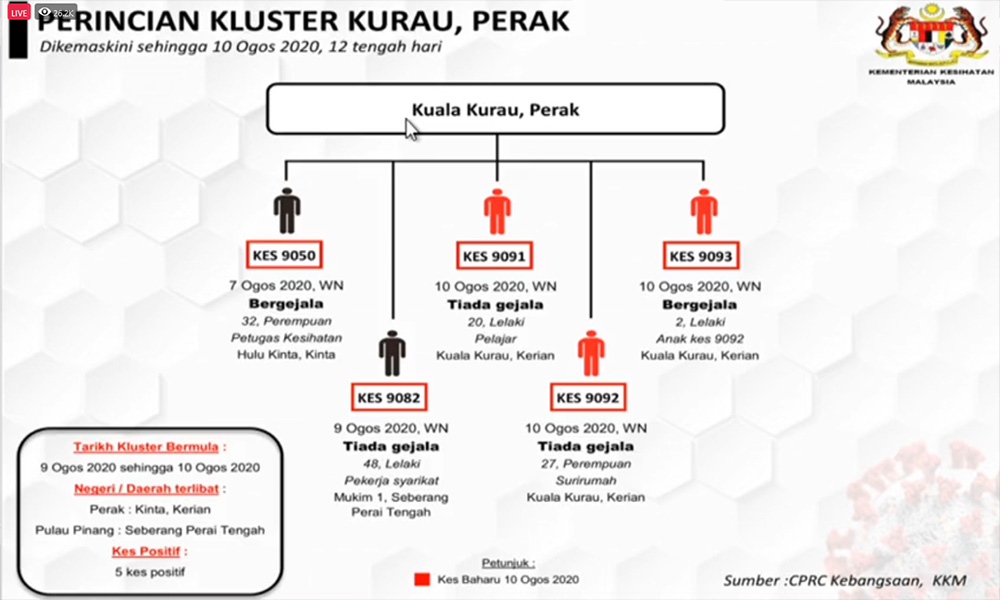 Noor Hisham said the Sivagangga cluster and Kurau cluster have been growing, and most cases in these clusters were transmitted through visitations during the festive season. Many of the infected were family members, ranging from two to 70 years old.
"Although visitations are now allowed, it is still subject to standard operating procedures. The safe physical distancing between individuals should be practiced in all places including between family members and relatives.
"Individuals who are not well or have symptoms should not visit or join any celebrations," he reminded.
Meanwhile, as for the five imported cases, Noor Hisham said three were imported from Australia, one from Japan, and one from Singapore.
Recovered patients exceeded new cases today, with 19 people being discharged. This brings the number of active Covid-19 cases down to 166 cases.
One patient is being treated in an intensive care unit, although no one needed a ventilator.
The death toll remains at 125 with no new deaths being reported.
As for testing capacity, Noor Hisham said 58 laboratories nationwide have conducted 6,390 RT-PCR tests of Covid-19 yesterday, out of the maximum capacity of 38,636 tests.
The figure does not include some negative test results from private and Education Ministry laboratories, which have yet to be reported to the Health Ministry.