COVID-19 | The death toll from Covid-19 has hit 130 after one new fatality was reported today.
There are also 20 new cases, of which 17 were locally acquired infections, including from a new cluster in Sabah.
Health Ministry director-general Dr Noor Hisham Abdullah in a statement said the latest death from Covid-19 was an 82-year-old Malaysian in Kedah who developed symptoms on Sept 4.
The senior citizen, who has mobility issues, was only brought to the hospital three days later after it was determined that he was a close contact to relatives who were positive cases in the Sungai cluster.
According to a ministry infographic, the close contacts were the man's daughter and granddaughter. The latter is a private hospital employee, whose father has also tested positive.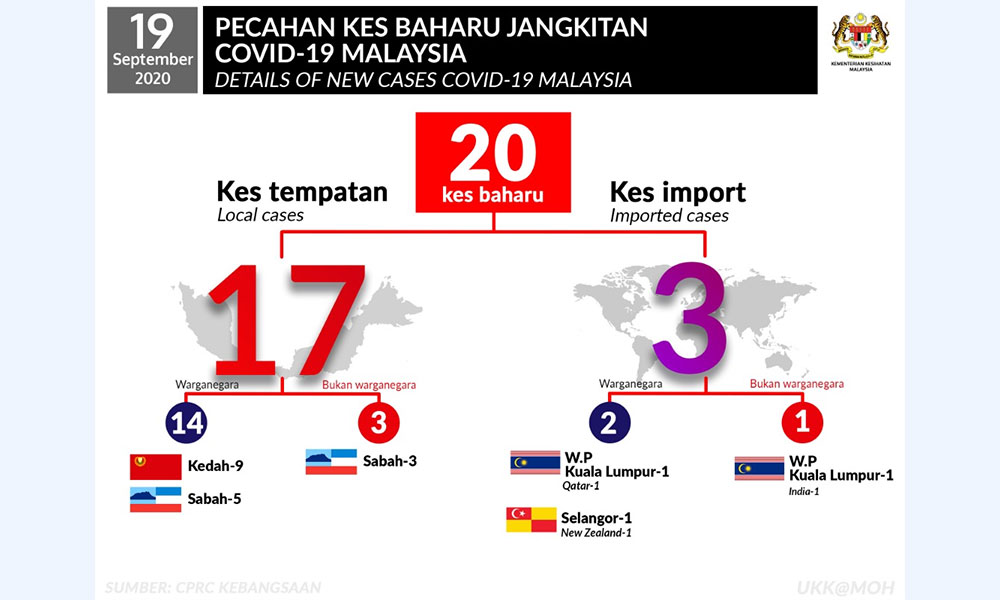 The 82-year-old was confirmed as positive on Sept 9 and died at 5.45pm yesterday.
Kedah recorded nine new infections today, including eight from the Sungai cluster.
Meanwhile, Sabah recorded eight new cases, including four patients detected at the Tawau Hospital, three of which were referrals from the Semporna Hospital.
There was also one community screening infection in Tawau, one pre-operation screening case in Keningau, and one case each from the Benteng LD and the new Bakau clusters.
The Bakau cluster is centred in Semporna. The index case is the Filipino woman, who died yesterday.
Subsequent tests turned up two other cases, including one Malaysian. Test results for 106 others are pending.
Meanwhile, there were also 51 new recoveries today, and the total active cases are now 722.