COVID-19 | The Health Ministry today reported 3,100 new Covid-19 cases and 24 deaths. 
Slightly over half the new cases involved Malaysians, indicative of a drop in transmission among locals and intensifying efforts to conduct targeted screening in workplaces reliant on foreign labour. 
The number of patients requiring intensive care has been steadily dropping since setting a record on Feb 2 (see chart).  
Active cases: 51,977 (New record)
Patients in ICU: 282
Intubated: 134
Since the movement control order began on Jan 13, the states or territories where new cases are still trending up are Selangor, Kuala Lumpur, Johor, Sarawak, Penang and Malacca.
New infections in Malacca was over the 300 mark for a third day in a row due to existing work related clusters. 
Cases in the territories of Perak, Perlis, Terengganu, Pahang, Labuan, Putrajaya and Sabah are on the downtrend. 
Deaths
Of the 24 Covid-19 deaths reported today, six were already deceased when they were brought to the hospital. 
Three of those who were brought in dead were below the age of 60. Earlier today, Malaysiakini reported that a growing number of Covid-19 patients died before getting a chance to be treated. 
The youngest victim today was 44 while the average age of the victims was 69. Among them were three foreigners. Details of the victims are on Malaysiakini's Covid-19 tracker page.
Clusters
The Health Ministry recorded 13 new clusters of which seven were the result of targeted screenings.
One cluster involved a shopping mall - Jalan Harmonium - but was not named by the Health Ministry. The nearest mall to that street in Johor Baru, Johor is Tebrau City.
There was also one cluster involving a government office - Sri Menanti cluster.
Jalan Teknologi cluster
District(s): Petaling, Selangor
Locality/Source: Factory in Jalan Teknologi and Taman Sains Selangor
Cluster category: Workplace
First case: Feb 8, targeted screening
Total infected: 21 out of 350 screened
Jalan Sungai Rasa cluster
District(s): Klang, Selangor
Locality/Source: Factory in Jalan Sungai Rasa Lama
Cluster category: Workplace
First case: Feb 8, targeted screening
Total infected: 35 out of 79 screened
Tapak Bina Persiaran Mokhtar cluster
District(s): Kuala Selangor, Selangor
Locality/Source: Construction site in Persiaran Mokhtar Dahari, Puncak Alam
Cluster category: Workplace
First case: Feb 7, targeted screening
Total infected: 85 out of 147 screened
Persiaran Hulu cluster
District(s): Petaling, Selangor
Locality/Source: Construction company in Persiaran Hulu Selangor, Shah Alam
Cluster category: Workplace
First case: Feb 8, targeted screening
Total infected: 19 out of 54 screened
Sri Menanti cluster
District(s): Kluang, Johor
Locality/Source: Government office in Taman Sri Menanti, Kluang
Cluster category: Workplace
First case: Feb 5, index cases with symptoms
Total infected: 11 out of 20 screened
Jalan Harmonium cluster
District(s): Johor Bahru, Johor
Locality/Source: Shopping mall in Jalan Harmonium, Taman Desa Tebrau
Cluster category: Workplace
First case: Feb 8, targeted screening
Total infected: 8 out of 78 screened
Jalan Cyber Lima cluster
District(s): Kulai, Johor
Locality/Source: Factory in Jalan Cyber 5, Kulai
Cluster category: Workplace
First case: Feb 8, targeted screening
Total infected: 8 out of 78 screened
Laman Desaru cluster
District(s): Kota Tinggi, Johor
Locality/Source: Laman Desaru Coast, Bandar Penawar, Kota Tinggi.
Cluster category: Workplace
First case: Jan 27, index case with symptoms
Total infected: 11 out of 228 screened
Lengkok Pantai cluster
District(s): Kepong, Lembah Pantai and Titiwangsa, WP Kuala Lumpur
Locality/Source: Cleaning company in Lengkok Pantai Baharu, Jalan Pantai Baharu
Cluster category: Workplace
First case: Jan 27, targeted screening
Total infected: 29 out of 122 screened
Batu 38 cluster
District(s): Kalabakan, Sabah
Locality/Source: Unspecified company in Batu 38, Jalan Kalabakan-Keningau
Cluster category: Workplace
First case: Feb 4, index case with symptoms
Total infected: 18 out of 38 screened
Kampung Tandak cluster
District(s): Besut and Setiu, Terengganu
Locality/Source: Company and residence in Kampung Tandak, Jerteh
Cluster category: Workplace
First case: Feb 3, index case with symptms
Total infected: 16 out of 196 screened
Sebangkoi cluster
District(s): Sri Aman, Sarawak
Locality/Source: Kampung Sebangkoi, Undop
Cluster category: Community
First case: Jan 31, index case with symptoms
Total infected: 23 out of 447 screened
Taman Bukit Petaling cluster
District(s): Seremban and Jelebu, Negeri Sembilan
Locality/Source: Medical centre in Taman Bukit Petaling, Kuala Klawang
Cluster category: At-risk group
First case: Feb 4, index case with symptoms
Total infected: 16 out of 187 screened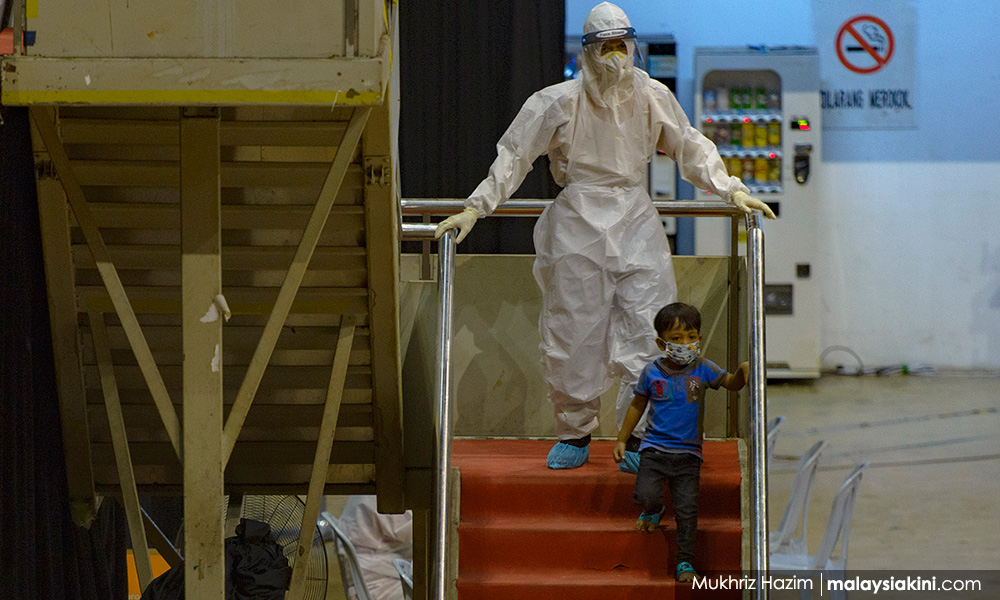 New cases by states in brief:
Selangor (1,196)
Existing clusters: 509
New cluster(s): 80 (Jalan Teknologi, Jalan Sungai Rasa, Tapak Bina Persiaran Mokhtar, and Persiaran Hulu)
Close contacts: 397
Other screenings: 210
Johor (490)
Existing clusters: 147
New cluster(s): 119 (Jalan Cyber Lima, Sri Menanti, Laman Desaru, and Jalan Harmonium)
Close contacts: 94
Other screenings: 130
Malacca (344)
Existing clusters: 333
Close contacts: 8
Other screenings: 3
Kuala Lumpur (295)
Existing clusters: 36
New cluster(s): 20 (Lengkok Pantai)
Close contacts: 130
Imported: 1
Other screenings: 108
Penang (209)
Existing clusters: 142
Close contacts: 23
Other screenings: 44
Sabah (169)
Existing clusters: 18
New cluster(s): 17 (Batu 38)
Close contacts: 100
Other screenings: 34
Negeri Sembilan (104)
Existing clusters: 8
New clusters: 4 (Taman Bukit Petaling)
Close contacts: 57
Other screenings: 35
Sarawak (84)
Existing clusters: 6
New clusters: 2 (Sebangkoi)
Close contacts: 44
Other screenings: 32
Perak (72)
Existing clusters: 13
Close contacts: 14
Other screenings: 45
Kedah (37)
Existing clusters: 7
Close contacts: 14
Other screenings: 16
Kelantan (30)
Existing clusters: 1
Close contacts: 21
Other screenings: 8
Terengganu (30)
Existing clusters: 10
New clusters: 1 (Kampung Tandak)
Close contacts: 10
Other screenings: 9
Pahang (28)
Existing clusters: 23
Close contacts: 2
Other screenings: 3
Putrajaya (8)
Close contacts: 2
Other screenings: 6
Perlis (4)
Close contacts: 4