Amid mounting speculations of an impending general election, some 100 supporters of the Undi18 cause ascended upon Parliament today seeking for the right of youths to vote in lawmakers that will determine the country's future.
The group led by Malaysian United Democratic Alliance (Muda) secretary-general Amir Abdul Hadi marched from nearby Padang Merbok and sat down for a symbolic 18-minute silent protest, a few hundred metres away from the Parliament gates.
In assembling the crowd, Amir said they chose to come to Parliament instead of the Election Commission (EC) headquarters in Putrajaya, as it was the institution that had passed the constitutional amendment to lower the voting age in July 2019.
A representative for the ad hoc Tuntut Undi18 secretariat, Nurul Rifayah Muhammad Iqbal, read out the group's statement, followed by rallying calls from supporting groups including Harapan Youth and Mahasiswa Harapan.
"This postponement of more than 15 months is ridiculous and does not reflect the authorities' commitment to give 18-year-olds the right to vote.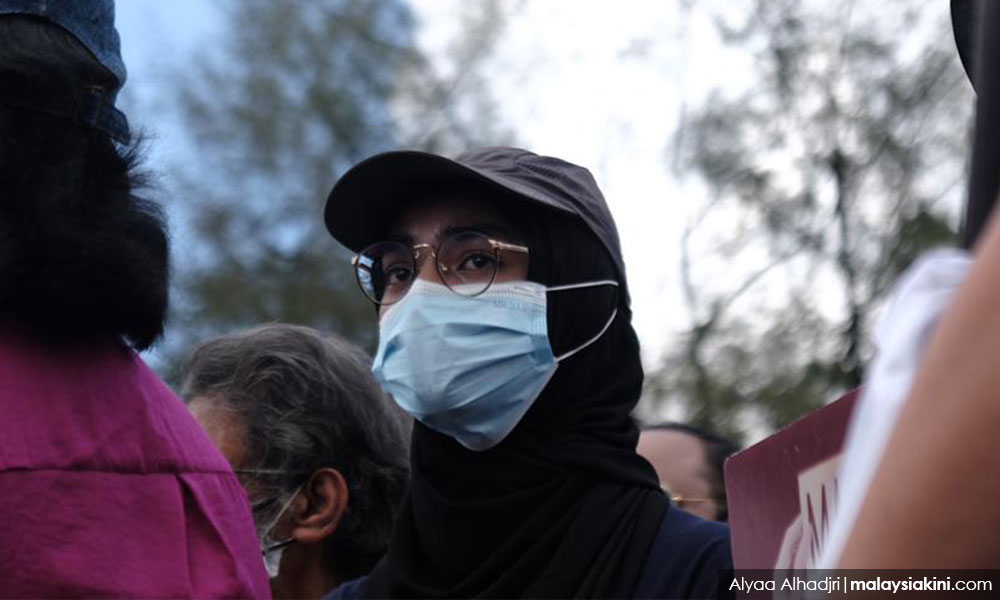 "Malaysians, and youths in particular, strongly objects this decision because it is the rights of all adults to vote in an election as it is a basic human right in any democracy around the world," she said.
"What is stopping the EC from implementing Undi18?
"Where is our votes as youths who wish to help shape the country's future?" said Nurul Rifayah, a youth activist and unity ambassador with NGO Projek 57.
Aside from lowering the voting age, the group's demands also include implementing an automatic voter registration system upon reaching the age of 18.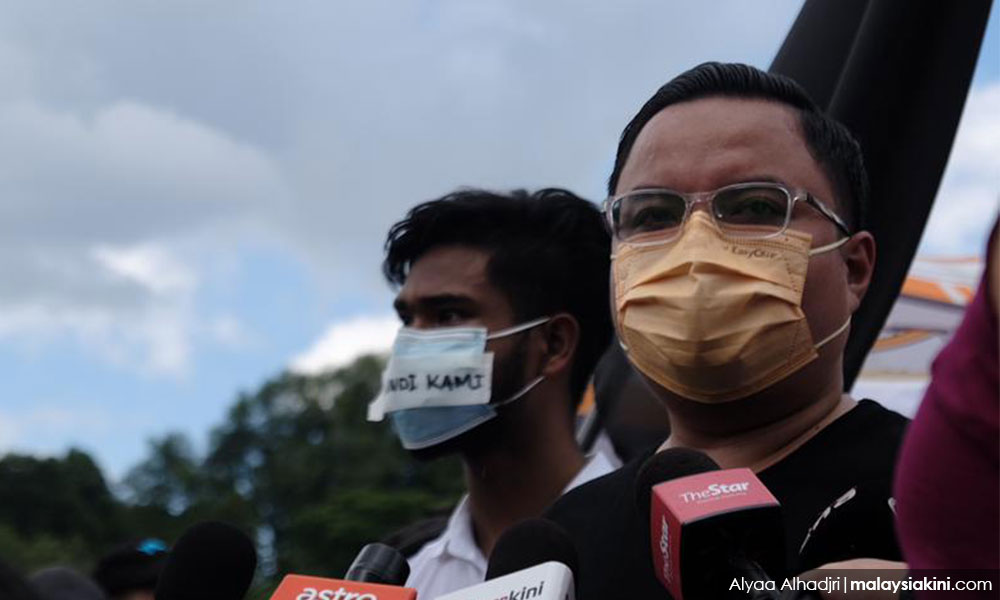 Harapan Youth chief Shazni Munir Mohd Ithnin noted that support for their demands came from not only the youths, but also from the elderly present in solidarity at the protest.
"This is a movement in solidarity that transcends political barriers, race, religion, age [...] from the 18-year-olds to those in their 30s, 40s, 50s and 60s.
"It is a sign that our demands today are serious demands that cuts across any personal interest," said the Amanah Youth chief.
"This (voting) is not a privilege but a right which must be granted by the government," he added.
Undi18 representative Tharma Pillai said the EC and government appear to be playing the blame game over the delay, as a result victimising youths who are eager to exercise their rights to vote.
"Where is our vote? ... we are not playing with you!" he said.
Their demands followed an EC announcement that the new system would only be ready for implementation by September next year, despite the constitutional amendment being gazetted since 2019.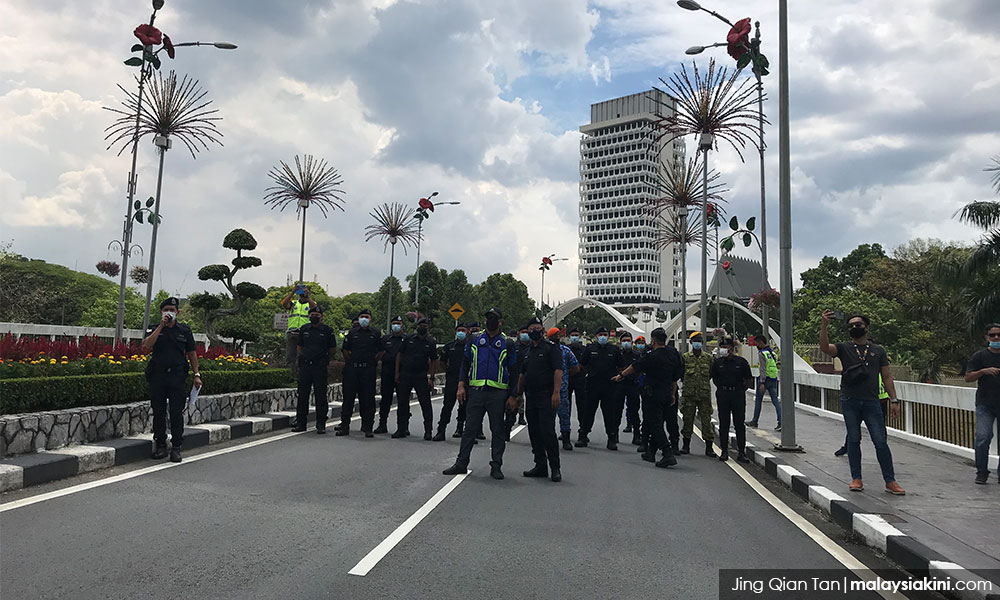 The EC announced on March 25 that it was delaying the lowering of the voting age to next year, despite de facto Law Minister Takiyuddin Hassan previously stating that it was on track to implement the new policy in July this year.
The election is widely speculated to be called in August when the emergency proclamation expires.
National Muslim Students Association Malaysia president Ahmad Farhan Rosli, meanwhile, mourned the "death of democracy" with a replica tombstone, in a fiery speech demanding for Parliament to urgently reconvene.
"We carry this 'tombstone' today to mark the death of democracy in Malaysia.
"Firstly, they refused to convene Parliament, and secondly, they are insulting the Federal Constitution in denying youths aged 18 and above to vote," he said.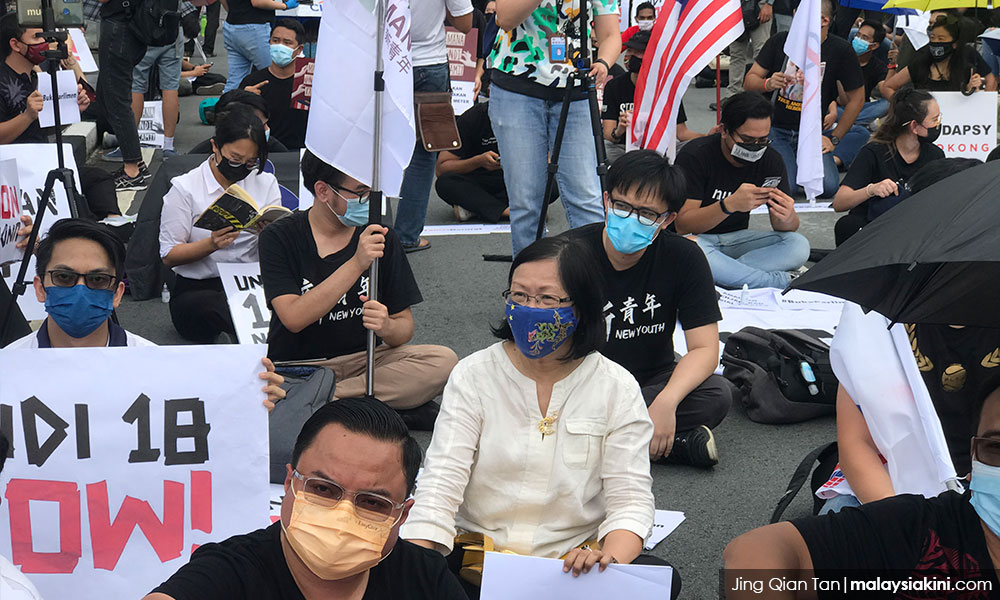 Many of the protesters carried placards that mocked the decision, including to point out that 18-year-olds are legally allowed to marry but not to vote.
Among politicians who came to show their support include PKR's Maria Chin Abdullah and Tian Chua, DAP Youth chief Howard Lee, DAP's Ketari assemblyperson Young Shefura Othman, Independent Simpang Renggam MP Maszlee Malik, Pejuang information chief Ulya Aqamah Husammudin and PSM's S Arulchelvan.
The protest started at around 2.30pm with light police presence and crowd control, particularly to enforce social distancing measures, carried out by Amanah's volunteer security squad.
The crowd dispersed peacefully an hour later.
Related story:
Claiming to have youth support, PM says PN not to blame for Undi18 delay