Sarawak Chief Minister Abdul Taib Mahmud yesterday served malaysiakini with the writ of summons of his defamation suit over a series of articles on his alleged involvement in a timber kickbacks scandal.
The 30-page summons, naming malaysiakini and its editor-in-chief Steven Gan, listed the series of articles which carried the allegedly defamatory remarks.
The stories were themselves based on an earlier report by the Japan Times .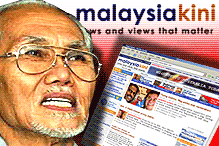 In addition to malaysiakini and Gan, Taib has also said that he would similarly sue Umno-owned Utusan Malaysia and its group editor-in-chief Mohd Khalid Mohd for defamation.
Two opposition leaders - PKR state chief Wan Zainal Wan Sanusi and the party's Stampin branch chief See Chee How - have also been sued for distributing leaflets containing articles from malaysiakini and Japan Times . They were served the summons today.
In his affidavit that accompanied the suit, Taib "categorically and completely" refuted the allegations and described them as "absolutely false".
Taib said that the malaysiakini reports implied that he was corrupt, and that he was unfit to be the Sarawak chief minister, a member of parliament, or to hold the office of president of Parti Pesaka Bumiputera Bersatu.
Letter of demand
The veteran politician also aggravated damages following malaysiakini 's refusal to abide to his letter of demand .
In the said letter, malaysiakini was, among other things, ordered to refrain from publishing defamatory words and to publish a full public retraction and apology according to terms approved by Taib.
Instead, he said, malaysiakini has "failed and refused" to comply with the demands but has instead "deliberately and maliciously elected" to further publish defamatory words or similar words defamatory of him.
Taib claimed aggravated damages for five such follow-up articles on the alleged kickbacks received, as well as exemplary damages for the publication of a 'Special Report' entitled ' Tip of the iceberg '.
"At all material times, the defendants have taken special effort to document the news items concerning the plaintiff and continued publication of the defamatory words with an aim to bolster the popularity of the said website in order to generate greater revenue and to increase readership including but not limited to attracting additional subscribers and advertisers to the said website," he added.
Taib is also seeking an injunction to restrain malaysiakini from publishing defamatory or any similar words of defamatory as well as a public apology.