"My name is Revathi. I want to hold on to that name - forever. I want to drop the name Siti Fatimah," said M Revathi, 29, sporting a pottu (Hindu symbol) on her forehead.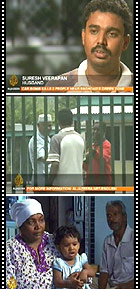 Born Siti Fatimah Abdul Karim to Muslim convert parents, she was called Revathi Masoosai by the grandmother who raised her. She married to V Suresh in 2004 according to Hindu rites and has a 18-month-old daughter.
In January this year, Revathi was detained at the Malacca Syariah High Court when she attended a hearing over her application to have her official religious status be recognised as a Hindu.
She was detained at the court and subsequently held at the Ulu Yam religious rehabilitation camp in Selangor for six months until she was freed early this month.
In March, the Islamic authorities seized her daughter from her husband and handed the child to Revathi's Muslim mother.
The following is a collection of malaysiakini reports detailing Revathi's struggle to be recognised as a Hindu.
Mais tidak akan berputus asa pujuk Revathi
Revathi: Toughest experience in my life
Mais: Revathi tidak dipaksa pakai tudung dan sembahyang
Reactions to Revathi's verdict
Religious body to monitor Revathi
'Revathi, that's my name - forever'
Woman released from Islamic rehab camp
Hundreds light a 'candle of hope' for Revathi
Heed rights in religious rows, say groups
Al Jazeera highlights M'sian apostasy case
Hindu hubbies on warpath with Islamic authorities
Legal action to free Muslim woman, children
Religious status: Legislators want PM to act
Videos
Al Jazeera on Malaysian apostasy case
(10 mins)