Very rarely do Malaysians see such defiance. Despite repeated warnings and a court order which allowed the police to 'arrest on sight', they came out in the thousands on Nov 25 into the streets of Kuala Lumpur.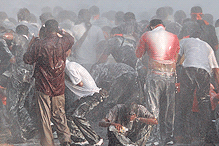 It was, in part, a protest inspired by Indian independence activist and pacifist, Mahatma Gandhi.
Like Gandhi, the Hindraf supporters were out to show mass civil disobedience and it was prominently shown by a crowd of almost 5,000 near the Hotel Maya at Jalan Ampang.
For at least five times, the crowd would run helter-skelter at each 'water canon charge', only to defiantly claim back their original positions, chanting "We want justice!" in both Tamil and English.
The following are a selection of Malaysiakini news reports, analyses, videos and letters on the Nov 25 Hindraf protest.
THE ISA ARRESTS
Hindraf 31: AG drops attempted murder charge
Attempted murder charge: AG 'abused' power
ISA crackdown: 5 Hindraf leaders detained
Remain calm, Waytha tells supporters
Video: Uthayakumar's parting message
Police disperse Hindraf supporters at Bkt Aman
PM: They want to destroy the country
Hindraf arrests: Use of ISA slammed
Charge Hindraf leaders in court: Indian groups tell PM
ISA detentions: 'Gov't bankrupt of ideas'
US demands due process for ISA arrests
Families visit Hindraf 5 at Kamunting
Habeas corpus filed for Manoharan
AFTER THE RALLY
Uthayakumar's car tyres slashed
PAS slams Hindraf, accusations 'extreme'
Radio DJs punished for supporting Hindraf
Deputy minister: Indians better off than Malays
PM: Hindraf lies over Indian plight
India says Hindraf crackdown a 'source of concern'
Hindraf lobby goes global
Is Hindraf a racist group?
Hindraf trio discharged from sedition
MIC MP: Rally reflects govt's failure
Hindraf 'manipulated' the innocent
Police draw flak over excessive force
Hishammuddin rapped for 'sacking' warning
Nazri: Breach the law, face consequences
MIC MP: Rally reflects govt's failure
MIC's 'Robin Hood' to meet the whip
Hindu Sangam: Rally a 'wake up call'
'Gathering of crooks' hasn't tainted community's image
Suhakam's Khoo: Rally reflects grievances
Act against 'sufferings' in M'sia, Indian PM told
NOV 25 RALLY
Fearless Indians fight for rights
A Gandhi-inspired mass civil disobedience
30,000 Hindraf protesters rally in KL streets
Tear gas fired at defiant protesters
Hindraf to submit petition in London
Samy tells Indians to work 'within the system'
Anwar: Hindraf rally a safety valve
BEFORE THE RALLY
Hindraf: Let us hand petition and go home
MIC: Hindraf is stooge of the opposition
Three Hindraf leaders arrested
Organisers vow to proceed despite ban
Cops obtain rare court order against Hindraf
Rumours rife, Hindraf not amused
Police reject permit for Hindraf rally
VIDEOS
Nov 25 rally
Cat and mouse around KLCC l 8 min
Confusion on Jalan Ampang l 2 min
Sucking tear gas and chemical-laced water l 7 min
Police accused of unprovoked attacks l 2 min
The day before
Uthaya's prediction for Nov 25 l 15 min
Hindraf leaders give impromptu briefing at temple l 10 min
Hindraf supporters head towards temple l 9 min
P Waythamoorthy refuses bail l 4 min
Hindraf supporters gather to show support l 4 min
The Hindraf arrests: Scenes in Shah Alam l 4 min
Hindraf rally: Cops warn of 'stern action' l 5 min
Police raid offices of two Hindraf lawyers l 6 min
LETTERS TO THE EDITORS
Click on 'Related Stories' link below