Hindu Rights Action Force (Hindraf) leader P Uthayakumar has not been denied proper medical treatment, the Human Rights Commission of Malaysia (Suhakam) has found following a probe.
Commissioner N Siva Subramaniam said the claims were found to be untrue during Suhakam's visit yesterday to the Kamunting detention camp in Taiping, Perak.
There have been rising concerns over the health of Uthayakumar, a diabetic for the past 12 years. He is currently being held under the Internal Security Act (ISA) in Kamunting.
"His situation is under control and he is happy with the medicines given to him," Siva Subramaniam told a press conference at the Suhakam headquarters in Kuala Lumpur today. Alos present was commission secretary Ahmad Yusuf Ngah.
Siva Subramaniam said he led a team which met with senior officials, the doctor and police personnel at the camp, as well as medical personnel in Taiping hospital. Uthayakumar was neither present during the four-hour probe, nor interviewed by the team.
The commissioner said his team discovered that certain claims were false - that Uthayakumar had been treated merely by a health assistant and that he had been discharged too soon from the hospital.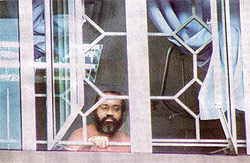 It was also not true that he had been denied medicine for diabetes over the past month despite repeated requests to the director of the Kamunting camp.
"His family wanted to provide medicine to Uthayakumar but under the rules and regulations (of the camp), the medicine needs to come from the health ministry," he noted.
Siva Subramaniam said the substance of medicine was found to be the same from both sources.
"He told the doctor that he is satisfied with what is being given to him," said the commissioner, who nonetheless stressed that it was the right of any detainee to receive proper medical treatment.
Siva Subramaniam was asked why Uthayakumar's side of the story was not heard.
"We came to a conclusion that as far as diseases and confidentiality of medical treatment (are concerned), it should be maintained between doctor and patient; a third party shouldn't know what's happening," he contended.
He pointed out that media reports were also sufficient to highlight Uthayakumar's plight.
To another question, he said the detainee's family had not approached Suhakam for help, but understands that over 30 police reports had been lodged over the claim that Uthayakumar was being deprived of due medical attention.
Visit to Lenggeng tomorrow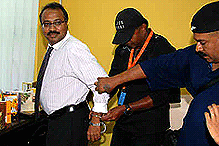 Uthayakumar is among five Hindraf leaders who were detained under the ISA on Dec 13 last year after organising a mammoth rally in Kuala Lumpur on Nov 25. This saw some 30,000 Indian Malaysians protesting against perceived marginalisation and discrimination.
He was admitted to the Taiping hospital on April 7 after his sugar level rose to more than three times the normal level. He was discharged on April 10 and taken back to the detention centre, but his family insisted that he was still unwell.
There have been calls from rights groups and politicians, including the MIC , to provide the lawyer-activist proper medical attention.
There are currently 70 detainees in Kamunting under the ISA, a law which the government-backed human rights commission has consistently opposed.
Siva Subramaniam also said he will lead a Suhakam team to the Lenggeng detention centre in Negri Sembilan tomorrow, after a riot on Monday.
During the incident, about 60 Burmese detainees reportedly tried to pull down the perimeter fence and afterwards torched an administration building.
More than 100 members of the people's volunteer corps, riot police, civil defence department and fire and rescue service personnel had to be called in to contain the riot.