LETTER | I was delighted that after recent shocks, shivers, and sadness, following hate speeches with racial and religious undertones being given by politicians, conduits, mercenary bloggers and cybertroopers in recent weeks, our beloved King waded in on this pertinent issue.
This issue seriously undermines the very foundation and fabric of our nation's sovereignty and place in the global community and as a member of the United Nations.
This must have also troubled our beloved King who always had his finger on the nation's pulse, resulting in his royal address to the Dewan Rakyat when officiating the first meeting of the second session of the 14th Parliament this morning.
It was truly a vintage address which all peaceful, law-abiding Malaysians would have welcomed.
The Yang di-Pertuan Agong, Sultan Abdullah Sultan Ahmad Shah strategically addressed three components in his speech, namely:
1. The need for genuine racial ties instead of mere slogans;
2. The genuine cultivation of the spirit and effort for unity with sincerity and appreciation; and
3. The importance of upholding the Federal Constitution and to act against attempts to undermine unity and harmony in the country.
Our beloved King was right on cue.
All of the above three fundamentals that are critical and upheld by our founding fathers were indeed the foundation to position Malaysia where she is today.
Our beloved King's address was the perfect antidote to address recent attempts by not just local politicians with their hate speeches, but also foreigners who have arrived here either on social, educational, employment visas or permanent residency, some from failed states and states in racial and religious conflicts but allegedly sowing seeds of discord among religious, peace-loving and law-abiding Malaysians.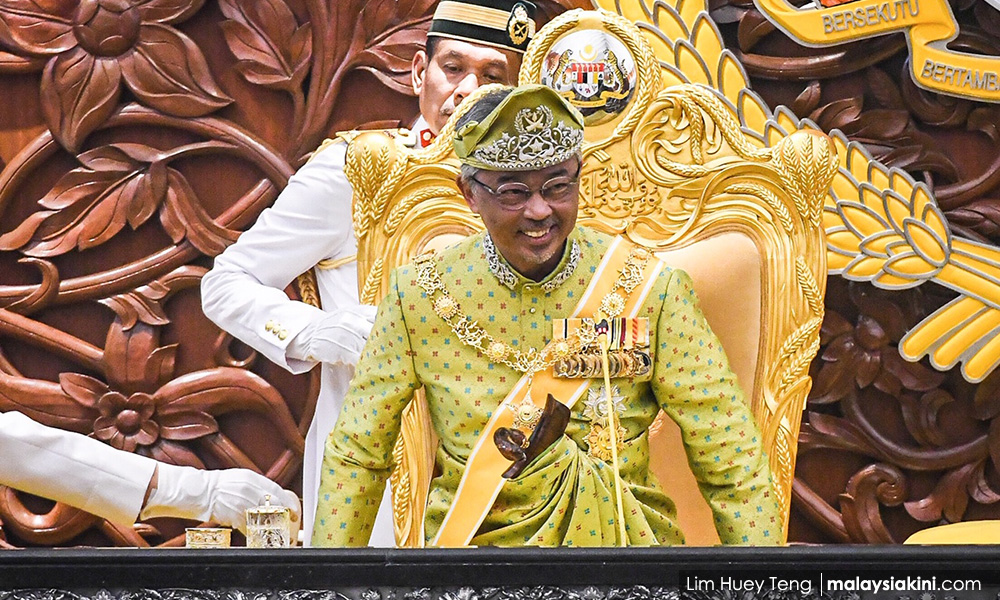 I am certainly uplifted and delighted, as an attorney, that Sultan Abdullah also stressed the importance of upholding the Federal Constitution and to act against attempts to undermine unity and harmony.
The monarch was absolutely right when he stated that the position of Islam as the religion of the federation should be appreciated by all, regardless of race and religion; that Islam is not exclusive to any particular group; and that it is a universal way of life that brings blessings to all.
I am certain, as our King has stated, that all peace-loving, law-abiding Malaysians will endorse and welcome our federal government's efforts to promote the values and culture of Islam through the concept of 'Rahmatan Lil Alamin' (blessings for all) and 'Maqasid Syariah' (higher objectives of syariah) based on true Islam that is translated through the distinguished actions and character of Malaysians.
Our King did not stop there, but strategically reminded all that, in strengthening Islam in Malaysia, other religions must also be respected.
Sadly, in recent years, due to the unregulated mushrooming of racist and extremist theological incubators, hate speeches and unregulated comments on social media, there has been a tsunami of animosity, hatred, and the rejection of the "unity in diversity" narrative and moderation. We have all been spooked and are in fear.
But with the Yang di-Pertuan Agong reminding social media users to act within the confines of the law, a warning is being also issued to those owners of these social media forums that they have a responsibility to regulate the comments columns.
Our King reminds us that openness and freedom of speech must be practised within the constraints of the law of societal norms; and that freedom of speech is not a key to defamation, vulgarity, personal attacks, threats, verbal terrorism, pitting one against the other, which threatens public order.
I am glad Sultan Abdullah Sultan Ahmad Shah also reminded our security apparatus, namely enforcement agencies, that they must act sternly against any circulation of material on social media that breaches the law.
Though the focus of the King's address may have been unity and security issues, the former also took great pains to not just advise our politicians to address challenges faced by Malaysia's bottom 40 percent (B40) income earners but also reminding the latter to be realistic, and that intervention and change need time to be brought to fruition.
He also reminded the people to be patient and supportive in working holistically with the government, and that they should trust the government's various efforts, even though its impact may not be felt immediately.
I pray that our King's address is reflected by all of us and we play our rightful role in upholding the Federal Constitution and to act against any attempt to undermine unity and harmony in the country.
May the Almighty bless and protect our King.
---
The views expressed here are those of the author/contributor and do not necessarily represent the views of Malaysiakini.