"We certainly lost the Internet war, the cyber-war... It was a serious misjudgment. We made the biggest mistake in thinking that it was not important."
- Prime Minister Abdullah Ahmad Badawi, 2008
On March 8, 2008, the BN ruling coalition suffered a stunning upset, losing its two-thirds majority in Parliament along with five of peninsular Malaysia's 11 states.
With opposition parties falling only 30 seats short of winning a majority in Parliament - and widespread rumours of parliamentarians in Sabah and Sarawak bolting BN to join a coalition led by opposition figure Anwar Ibrahim - this was a loss of unprecedented proportions.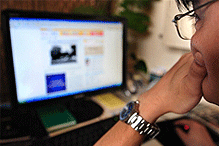 Journalists, commentators, and parliamentarians themselves credited - or blamed - the Internet. With five well-known bloggers elected to Parliament, the election of 2008 seemed to spell an unambiguous victory for the power of online media.
As Malaysiakini editor-in-chief Steven Gan later said, if the Gulf War put CNN on the map, the election of 2008 did the same for Malaysia's only independent news portal.
On election night, with key states falling to the opposition and BN's customary super-majority in question, state television was uncharacteristically silent. But Malaysiakini was posting live updates, many of them sent in by recently-trained volunteers. Finally, at about 1am, the Election Commission announced that the government had won a simple majority.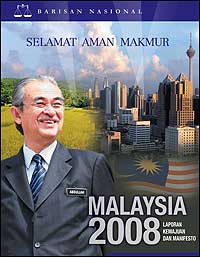 Gan recalls that at about the same time Umno, the backbone of the ruling coalition, called an emergency meeting. The meeting broke up at about two in the morning, and there was a short press conference in which Prime Minister Abdullah Badawi stated that the ruling coalition still had a very strong majority.
As he was leaving and journalists continued to press him, he said why ask more questions? "We have lost, we have lost."
This became Malaysiakini's final headline for the night. They posted it in red.
Although some researchers have rejected the conventional wisdom that the Internet is an inherently democratising force, there is still widespread popular support for the notion that the Internet is an automatic threat to authoritarian regimes.
The government of Abdullah certainly thought so. In March 2007, the Internal Security Ministry issued a circular to newspapers warning them not to quote and publish "anti-government articles" from online news portals and blogs.
One week later, the Information Ministry issued a similar warning. With the government deliberately confusing Malaysia's approximately 20,000 bloggers with the online news service Malaysiakini , it is perhaps not surprising that many people would consider the two to be the same thing.
In a country where the proper role of news media is seen as reporting "good news about government leaders [and] cooperation between races, while promoting a single national identity", the government was clearly trying to discredit Malaysia's fledging independent news organisation.
However Malaysiakini is anything but "just another blog". What makes Malaysiakini unique is not only its willingness to report on political news that would not otherwise be accessible, but also the high standards of journalism that it upholds.
Malaysiakini was launched in November 1999, less than one year after the arrest of former deputy prime minister and leading opposition figure Anwar. The news portal was the creation of Gan and Premesh Chandran, two young journalists who got their start in print journalism at the The Sun .
Believing that political control had corrupted the values of good journalism in the mainstream media, their plan was to bring independent news, investigative reporting, and in-depth analysis to the Internet.
Launched in November 1999
Gan and Chandran timed the launch of Malaysiakini to coincide with the country's 1999 general election, and almost immediately gained notoriety by exposing that a Chinese-language newspaper had digitally manipulated a group photo of ruling party politicians to remove an image of former deputy prime minister Anwar Ibrahim.
In a country where all publications are licensed, and journalists must work under the restrictions of the Internal Security Act, Sedition Act, and Official Secrets Act, Malaysian journalists are highly constrained by the law. Yet in Malaysia there is an unlikely loophole for online news organisations and bloggers.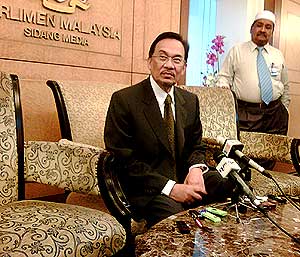 In a 1997 speech in California, where he was courting overseas investment for high-tech industries, then prime minister Dr Mahathir Mohamad pledged a no-censorship policy for the Internet. Although online journalists and bloggers are subject to harsh defamation laws regulating content, they need not fear losing a license to publish.
At a time when mainstream media had lost credibility for their pro-government slant, Malaysiakini gained immediate attention and international accolades for its independent reporting. As Anwar said in a 2007 interview, "Malaysiakini has independence, credibility. It's the only avenue we have; the other media have an instruction to block us out."
Malaysiakini has received a significant amount of scholarly attention since it was established a decade ago. Magazine and newspaper articles have also pointed to its independence, gutsiness, and willingness to "[tell] it like it is without having to resort to coded messages".
But to date, no one has closely examined how Malaysiakini actually functions as a news organisation. For example, how do journalists at Malaysiakini conceive of "independent journalism", and how is this understanding related to broader questions of democracy and social change?
This lengthy article focuses on how Malaysiakini uses the ideology of journalistic professionalism not only to challenge the status quo, but also to create a "pocket" of resistance to authoritarianism in Malaysia.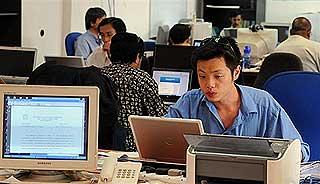 Drawing on first-hand observation of newsroom practices, close reading of the website, and extensive interviews with editors and reporters, I argue that it is the norms and values of independent journalism rather than the technology of the Internet per se that make Malaysiakini so threatening to government authorities.
Unlike previous research that either traces the history of Malaysiakini within the context of the political movement known as reformasi, or describes it as an example of cyber-activism, this article takes an ethnographic approach and analyses the specific newsroom practices that Malaysiakini uses to challenge authoritarianism, as well as the values that underlie these practices.
I argue that Malaysiakini uses the norms of good journalism - covering both sides, providing documentary evidence, and giving voice to the voiceless - to legitimise alternative views of events, thus challenging the authoritarianism of the BN.
I conclude by suggesting that in creating a space where citizens are free to express their opinions, Malaysiakini deliberately promotes a blueprint for democratic civic discourse in Malaysia.
Part 1 l How Malaysiakini challenges authoritarianism
Part 2 l 'Our agenda is press freedom'
Part 3 l Holding the powers-that-be accountable
Part 4 l It's called 'watchdog' journalism
Part 5 l Do you have a valid point?
---
JANET STEELE is an associate professor of Journalism at the School of Media and Public Affairs at George Washington University. Her most recent book 'Wars Within' focuses on Tempo magazine and its relationship to the politics and culture of New Order Indonesia. She is a frequent visitor to Southeast Asia, and writes a weekly newspaper column called 'Email dari Amerika' for Surya daily in Surabaya, East Java.

Malaysiakini is celebrating its 10th year anniversary on Saturday, Nov 28 with a gala dinner at the Sime Darby Convention Centre in Bukit Kiara. Be there! Seats available from RM100.
Click here for more information.