French public prosecutors probing shoddy deals in French-Malaysian arms deals found evidence that then-defence minister Najib Abdul Razak had sought US$1 billion (RM3 billion) for local company Perimekar from French shipmaker DCN's subsidiary DCNI.
According to prosecution papers revealed by NGO Suaram today, a fax shows that Najib had asked for the amount for Perimekar as a condition for a meeting with him on July 14, 2001.
The fax, dated June 1, 2001 was from Francois Dupont, the Malaysian representative for private company Thales Asia International, to one D Arnaud.
The document, one of 153 shown to Suaram, was seized by French police from the office of Henri Gide, an officer with Thales.
However, no copy of the fax was provided to media at the press conference today as Suaram said it is not allowed to take the documents out of France.
Instead, the NGO, which is pursuing a civil complaint against state-owned DCN for allegedly paying 114 million euros in defence kickbacks to Perimekar, provided media with notes from its French interpreter.
According to the notes, Dupont had in the fax detailed out the chronology of visits and future actions during a visit to Malaysia, including details of "negotiation meetings with the Ministry of Defence and the management members of Perimekar".
"(In the negotiations) two contract proposals would be mentioned (from DCNI to Perimekar as well as between Perimekar and the Malaysian government).
"(Dupont) finally indicated a meeting with Datuk Seri Najib in France on July 14, 2001 with the condition that DCNI offers a maximum sum of US$1 billion for Perimekar's stay (in France)," it reads.
Malaysia purchased two Scorpene class submarines in 2002.
Perimekar is owned by Najib's associate Abdul Razak Baginda, who was acquitted on a charge of abetting in the murder of Mongolian translator Altantuuyaa Shariibuu, without his defence being called.
Razak Baginda's company paid 360,000 euros
According to Suaram, another document obtained by the prosecutors revealed that Terasasi Sdn Bhd, a company owned by Abdul Razak and his father, was also linked to the scandal.
Suaram's interpreter noted that prosecutors had on Aug 22, 2011, obtained an invoice faxed to Terasasi Sdn Bhd on Sept 19, 2004, to the then-chief executive officer of Thales, Bernard Baiocco, for the purpose of "success fees".
The invoice states that 359,450 euros (RM1.43 million) was to be paid into a bank in Petaling Jaya, while a handwritten note on the fax reads:
" Razak demande si ce SF peut etre pris en compte assez vite. Le Support Fee suit avec un rapport (Razak is asking whether the SF can be paid into the account quite urgently. The support fee follows with a report.)"
However, Suaram director Cynthia Gabriel said the prosecutors were still trying to determine whether the 'Razak' stated in the note refers to Najib or Abdul Razak.
'The Great Malaysian Robbery'
Referring to the case as "the Great Malaysian Robbery", Gabriel said the prosecutors also found "a slew of companies" had been formed to muddy the money trail.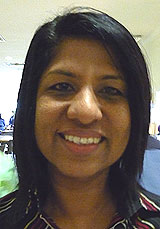 "More retro-commissions have surfaced, allowing the misuse of bodies such as a pilgrimage fund (Lembaga Tabung Haji) and the military pension fund (Lembaga Tabung Angkatan Tentera).
"The Malaysian and French people have clearly been misled, cheated and robbed of their monies through blatant corruption and mismanagement of funds in the name of national safety and security," Gabriel ( right ) said.
As such, Suaram demanded that the Malaysian Anti-Corruption Commission open investigation papers on these new revelations and for the Malaysian government to cooperate with the French inquiry.
It also demands that the Defence Ministry lists out to Parliament the companies involved in the procurement process involving DCN and the commissions paid.