Malacca MCA Wanita chief Kian Sit Har, who has earned the scorn of party president Dr Chua Soi Lek for attending the Bersih 3.0 rally in Malacca on April 28, insists that the party must stand up against any BN wrongdoing.
"Nowadays, we cannot be neutral. We have to choose between right and wrong.
"The party may have its stand, but we must take the side of justice. We cannot just follow faithfully if BN or MCA is doing something wrong.
"If you think something is wrong, then we must voice it out. Right is right, wrong is wrong; we must not be afraid (to speak out)," she said in an interview with Malaysiakini at her Malacca office last week.
An example, the 73-year-old former senator gave, is the appointment of former inspector-general of police Hanif Omar to lead the independent panel to investigate the violence at the Bersih 3.0 rally in Kuala Lumpur.
Breathing a sigh of frustration, Kian said, "Surely the opposition will attack us as being unfair. Even for me, Hanif is not suitable.
"After saying that Bersih wanted to topple the government, how can you ask him to be part of the panel?
"We (at the Bersih rally) never thought of toppling to the government during the protest," said Kian, one of the most prominent BN politicians to take part in Bersih 3.0.
'Adding insult to injury'
Describing accusations that MCA was subservient to Umno as "true", Kian said this was causing frustration among the younger Malaysians who felt their voice was not being heard.
The septuagenarian added that she was aware of the vitriol the public had hurled at MCA particularly on Facebook, but said the party that she has been a member for 55 years must reflect on the criticism instead of getting upset.
"Take my case. Malacca chief minister Mohd Ali Rustam asked me to step down. I am a MCA member, what right does the chief minister (from Umno) have to ask me to step down?"
She however regretted that her own party chief did not rise to her defence.
"My leader did not fight for me; he only followed what the chief minister said. This is why we are losing (support)," she said.
However, Kian said leaders within Wanita MCA had been very supportive and were quick to come to her defence.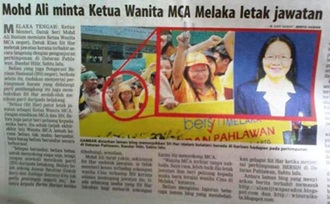 Mohd Ali had called for Kian's resignation after the veteran politician, clad in yellow, was photographed standing at the frontlines of the Bersih 3.0 rally in Malacca.
MCA president Chua had initially given the green light for MCA members to join the protest for clean and fair elections, but later poured scorn on Kian following Mohd Ali's call for her resignation.
While Chua said the party would not take disciplinary action against Kian to avoid making her a martyr, he dismissed the veteran leader as being old and could no longer contribute to the party.
Kian has been active in welfare activities since the age of 13 under the guidance of Chinese educationist Sim Mok Yu, and had followed her mentor into MCA as soon as she turned 18.
Like Sim, who went on to found MCA Youth in 1955, Kian took the lead in the formation of Malacca Wanita MCA in 1975 and remains its president to this day - 37 years later.
Politicans serve the people
Kian defended her participation in Bersih 3.0, pointing out that clean elections and the campaign against Lynas rare earth plant in Kuantan were issues that MCA supported, adding that she was proud of her actions.
Asked if she believes the electoral system is flawed, Kian replied, "One thing that happens in Malacca - when the vote is counted and you know who the winner is (going to be), a new ballot box from the police or army will suddenly appear.
"To me, this is unfair. All the ballot boxes must come out together. Also (as reported) in the newspapers, how can one house have a few hundred voters?
"We love our country. We want fair elections and I think we can improve on this," she said.
When it was pointed out that if these allegations were true, it would be to MCA's benefit in the elections, Kian concurred that the ruling coalition was fixated on retaining power.
"They will try all sorts of things to win the elections.
"But nowadays, it's not easy. We have to really work hard and stand with the people - only then, can we win the elections (fairly).
"To me, I'm not too worried (if we lose). We are a democracy - if this time, the opposition wins but fails to perform, they would have to step down in the next elections.
"Whether the opposition or the ruling party, our job (as politicians) is to serve the people," she said.
MCA, is fighting for the greater good wrong?
Yesterday: No regrets joining Bersih 3.0, says MCA septuagenarian