EXCLUSIVE "I am glad that your opinion of me has changed," wrote former prime minister Dr Mahathir Mohamad in a personal letter to then nemesis George Soros six years ago - 11 months before he met the billionaire financier for the first time.
In the letter, Mahathir referred to the Jan 7, 2006 interview with Soros by New Straits Times when the philanthropist visited Jakarta for an interfaith meeting, where he said he agreed with the measures the Malaysian premier had taken to deal with the regional financial crisis of 1997-98.
Four days later, Mahathir wrote a three-page letter to Soros urging the much-maligned currency speculator to join him in his Global Peace Forum project, which sought to criminalise war and outlaw it as an option to settle international conflict.
"I write to invite you to lend your name to this effort to achieve the ultimate human rights - the right to life," said Mahathir in his Jan 11, 2006 letter.
Both octogenarians - Mahathir is 87, Soros, 82 - have had a bitter war of words in the wake of the Asian financial crisis, with Mahathir calling Soros a "moron" and blaming him for igniting the imbroglio, while Soros hit back by describing the Malaysian premier as a "menace to his country".
The 2006 letter, which Malaysiakini has a copy, indicates that it was Mahathir who first approached Soros with an olive branch in hand.
Apparently, Mahathir was taken by Soros' view on the war in Iraq, for which he had funded campaigns against the re-election bid by then United States president George W Bush in 2004.
"Whatever may be the differences between us, we seem to have identical views on war, i.e. on killing people in the pursuit of a national agenda," said Mahathir.
Regime change
The Global Peace Forum was initiated at an international conference in 2005 organised by Mahathir's Perdana Leadership Foundation.
"The conference yielded a resolution to make war a crime and to campaign worldwide to criminalise war - to regard it as being no different from murder," Mahathir told Soros.
"This is not going to be an overnight, one-off thing. It is going to take years, decades and maybe centuries. But the first step in this journey must be taken now. You and I may not live to see the change. But it should not deter anyone."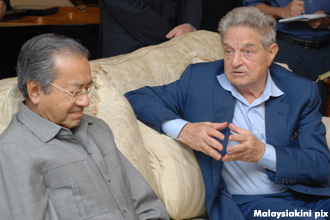 Mahathir took pains to reassure Soros that his participation in the Global Peace Forum will not affect his other philanthropist work.
"I am aware of your other concerns - about democracy, etc. But this anti-war campaign for the ultimate human right will not be in conflict with any other rights that you may espouse. So I hope you will join."
It is not known what Soros had said in his response to Mahathir, but it is likely to be a polite "no" given that he did not join the Global Peace Forum.
Mahathir met Soros in Kuala Lumpur 11 months later, where the two foes buried the hatchet.
Following the meeting, Mahathir said that he accepted that Soros was not involved in the devaluation of Malaysia's currency.
However, three days ago Mahathir dug up the hatchet and fired yet another salvo at Soros, claiming that the international financier was seeking regime change in Malaysia, following reports that some NGOs have received funding from international donors.
The enmity between Mahathir and Soros can be traced back to the early 1990s when Bank Negara Malaysia - then considered by some financial observers as a rogue central bank for dabbling heavily in high-risk currency speculation - lost RM5.7 billion to the likes of Soros.
Tomorrow: What Dr M told war survivor Soros
Related stories
M'sian Bar: Nothing wrong with foreign funding
Scorpene probe: France about to summon witnesses
'CCM completing probe papers on Suaram'
Newspapers should be nobody's stooges