There is only one percentage point separating Prime Minister Najib Abdul Razak and Opposition Leader Anwar Ibrahim in a survey as the two go head-to-head in an election expected to be called within weeks.
The survey conducted by Universiti Malaya Centre for Democracy and Elections (Umcedel) gives Najib a slight lead of 43 percent against Anwar's 42 percent as the 'most qualified to be prime minister'.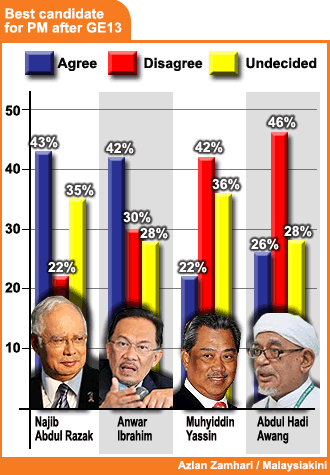 Two other leaders were included in the survey, with PAS president Abdul Hadi Awang ranked third (26 percent) while Deputy Prime Minister Muhyiddin Yassin finished last (22 percent).
Abdul Hadi ranked highest in negative votes among those survey (46 percent), followed by Muhyiddin (42 percent).
Among the Malays, Najib is the most popular (46 percent), followed by Abdul Hadi (36 percent), Anwar (34 percent) and Muhyiddin (26 percent).
The results are different among the Chinese. Anwar is by far the most popular (61 percent), followed by Najib (35 percent), Muhyiddin (15 percent). Abdul Hadi is the least popular, garnering a mere two percent.
Umcedel survey team leader Prof Mohd Redzuan Othman also noted that Najib's approval rating is on the slide, garnering 54 percent in this latest survey compared with 61 percent in March-April 2012 and 58 percent last September.
The latest survey was conducted between Dec 26 and Jan 11, with 1,409 respondents in the peninsula interviewed face-to-face.
New voters favour Anwar
Meanwhile, the survey finds that Anwar is more popular than Najib among the new and first-time voters.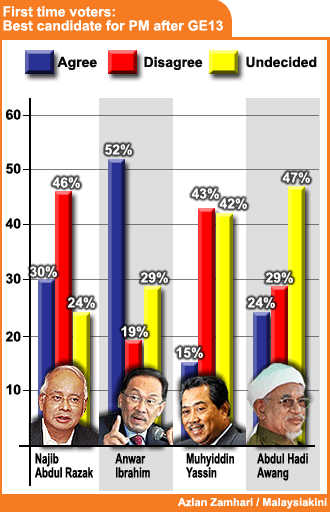 Anwar obtained 52 percent approval from this group, while Najib received 30 percent, with Abdul Hadi coming in third (24 percent) and Muhyiddin last (15 percent).
There are more than two milliion new voters in the forthcoming general election, representing some 20 percent of the electoral roll, making them a powerful force.
The respondents are split almost evenly on the choice between party or candidate, with 48 percent putting the candidate first and 47 percent giving piority to the party.
However, women respondents in the survey place greater emphasis on the candidate - 54 percent saying the candidate is more important, as opposed to 46 percent.
Related stories
Survey puts Pakatan 5pct behind BN for Putrajaya
Pakatan turns tables on Najib over greeting card
'BN book given with RM100 aid not to discredit Pakatan'
Girl studying in India, but is registered as voter
Overseas voters want EC to ensure integrity of ballots
EC gets 125 applications for postal voting
Najib's message 'most retweeted' in five hours
Unsolicited SMSes from BN an intrusion of privacy